SPAIN, HOME TO ONE OF THE STRONGEST AUTOMOTIVE COMPONENTMANUFACTURING INDUSTRIES IN THE WORLD, IS THE 3RD LARGEST EU-ROPEAN CAR PRODUCER AND IS RANKED 7TH IN THE WORLD. ITS SALESHAVE GROWN 25% OVER THE LAST FIVE YEARS.
In recent years the Spanish automotive components sector has become progressively more concentrated in order to provide better service to its two types of clients: vehicle manufacturers, which require components for new vehicles and new spare parts, and purchasers of multi-brand spare parts.
The sector therefore has the ability to tackle the high level of competition, demand requirements, excess supply and the trend towards relocating production to countries with lower labor costs.
Sales in the Spanish automotive components sector were €30.171 billion in 2005, a 4.8% increase on 2004.
In 2004 the components market comprised 1,000 companies with sales of €28.79 billion, an increase of 7.1% over the previous year, driven by domestic and foreign demand.
The sector has a high level of technology, innovation and investment in R&D with significant Spanish investment abroad as well as investment by large multinationals in Spain.
Catalonia is the principal center of the sector accounting for 27% of all operators, while the Basque Country and Madrid account for 15% and 11% of companies respectively.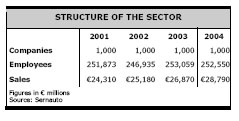 Employment generated by companies in the sector re-mained stable in 2004, declining by 0.2% to 252,550 em-ployees compared to the previous year, a period in which employment grew by approximately 2%.
On average there were approximately 252 employees per company, although 60% of companies employ less than 20 people and 30% of companies employ between 20 and 200. Only 9% have more than 200 employees.
The sector is largely comprised of small sized Spanish companies, often privately owned, which compete with the small number of big Spanish groups, which also operate internationally. The ten largest operators account for only 13% of the total market, a reflection of this degree of fragmentation.
To remain competitive in the markets, the sector is increas-ingly becoming involved along the value chain, increasing its investment in R&D+i (5.3% of sales in 2005) and devel-oping unique products.
Exports from the Spanish automotive components sector exceeded €14.8 billion in 2004 reflecting growth in ex-cess of 20% compared to 2001. These figures rank the Spanish industry as one of the strongest in the world. In fact, Spain is the third largest producer of cars in Europe and the seventh largest in the world.
The 2004 export ratio shows that more than 50% of the sector's production was sold abroad. Its products are pri-marily based on superior technological innovation, develop-ing components that facilitate driving and increase security.
The top five destinations for Spanish exports in 2004 were FRANCE, GERMANY, PORTUGAL, THE UNITED KING-DOM and ITALY, which accounted for 66% of Spanish automotive component exports.
In 2004, automotive components were exported to coun-tries on every continent. Nevertheless, the top ten import-ers accounted for 77% of Spanish sales in the sector. From 2002 to 2004 exports to the EU increased by 8% and to the USA and Mexico by 10%, while sales to Eastern Europe fell by 25%.
By country, over the last three years Spanish sales have increased to France, Germany, Portugal, the United King-dom, Belgium, Austria, the United States, Mexico and South Africa. Sales have remained stable to Italy and Brazil, while economic factors have led to declining markets in Sweden, the Netherlands and Eastern European countries.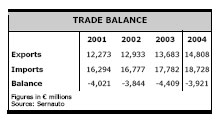 Export sales from the Spanish automotive components sec-tor are highly sensitive to competition which has led to growing pressure on prices and production labor costs.
All Rights Reserved. Do not reproduce, copy and use the editorial content without permission. Contact us: autonews@gasgoo.com.