Spanish companies with the highest sales: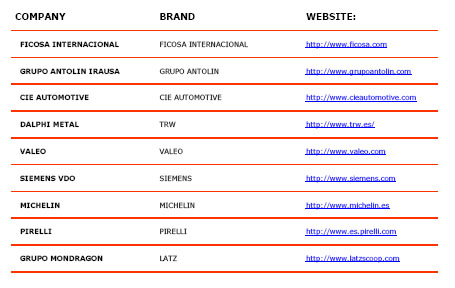 Spanish companies with facilities abroad:
AJUSA, AMÉS, S.A., ARITEX, S.A., ARRAN INDUSTRIAS, ASIENTOS ESTEBAN, AUTOPULIT, BEYMA CAR AUDIO, BRAKELIC S.A.L. (Frenos Marty), BRALO, GRUPO TEKNIA, CARZUH, CAUCHO METAL PRODUCTOS (NERISA), CATELSA CECAUTO, CIKAUTXO (GRUPO MONDRAGÓN), CORPORACIÓN INDUSTRIAL EGAÑA, DALPHI METAL ESPAÑA, DAMESA (GRUPO MIKALOR), DOGA, DROVI ELECQUI, S.A., FICOSA, FRENOS SAULEDA, GESTAMP, GRUPO ANTOLÍN IRAUSA, GRUPO BODE MASATS, GRUPO COPO, GRUPO ESTAMPACIONES, SABADELL, GRUPO SERRA, ELAY, INGEMAT, INDUSTRIAS DOLZ, MCC (GRUPO MONDRAGÓN), MECANIZADOS RODRÍGUEZ FERNÁNDEZ, METRONIC PHIRA, S.A., PINTURAS PROA, RYME, TEKNIA MANUFACTURING GROUP, VIZA AUTOMOCIÓN, WOCO, ZANINI, AUTO GROUP.

All Rights Reserved. Do not reproduce, copy and use the editorial content without permission. Contact us: autonews@gasgoo.com.