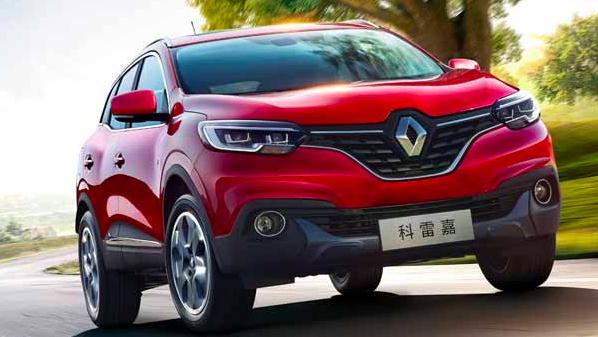 SHANGHAI May 12nd, 2017 Gasgoo – According to the newest data, Dongfeng Renault's sales of in this April and accumulate sales during January to April have reached 6,188 units and 26.4 thousand units respectively. It has set up goals for 2017 to "Ensure 60K units sold, Challenge 70K units and struggle for 80K units' sales".
Dongfeng Renault is to confront with more challenge this year as a joint-venture brand with only SUVs.
François PROVOST——chairman of Renault's Asia-pacific area, SVP of Renault Group's Chinese Business Region and president of Dongfeng Renault Automobile Co., Ltd, said when interviewed by reporters from National Business Daily that, although the SUV market is witnessing a fierce competition, Dongfeng Renault has its own featured route for competition which including designing, technologies and experiences.
In this year's Shanghai Auto Show, Dongfeng Renault listed the 2017 Kadjar, which was added with 1.2T turbocharging models and has reduced its price for enter-level model to 139.8K yuan while having a more wide price ranges. Mr. Wen Yunzhong, executive vice president of Dongfeng Renault Automobile Co., Ltd, said that Renault will speed-up the layout of products with the addition of its global flagship model——Renault ESPACE by the second half of this year.
François PROVOST also revealed that, Renault will list its first electric sedan by the end of this year. Mr. Wen Yunzhong said that, Dongfeng Renault has already had 150 dealers by the end of 2016, which is expected to be 200 by the end of this year.
However, the lack of sedan and brand force are still disadvantages of Dongfeng Renault. Mr. Wen Yunzhong said that, the biggest marketing goal of Dongfeng Renault in 2017 is to stress on its brand. There are several important marketing events like the marathon in Wuhan this April, F1 match and the auto show in Shanghai and a large-scale marketing activity in the second half year.
Mr. Chen Xi, vice-president and minister of the sales and marketing department of Dongfeng Renault, said that Donfeng Renault is to import sedans during the second half year, however, its disadvantages in product mix still cannot be ignored.
All Rights Reserved. Do not reproduce, copy and use the editorial content without permission. Contact us: autonews@gasgoo.com.