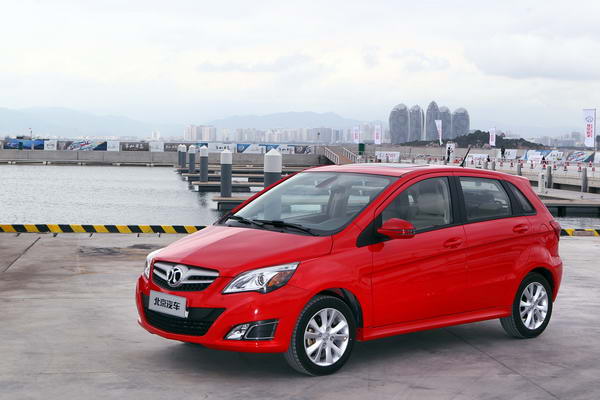 Gasgoo.com (Shanghai March 26) - BAIC's new own brand E-Series subcompact made its market debut last week, nddaily.com reported today. The E-Series, which looks remarkably similar to the Mercedes-Benz B-Class, is priced between 53,800 and 86,800 yuan ($8,551-$13,796).
The first E-Series (pictured) test vehicles began rolling off BAIC's assembly lines more than a year ago. "We had already finished design and development for the E-Series in the end of 2010," BAIC President Han Yonggui confirmed. "However, in order to guarantee a high quality product, we used our purchased Saab technology to conduct [tests], [when] we discovered that there were still a lot of areas that needed improvement," he explained.
BAIC's difficulty in obtaining a production permit from the National Development and Reform Commission (NDRC) very likely also contributed to the delay in bringing the E-Series to the market. The manufacturer had begun mentioning establishing an own brand about six years ago, with actual work beginning four years ago. However, without a NDRC permit, which BAIC reportedly obtained earlier this year, it is impossible for any manufacturer to introduce a new model to the market.
BAIC has set a sales target of 36,000 units for the new E-Series, manufacturer Vice President Dong Haiyang said. The manufacturer will also be introducing the own brand B40 SUV and Saab-based C70 sedan models in the latter half of the year. BAIC plans to sell 100,000 own brand vehicles this year.
BAIC is the last major domestic manufacturer to establish its own brand passenger automobile line. It is unclear whether or not BAIC has waited too long, as own brands struggle to compete against foreign models. Own brand controlled market share in January was the lowest it has been in a decade. 57,300 own brand vehicles were sold in the country from January to February, 14 percent less than the previous year.