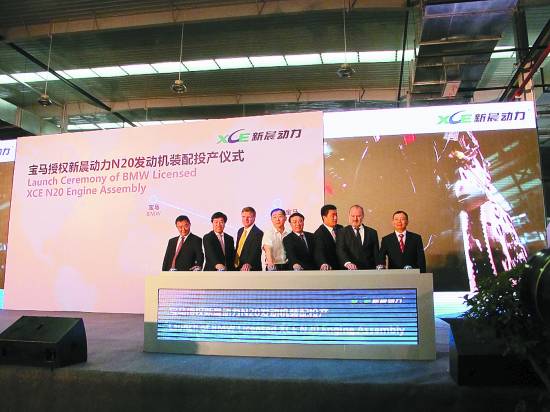 Gasgoo.com (Shanghai July 8) - Brilliance Automobile's subsidiary company, the Mianyang Xinchen Engine Machinery Company, has announced that it will begin production of the BMW N20 engine. According to a Beijing Business Today report today, the company, which has gained certification from BMW AG, announced the news at an official ceremony at its factory in Mianyang, Sichuan. As the N20 is BMW's most important engine brand, its successful production will help promote development of Brilliance's Mianyang production site.
According to plans, 10,000 engines are scheduled to be manufactured this year. Expected annually production capacity of the engine is expected to ultimately reach 100,000 units. The engines will be used not only for BMW vehicles, but also Brilliance's Zhonghua and Jinbei own brand products. Brilliance Group CEO Qi Yumin remarked on the news: "We aim to continue studying BMW's leading operation management concepts and techniques, as well as its advanced engine technology, [with the goal of] raising our own brand series' engine performance. We want to make China's best engines."
The N20 engine's manufacture is very meaningful for Brilliance. The project is the result of cooperation between BMW and Brilliance, and will help further develop their partnership. BMW's premium N20 engine technology will grant Brilliance with new power.
The international partnership with BMW will help Brilliance realize its dreams of manufacturing the best engines in the country. According to an internal source, Brilliance, with the support of BMW, will help achieve smooth production of the engine. By strictly adhering to BMW's technological standards and processes to ensure product quality. The state-of-the-class engines will lay the foundation for Brilliance's upcoming own brand vehicles, the source remarked.