Shanghai December 6 (Gasgoo.com) BYD Co earlier showed off an all-electric car at the 2006 Beijing Auto Show called the F3e, which, however, will never be put into production due to the lack of an enabling environment for electric cars in China, China Business News reported Monday, citing Wang Jianjun, deputy general manager of BYD Automotive Sales Co Ltd.
The Shenzhen-based automaker was initially engaged in development of all-electric vehicles, but changed its mind after a market investigation and consultation with the dealers for everyone thought there were still problems with the supporting infrastructure and market environment at the moment and what the company needed were transitional products. It therefore created the F3DM, a plug-in hybrid compact sedan, Wang said.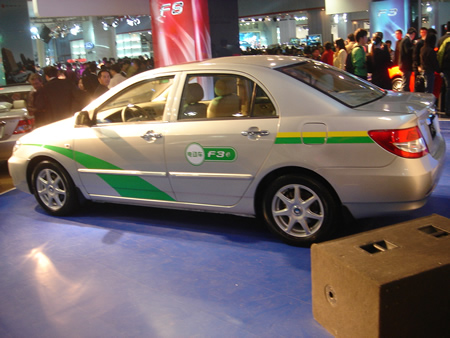 According to previous reports, the BYD F3e features an iron-based battery that can be recharged to 70 percent of capacity in only ten minutes. Moreover, it was highly commented as a remarkable example of energy-saving, environment-friendly, technology-driven and trendy automotive manufacturing.
The electric power cost is equal to one third of a gas-operated car; top speed is over 150km/h; the electric power consumption is less than 12kwh/100km; it takes less than 13.5 seconds to accelerate from 0-100km/h; the car can travel over 300km/charge; meanwhile, the battery's life-cycle is about 2000 times/600,000km for a complete vehicl, sources said.
BYD Co, backed by U.S. billionaire Warren Buffett, also established three charging stations as part of a pilot program in Shenzhen in 2007. Xia Zhibin, general manager of BYD Automotive Sales Co Ltd. said then commercial production of the F3E would be achieved in three years and the price would be controlled below 150,000 yuan ($22,400).
However, the BYD F3DM was somehow launched first in December 2008 and the F3e was abandoned, and the reason is just as Wan said-a problem of ancillary environment. Wang explained it is infeasible to extensively promote all-electric vehicles before the supporting infrastructure is well improved in the country. BYD Co has thereby shifted focus from all-electric vehicles to plug-in electric vehicles, and from private transport to urban public transport.
Additionally, Shenzhen will build 7,500 charging piles for all kinds of new energy vehicles at the end of this year, and 12,750 by 2012, Wang said.
The Chinese government will grant subsidies to individual buyers of new energy vehicles in 12 more pilot cities, Zhang Laiwu, vice president of Ministry of Science and Technology (MST), said earlier. He added that the subsidies, being implemented in 13 cities such as Beijing, Shanghai, Shenzhen, Chongqing, Wuhan, etc., will be provided for vehicle purchases in the public sector for now and gradually be extended to the private sector.