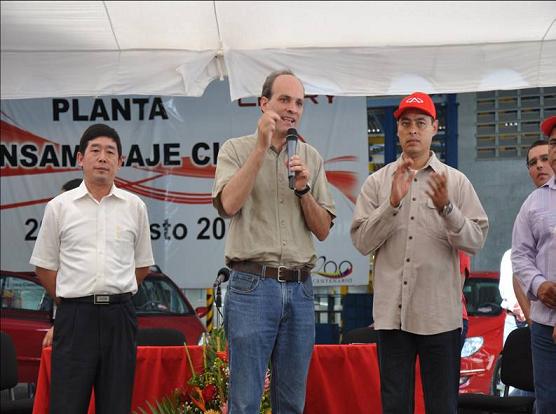 Gasgoo.com (Shanghai September 1) - Chery's Venezuelan branch has held an initiation ceremony for its new factory in the country's north-central state of Aragua, Gasgoo.com (Chinese) reported today. The event was attended by Minister of Science and Technology Ricardo Menendez and Aragua State Governer Rafael Isea, as well as Head of Chery's global operations Zhou Biren. President Hugo Chávez sent his regards and best wishes via an Internet feed. With the completion of the factory, Chery will become the first manufacturer to gain official certification to assemble Chinese vehicles in the country, as well as the only Chinese manufacturer certified to import vehicles into Venezuela.
The new factory will produce the Chery A1 and A3, and will prove to be an important part in the company's plans to expand in Latin America. Mr. Zhou (pictured below) said that the factory would not only provide consumers with new choices, but help stimulate the local economy by offering new employment opportunities, as well as help strengthen ties between the two countries.
Chery has been active in Venezuela since mid-2006, where its superior design, through aftermarket customer service and low selling price have gained many loyal supporters. Chery's sales reached 3,500 in only its first year in the country, and have been growing ever since. Due to import restrictions, demand for Chery vehicles far outstripped supply.