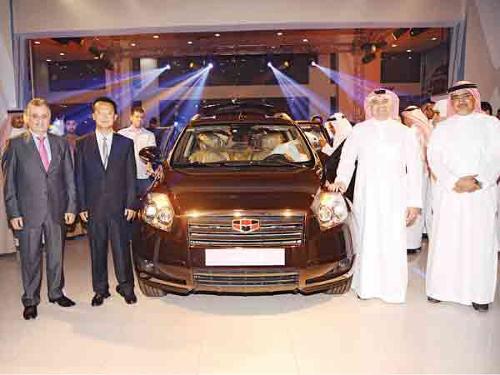 Saudi Gazette (Jeddah, Saudi Arabia) - After about a year and a half of Geely introduction to Saudi markets, Haji Husein Alireza & Co., Ltd., unveiled last week the new model Geely Emgrand X7, a new sporty SUV car, which has become the most developed car in Geely's lineup. The new gorgeous dynamic sporty car is equipped with the world leading automatic gearbox DSI.
In a ceremony attended by delegates from the Chinese Consulate in Jeddah headed by Wu Yi, Economic & Commercial Consul, and press, held in its showroom in Madinah Road, Haji Husein Alireza & Co., Ltd. unveiled the new Geely sporty SUV car X7.
The new Geely X7 car embodies design concept which depends on quality and innovation in all respects: starting from its exterior, the power and its features. It has a muscular and eye-catching exterior body which measures 4.541 mm × 1.833 mm × 1 .700 mm, and a wheelbase of 2.661 mm and thus providing high seating comfort to all passengers.
The car is available in two gasoline engines, one of 2.0-liter and the second one of 2.4-liter, along with 6-speed automatic or manual transmission.
The Geely Emgrand X7 SUV has been designed in accordance with the 5-star standards prepared by the auto test C-NCAP, steel was used throughout the car. It is equipped with 7 airbags, including dual front, side and side-curtain bags for knees. The car, also equipped with anti-lock brake system (ABS) and electronic brake distribution system (EBD).
Geely X7 features a number of amazing luxury and high-tech features including a rear camera, sunroof, and leather seats.
The new Geely Emgrand X7 will join four other Geely models the company is currently distributing in Saudi Arabia, namely: the luxury family sedan model EC8, mid-sized sedan model EC7, the compact car model LC Panda, and the crossover model GX2. The three models X7, EC8 and EC7 are covered with comprehensive warranty for five years or 150,000 km whichever comes first, while LC Panda and GX2 models are covered with comprehensive warranty for three years or 100000 km. whichever comes first.
Geely Emgrand X7 comes with a warranty of five years and a starting price of SR49,999, which is an amazing and competitive price compared to its highest specifications, stunning design, luxurious interior and highly advanced technical features.