Shanghai, July 30 (Gasgoo.com) The project of merging the sales networks of FAW's Hongqi (Red Flag) and Beturn brands is being carried out positively, and the final result will be made available in two weeks, reported China Business New today, citing an insider from FAW Car.
The report said that after the sales networks of Hongqi and Besturn are integrated, the strategic framework of FAW Car Co., Ltd. will be adjusted accordingly, with its subsidiary FAW Hongqi Car Sales Company to be controlled by FAW Car Sales Co., Ltd, which has been only responsible for the sales of the Besturn brand.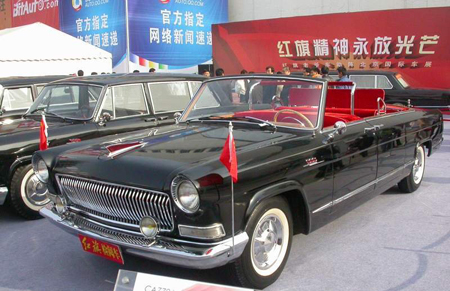 the time-honored Hongqi (Red Flag) sedan
Industry analysts said that the integration of Hongqi's sales into the Besturn network will reset the market orientation of Hongqi products to make the time-honored brand (of Chinese leaders' sedan in the '50s-'70s) more responsive to the changing market demand. However, opinions are divided reportedly in the FAW Car management over the Hongqi-Besturn sales network merger.

In 2006, FAW's premium Hongqi division had an independent sales network to aim at the high-end market, believing the big name would bring big sales. But the market didn't think so: two years later only a few hundred Hongqi cars were sold each month and now this renowned brand has to rely on the Besturn network.