Shanghai, June 18 (Gasgoo.com) Yesterday, the Hong Kong SAR (Special Administrative Region) Government put two electric vehicle-charging stations into service during a promotion activity, held at the government parking lots at the Hong Kong Star Ferry Pier and the Hong Kong Queen's Pier. The electric vehicle drivers enjoyed free service there.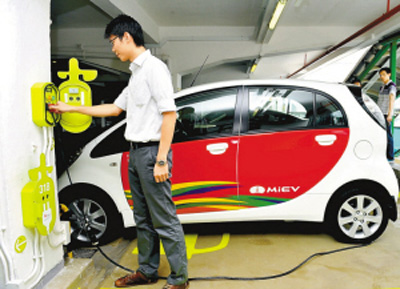 Reportedly, The Hong Kong SAR Government together with two local power companies has already built 39 charging stations for electric vehicles in the region, and is planning to add 23 charging stations in order to promote the development of new-energy vehicles. Construction of the relevant facilities will start in the mid-2010.
The Hong Kong SAR Government has been vigorously promoting the "green economy" in recent years. It plans to purchase 10 to 20 electric vehicles a year over a few years. In the next fiscal year, it will bring about 200 electric vehicles into the Hong Kong market.

Hong Kong Financial Secretary John Tsang says the Hong Kong government's nine parking lots have charging stations for electric vehicles at present, and more than 20 stations will be built this year. Moreover, two Hong Kong power companies have started putting charging stations at the parking lots in the region now.
It is reported that building the above 23 charging stations is only the first step for the Hong Kong government to promote the "green economy". As the number of the electric vehicle and the service demand increase in the market, it will build more charging stations in the future.