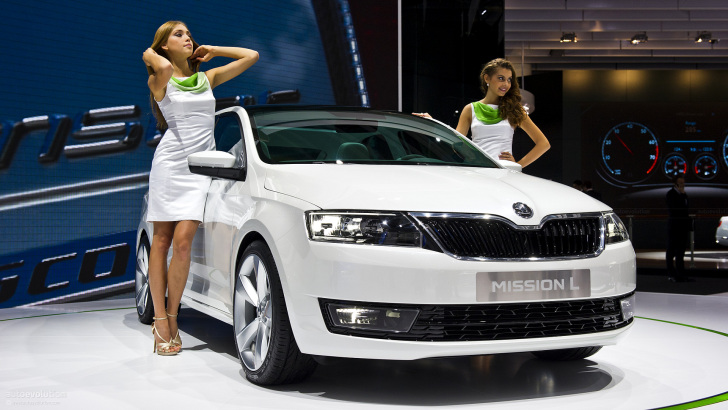 Gasgoo.com (Shanghai June 18) - China is already Czech manufacturer Skoda's largest market, Chinese division President Gerrit A. Marx was quoted as saying at the so-called Skoda Day earlier this month. Skoda's executives hope that at least 25 percent of the manufacturer's anticipated 1.5 million vehicles sales in 2018 will be made in China. In order to help Skoda achieve that target, Dr. Marx confirmed that Chinese production of the Rapid compact and Yeti SUV will begin next year, the Guangzhou Daily reported today.
The Rapid is based on the MissionL (pictured above) concept, which made its debut at the Beijing International Automotive Exhibition earlier this year. Sales of the compact are expected to commence at the 2013 Shanghai International Automobile Industry Exhibition, near the end of next year. The Rapid will be placed between the Octavia and Fabia. In addition to China, the compact will be exported to other markets. It will be the first Skoda model with a global target audience to be developed and manufactured outside of the Czech Republic.
Domestic production plans for the Yeti SUV, meanwhile, have been decided on as early as 2010, when Skoda signed an agreement with Shanghai VW. According to Dr. Marx, the Chinese Yeti will not be the same as its overseas counterpart, and will be specifically modified to suit local tastes. He revealed that it will be bigger and sport a more spacious interior. Dr. Marx also confirmed that two-thirds of the staff responsible for the Chinese Yeti has work experience in the country.
Skoda is also working on expanding its dealership network in the country, with plans to increase the number of outlets operating from the present 390 to around 550. Dr. Marx affirmed that, although the manufacturer's goal is to gain more sales, it places even more importance on customer service.
Dr. Marx believes that there is still a lot of unearthed potential in the Chinese automotive market for Skoda to unearth. He personally would like to see Chinese sales exceed 500,000 units by 2020.
Skoda has sold over 400,000 vehicles worldwide from January to May of this year.