"China is the perfect place to think about the future shape of mobility," said the Mercedes-Benz design chief in China, who moved to Beijing to set up a design studio.
A decade ago, in search of inspiration for an ultra-luxurious Mercedes-Benz, designer Olivier Boulay studied Japan's chauffeur-car culture.
Now, as he dreams about the future of the automobile, he zips around Beijing on a $367 electric bike, along with throngs of the city's residents.
"China is the perfect place to think about the future shape of mobility," said Mr. Boulay, the 52-year-old design chief for Daimler AG's Mercedes-Benz unit in China, who moved to Beijing from Tokyo this year to set up a design studio. "It's my job here to push my staff to push the envelope and think about the global automotive future from Beijing."
Mr. Boulay reflects a major shift in the car industry. As the Chinese market expands, global auto makers increasingly are making design decisions in China. The result is that consumer trends in China are being seen in models sold around the world.
While China accounts for only about 4% of overall Mercedes sales, customers elsewhere are getting features the Chinese like, including bigger, limousine-like back seats with more-advanced entertainment and climate-control systems. In China, many upscale buyers have chauffeurs and drive on their own only on weekends. Such customers also are generally in their 30s and 40s—much younger than elsewhere. They prefer light-colored interiors, not the somber blacks and grays popular in other regions.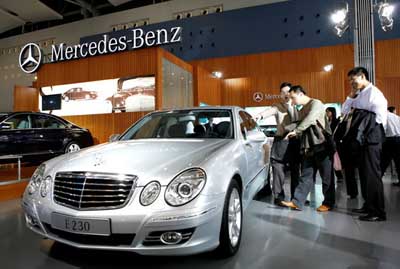 Car makers from General Motors Co. to Volkswagen AG to Toyota Motor Corp., are pouring resources into China, which displaced Japan as the world's second-biggest auto market a few years ago and is poised to surpass the U.S. this year as the world's biggest.
The consequences are on stark display at the Tokyo auto show, which runs through Nov. 4. Regular exhibitors including Mercedes-Benz, GM, and Hyundai Motor Co. all stayed home this year.
After emerging from bankruptcy in July, GM located its international headquarters in Shanghai, where it has a flagship joint venture with Shanghai Automotive Industry Corp. And Ford Motor Co. recently decided to move its Asia-Pacific head office to China from Bangkok.
GM already has three global vehicles designed with China-inspired features: the Buick LaCrosse and Regal and the Chevy Cruze. The LaCrosse emerged from a concept car called the Invicta GM developed by GM's design studios in Shanghai and Warren, Mich.
The LaCrosse's interior is splashed with light and warm colors. The wood grain on the steering wheel and dash blend in almost imperceptibly with the seat leather, a nod to the Chinese, who are used to monotone color schemes.
"We take our Chinese customers' and we take our Chinese partners' input extremely seriously," said Lowell Paddock, vice president of product development for GM's international operations.
In China, global auto makers are pondering not just the next model cycle in four or five years but also the shape of cars in 10 to 15 years. "China is a very important pillar for Daimler and its global strategy," said Ulrich Walker, chairman and chief executive of Daimler Northeast Asia, who is overseeing Mercedes-Benz's expansion in China.
China has become Mercedes' fourth-largest market, compared with 10th in 2006. China is one of the biggest markets for the top-of-the-line S-Class sedan, whose redesigned model was launched in China earlier this year after significant input from Chinese consumers. Mercedes even flew some of its customers and those of BMW and other competitors to Germany to see early prototypes.
Through September this year, Mercedes-Benz sold 44,300 vehicles in China, up 52% from a year earlier, according to company figures. During the same period, sales in Japan fell 28% to 21,829 vehicles. (Sales in the U.S. reached 147,800.)
Mr. Boulay's arrival in Beijing illustrates China's rise. A Frenchman by birth, he had spent 17 years in Japan as head of the German car maker's design studio in Tokyo, one of five it now has around the world.
In Beijing, he wants to soak in the country's new fascination with electric-powered bikes and cars to develop concepts for future Mercedes global products, including a luxury electric vehicle.
Mr. Boulay is especially interested in how ordinary Chinese people embrace e-bikes for daily transportation, and the way the country is prompting adaptation of electric cars and plug-in hybrids. "You can see how a new generation of consumers in this country is way out in front," he said.
He believes the shift opens up new possibilities for designers because of the simplicity of fully electric cars, which need neither bulky engines nor transmissions. Companies such as Japan's Nissan Motor Co. are experimenting with round, cartoon-like electric pod cars with no hoods or trunks.
China's culture of conspicuous consumption and its growing market for luxury goods also makes the country an ideal place to "generate new ideas and new concepts," Mr. Boulay said. "We want to use China as leverage to push ourselves," he said. That's why I am here and why we are setting up an advance design studio—just like we did years ago in Japan."
Separately Tuesday, Daimler posted an 80% drop in third-quarter profit, but it was a rebound from two quarters of losses as sales in the Mercedes unit strengthened. The Stuttgart-based company said third-quarter profit was €41 million ($60.9 million). Revenue fell 21% to €19.3 billion.