Gasgoo.com (Shanghai) - As far as most multinational automobile enterprises are concerned, China has already become one of the most important sources of their total sales revenue. For some manufacturers, Chinese automobile sales now account for over a quarter of their total sales.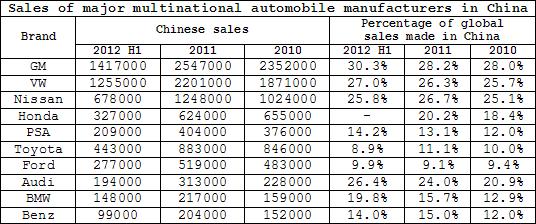 General Motors leads manufacturers in the importance it places on the Chinese market. The percentage of the Detroit manufacturer's sales made in China has grown from 28 percent in 2010 to 30.3 percent in the first half of this year. However, it is important to note that GM's sales also include sales from the SAIC-GM-Wuling company and the FAW-GM joint venture.
Wolfsburg-based manufacturer Volkswagen has seen the percentage of its total automobile sales made in China grow from 25.7 percent in 2010 to 27 percent in the first half of this year. If including sales from subsidiary Audi, whose sales volume in the country has also continued to grow, VW Group's total percentage of sales from China may very well exceed that of GM.
The percentage of Nissans (not including Renaults) sold in China totaled 25.8 percent in the first half of this year, slightly less than the 26.7 percent figure from 2011. Honda's Chinese sales grew over 20 percent this year, however, with its global sales figure having yet to be reported, it is impossible to know what percentage of its sales came from the country.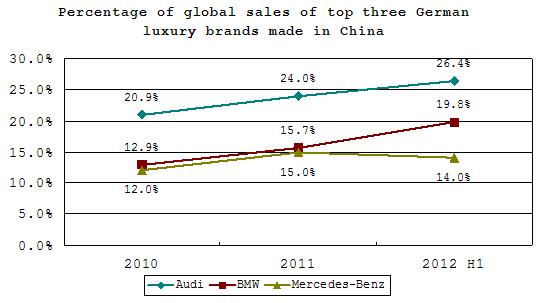 Among the other enterprises, BMW, Mercedes-Benz and Mitsubishi are notable for having a large portion of their sales come from China.