Shanghai (Gasgoo)- With the unstoppable tide of automotive electrification, battery swapping is considered to be a significant energy supply method for electric vehicles (EVs) that Chinese government is vigorously developing and popularizing with many supporting policies.
China's Ministry of Finance announced in April 2020 the subsidy scheme for new energy passenger vehicles priced below 300,000 yuan ($45,700) would be extended to the end of 2022. Nonetheless, the price restriction is not applicable to the cars with swappable batteries.
The policy indicates that while most premium EV makers will have to reduce prices to qualify for the scheme, NIO, whose entire product lineup comes standard with swappable battery pack, will still enjoy the governmental grant without harming profitability. Clearly, the exception is offered to boost battery swapping business.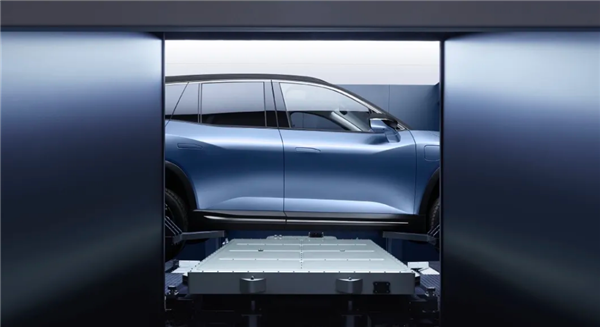 NIO's battery swapping facility; photo credit: NIO

In May 2020, the "battery swapping station" was officially written into the Report on the Work of the Government as an important part of new infrastructure construction. Then in last July, Xin Guobin, vice-minister of the MIIT, said China would step up efforts to advance the construction of battery swap infrastructures to promote quality growth of the new energy vehicle (NEV) sector. The battery swapping mode would be piloted in regions including Beijing and Hainan, and enterprises were also encouraged to develop new battery charging and swapping technologies, he added.
The Safety Requirements of Battery Swap for Electric Vehicles (called "the Requirements" for short), a national voluntary standard jointly hammered out by such companies and institutions as BAIC BJEV, NIO and China Automotive Technology & Research Center (CATARC), was approved by the National Technical Committee of Auto Standardization (NTCAS) in last August. It serves as the first national standards for the development of the battery swapping business.
The latest important guidance existed in the Planning on the Development of New Energy Vehicle Industry issued by the State Council in November 2020. In this document, the government highlights faster moves on the construction of battery swapping infrastructures and the promotion of battery swapping model.
Many provincial and municipal governments, including Shanghai, Hainan, Tianjin, Beijing, Fujian and Hunan, also released policies to support the development of battery swapping business.
For instance, Shanghai will perfect the management system for the application of battery swapping facilities and subsidize the eligible operation of battery swapping services, according to the Implementation Plan on the Development for Speeding up the Development of New Energy Vehicle Industry (2021-2025) issued by Shanghai municipal government in February.
Hainan provincial government launched an action plan in March, which says local authorities will further step up efforts to construct EV charging and battery swapping infrastructures for rest stops in highways, and pilot the battery swapping model in some eligible areas.
Meanwhile, Hainan government also said it will strive to deploy 2,000 new energy vehicles equipped with swappable batteries in 2021, and encourage authorities of cities and counties to rationally build battery swapping stations.

The growing number of incentives will not only enable such automakers as NIO and BAIC BJEV to double their efforts to strengthen presence in battery swapping area, where they have long been at the forefront, but also have attracted more new players to this field.
As the first Chinese automaker who developed battery swapping technologies and services dedicated to private users, NIO unveiled at the NIO Day 2017 the first-generation Power Swap station, and opened its first battery swap station in Nanshan High Tech Industrial Park, Shenzhen on May 20, 2018. As of March 24, 2021, the startup had completed 2 million battery swaps and deployed 193 power swap stations across China.
The NEV subsidy policy that excludes battery swappable vehicles from the price threshold of 300,000 yuan greatly benefits NIO. Encouraged by the government stimulus, NIO is trying to consolidate its leadership in battery swapping domain by diversifying its services, forming more partnerships and upgrading facilities.
On August 18, 2020, NIO, CATL, Hubei Science Technology Investment Group Co., Ltd. and a subsidiary of Guotai Junan International Holdings Limited (collectively the "Partners") jointly established the Battery Asset Company. NIO and the Partners would each invest 200 million yuan ($30.579 million) and hold 25% equity interest in the joint venture respectively. The Battery Asset Company is dedicated to purchasing and possessing the battery assets, and leasing the battery packs to users who subscribe to the BaaS (Battery-as-a-Service) model.
Just two days after the JV foundation, NIO officially launched the BaaS that allows users to buy a car without the battery. "The successful launch of the BaaS model will enable NIO users to benefit from the lower initial purchase prices of our products, flexible battery upgrade options and assurance of battery performance," said William Bin Li, founder, chairman, and CEO of NIO.
Then NIO signed a framework agreement with State Grid Electric Vehicle Service Co., Ltd. (State Grid EV) in last December to jointly build 100 charging and battery swapping stations in China this year, striving for a thorough connectivity among vehicles, EV charging and power swapping facilities.

NIO Power Swap Station 2.0; photo credit: NIO

At the NIO Day held in January this year, NIO officially announced the second-generation battery swap station—Power Swap Station 2.0—to provide freshly charged batteries for NIO's EVs. According to the brief description, the new station is capable of offering up to 312 battery swaps per day—three times more than the previous generation.
BAIC BJEV, Changan New Energy and Geely are also main automakers that work on battery swapping model, while their businesses mainly focus on taxis and ride-hailing service.

As an early mover in this area, BAIC BJEV started pre-research of battery swapping model as early as 2010 and kicked off in 2018 relevant scale operation. It has currently grasped such core technologies as the vehicle positioning system, the fast-swap connection system, the chassis-based battery swapping system, the battery lifecycle management as well as the fast battery swapping network operation. The automaker has already launched its fourth-generation battery swapping station, which can swap a battery pack within only 30 seconds and offer 400-500 battery swaps per day.

Battery swapping station of Geely Technology Group; photo credit: Geely Technology Group

Geely Technology Group unveiled its intelligent battery swapping stations in Chongqing and Jinan last year. The company plans to deploy 5,000 power swap stations by the end of 2025 in the Southeast Asian market and on the inter-city and inter-province highways across China.
Changan New Energy launched in September 2020 its first battery swapping station in Chongqing and put the station into pilot operation at the same time. The facility was jointly developed by the members of the battery swapping alliance initiated by Changan New Energy in last July, which consists of CATL, Aulton, State Grid EV, Energy Tower (a wholly-owned subsidiary of China Tower) and other companies. It mainly works for taxis, ride-hailing service, inter-city transport and logistics business.
This year, SAIC Motor and FAW Group also joined the lineup of automakers that develop battery swapping business. Last month, SAIC Motor PV signed a MoU with Aulton, a leading Chinese battery swapping solution provider, and celebrated the launch of the battery swappable Roewe Ei5, whose battery pack can be swapped in only 20 seconds at Aulton's battery swapping stations.
During the same month, Fawer, a subsidiary of FAW Group, claimed it would plow 9 million yuan ($1.376 million) in a joint venture co-founded with companies including Aulton and FAW Mobility, and the joint venture would focus on providing battery swapping service for FAW's vehicles.
To gain a foothold in the market, automakers adopt different approaches, which can be generally classified into two methods, namely cooperating with battery swapping service operators and independently developing technologies and building facilities.

Aulton's battery swapping station at Auto Shanghai 2021

In the aforesaid automakers' efforts, a name, Aulton, has been frequently mentioned. According to the China Electric Vehicle Charging Infrastructure Promotion Alliance (EVCIPA), Aulton had 286 battery swapping stations by the end of December 2020, accounting for 51.5% of the country's total number. Its strong presence in China's battery swapping industry has made such automakers as SAIC Motor, FAW Group, GAC Group, Changan Automobile and ZEDRIV queueing to partner with it.
Aside from Aulton, State Grid is also speeding up its battery swapping deployment. The Chinese state-owned electric utility monopoly has formed strategic partnerships with the likes of BAIC Group, FAW Group and Dongfeng Motor, to jointly explore the business model of the separating ownership of vehicles and batteries, and co-construct and operate battery swapping stations.
Some carmakers, like NIO, opt to build power swap facilities by themselves. EVCIPA's data show that NIO had 175 battery swapping stations by the end of 2020, only second to Aulton.
However, even the player like NIO decided to form in-depth cooperation with State Gird as it is well aware of the fact that standalone efforts can not suffice to a full-fledged development.
On April 15, NIO announced a strategic partnership with Chinese state-owned oil producer Sinopec to co-build EV charging and battery swapping infrastructures. Meanwhile, NIO's first Power Swap Station 2.0 was officially launched at a service station of Sinopec in Beijing.
Gasgoo not only offers timely news and profound insight about China auto industry, but also help with business connection and expansion for suppliers and purchasers via multiple channels and methods. Buyer service: buyer-support@gasgoo.com Seller Service: seller-support@gasgoo.com
All Rights Reserved. Do not reproduce, copy and use the editorial content without permission. Contact us: autonews@gasgoo.com.