The Automotive Industry is one of the largest and most prestigious mass-production industries in Germany. Like many other advanced industrial nations, Germany has also moved towards benefiting from lower production costs abroad and has established several production units in Asia, former Eastern Europe, as well as South America: German manufacturers prefer a very close and tight control over all their suppliers though.
In 2006, German passenger car and commercial vehicle manufacturers achieved a total production of 13,838,768, rose by 2.8 percent than that of 2005, in which domestic production occupied 5,819,614, and production abroad p5,469,114.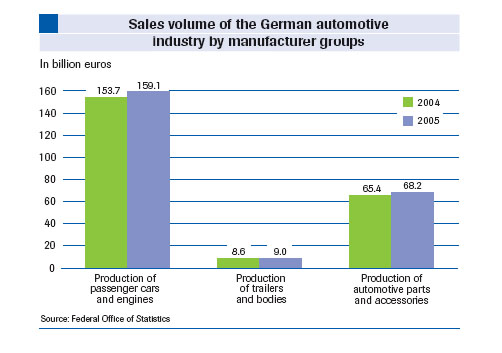 In 2005, German passenger car and commercial vehicle manufacturers achieved a total business volume (domestic and export) of 159 billion euros. Despite the strength of the euro, export sales enjoyed a robust rise of 4 percent to 107 billion euros. Domestic sales rose by 3 percent to 52 million euros. Exports thus accounted for a significantly larger share of total sales. In 2005, German manufacturers achieved two thirds of their sales abroad; ten years ago, it had only been one half.
Nearly every sector of the automotive industry in Germany operates on a globally significant scale. Typical characteristics include advanced high-technology in design, durability and reliability in use, and very sophisticated assembly processes, based on knowledge-based manufacturing techniques.
The sectors comprise of automotive components, caravans, commercial vehicles, containers, motorcycles, motor vehicles, retail, distribution and maintenance of cars, specialised vehicles, such as electric vehicles, utility vehicles, construction vehicles, cranes, forklift trucks, motor homes, etc., tractors and agricultural vehicles, trailers, and tyres.
Germany promotes very high standards of road and car safety, environmental pollution targets, and fuel efficiency. At the same time German car designers succeed in incorporating very high-performance features in their cars. To achieve this much emphasis is directed towards advanced electronics, innovative measuring tools, just-in-time logistics, turbo-charging systems, light-weight / high-strength engineering materials, catalytic converters, "smart" engineering and intensive robotic assembly, and dedicated software development. In the design of hardware and software also much attention is being paid to the aspect of how to protect and keep its competitive edge for longer.

All Rights Reserved. Do not reproduce, copy and use the editorial content without permission. Contact us: autonews@gasgoo.com.