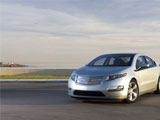 I hear General Motors is planning to lay off thousands of workers in Detroit and move production of the Chevrolet Volt to Mars. This is obviously more bad news for Detroit, which will then be left ...

Full Article
General Motors Co. General Motors' 4.3-liter EcoTec V6 engine. General Motors' GMC truck unit said its Sierra full-size pickup truck will come with a standard 4.3-liter V6 engine tha...
Remember when Ford was considering selling Jaguar? The questions at the time were not much different than they were when GM first said it was looking into selling Saab. At the time, analysts talked ab...