The automotive industry plays an essential role in the national economy due to its high visibility as well as the large number of branches and jobs directly related to it. About 7.2% of the working population is totally or partially concerned with the automobile industry (more than 2.5 million people).
France has a long history of vehicle manufacturing
The French were not in the forefront of automobile development. In 1769, Nicolas Joseph Cugnot, an engineer in France, invented the very first self-propelled road vehicle. He used a steam engine to power his vehicle, built under his instructions at the Paris Arsenal. This inspired more gifted technicians in different countries to devote into the field.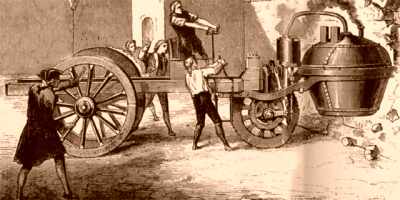 In 1890, the first fuel-driven car was manufactured by the Peugeot Company. Before World War 1, its annual production capacity reached 12 thousand and 48 thousand in 1939. Citroen Co. formed in 1915, developed faster, with the annual capacity exceeding 100 thousand at the beginning of 1920s and occupied 1/3 of the French market in 1928. Renault Co. founded in 1898 built its massive production site in 1914.
French auto industry is the top one in the world
In 2006, the French automobile industry is the world's sixth largest with an annual production of 3.17 million, and the national market is the fourth largest European automotive market after Germany, the U.K. and Italy. @@page@@
European production in 2003
(in thousands of commercial vehicles & private cars)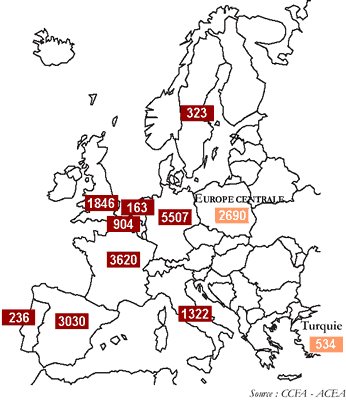 The French auto market is more competitive now
PARIS--Sales of new automobiles in France fell 3.3 percent in 2006 compared with 2005 to 2,000,553 vehicles. Sales at Renault in 2006 dropped 8.1 percent to 490,847 compared with 2005, giving the company a market share of 24.5 percent, while those at rival PSA Peugeot Citroen were down 3.0 percent at 614,729 for market share of 30.7 percent. Overall, French models recorded a 6.1 percent sales slide in 2006, giving them a market share of 54.3 percent of the French market. Among Asian manufacturers, Toyota of Japan enjoyed an 11.1 percent increase in sales while Suzuki posted a 20.9 percent jump. French sales fell 24.1 percent for Nissan and 2.2 percent for Hyundai of South Korea. Among European groups, Fiat of Italy had a sales gain of 7.5 percent in 2006 while Volkswagen of German reported an increase of 3.6 percent over 2005.
Second hand cars became best-selling in recent years
Since new cars were more and more expensive in recent years, more and more people came to get second hand cars. The annual sales volume of the second hand cars was over 5 million since 2001.the number reached 5.65 in 2006, increasing 1.5% compared with 2005. 18% of cars on road were second hand.
Job losses in the automotive industry made the French government face tough times
In 2004, several Eastern-European countries entered the EU market, thus, job losses became a headache for the French government. Some officers acknowledged the scale of future automotive investment in France are becoming smaller than that of in the past, as manufacturers looked to other regions for lower-cost labor and flexible investment incentives. Meanwhile, France was concentrating on growing its presence in the automotive research and development and technical segments, which provide high-paying, secure jobs. But those segments are of equal interest to other regions of Western Europe, including Portugal, Spain and Italy.
The are still some favorable factors, French auto makers have been successful in international markets, the French has a well trained working group, the national market is still far from being fully satisfied etc, which will power the French auto industry to go forward.


All Rights Reserved. Do not reproduce, copy and use the editorial content without permission. Contact us: autonews@gasgoo.com.