How will you move your mail pieces and goods around in the United States? Where can you find a post office? Which service is the fastest, which is the most cost-effective? Are there alternatives? How would you setup an express service account? This short article brings some light in the jungle of USA mail carriers.

Shipping Mail Pieces in the United States
Most of us are well aware of the distinctive shipping boxes from FedEx. Others are constantly seeing the typical brown-colored UPS trucks driving around all over town. Especially FedEx got a boost in attention since the U.S. movie "Cast Away" came out in the year 2000. In this movie Tom Hanks plays a FedEx executive who is delivering his FedEx boxes some years too late due to various circumstances.

How is this whole system of shipping mail pieces and parcels around the USA working? Since shipping is an important aspect of doing business, it is worth some minutes to have a closer look at it. Anybody coming from another country and starting a new business in the USA may needs a while to get used to the new abbreviations, procedures and techniques which are involved in the simple taks of sending a piece of mail.

What are the main shipping suppliers in the USA?
The main players for (expedited) shipping services in the United States are DHL (DHL Worldwide Express; DHL took over U.S. Airborne Express in 2003), FedEx (Federal Express), UPS (United Parcel Service) and of course USPS - the United States Postal Service. Let's start with having a look at how the major players split up the USA market in regards to expedited shipping:
Overnight Letters Parcels
U.S.A. Market Share U.S.A. Market Share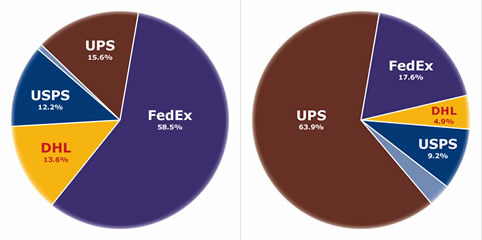 Source: Association of Postal Commerce
Numbers are based on 2001 Shipping Revenue Market Share.
DHL includes the figures of Airborne Express.
All of those companies are offering a variety of shipping services which can range from a "next day delivery almost anywhere to the USA" to deliveries taking a couple of business days or two weeks; all depending on the price you are willing to pay.

USA Shipping: The Standard Address Format
The very basic requirement of shipping any mail pieces is of course a valid address. For newcomers it is important to understand the standard USA address format which includes the name of the organization, the name of the recipient, street number and name, ZIP code, city and state as seen in the following example:
USA Standard Address Format for Shipping:
[recipient] Joe Postman
[organization] Post Office - Seattle Main Office
[street number, street] 301 Union St
[city, state, zip] Seattle, WA 98101
Shipping mail pieces with DHL, FedEx and UPS in the USA
Everything in regards to shipping in the United States seems to be easy and straight-forward. Unless you do it for the first time. In order to be able work with USA Shipping Suppliers such as FedEx, DHL or UPS, there are a variety of options on how to get started. Shipping mail pieces in the USA can be done by simply stopping by at one of their outlets in person, filling out a small form for every mail piece and ship it off. Locations can be found on the following websites:
 FedEx USA Location Finder
 DHL USA Location Finder
 UPS USA Location Finder
However, manually filling out forms and investing at least 20 minutes time to drive back and forth is not a very effective way. Part of using a expedited services is that it is meant to be much more convenient. Any of the three express shipping companies are offering a free pickup for most locations. That means that you can simply fill out an online form at your computer, print out a shipping label and arrange a pick-up from your office online. Then, e.g. the UPS driver is stopping by your office, picks up the shipment and you never left your desk the whole time. In order to have the convenience to create shipments online, it is necessary to open an account with the respective company. This can either be done on their websites or in person by visiting one of their outlets which are available in the thousands all over the country.

Opening and maintaining an shipping account for expedited USA shipping is typically free. The same applies to the shipping boxes and shipping materials. Costs for the process of shipping itself starts usually at around $9 - $11 for a two days shipping within the USA (e.g. two days "express saver" from FedEx for a box weighing one pound) or around $25-$35 for a next day delivery. The detailed shipping cost are varying and depending on factors like weight, distance, residual or commercial recipient and of course the desired delivery time.

Almost all expedited USA shipping services are offering a "tracking number", with which the exact position of any mail piece can be tracked at any time via the company's website. In addition, delivery confirmation and guaranteed delivery times are part of the standard services. A delivery confirmation by e-mail is almost always included, too.
All Rights Reserved. Do not reproduce, copy and use the editorial content without permission. Contact us: autonews@gasgoo.com.