2 million cars were sold in 2006, which marked the seventh consecutive year of growth in the Russian automotive market. According to ICSS, output of passenger car sales reach $33 billion in 2006 – a more than five-fold increase over the 2000 level (see figure). The major factors is that Russia's car exports remains relatively steady at around 130,000 vehicles annually.
Structure of Russia's Domestic Car Sales, USD billion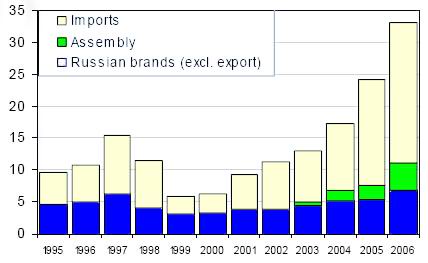 A prominent feature of market expansion in Russia is that it has been driven primarily by import growth. Despite a 30% average annual growth rate in imports, domestic carmaker AutoVAZ has retained its dominance in the market with annual production of more than 700,000 units. However, as rising domestic costs erode the price competitiveness of domestic models, Russian carmakers must focus on quality enhancement by looking to possible alliances with foreign manufacturers or other ways to access innovative technologies. For example, the GAZ group this year acquired a British light commercial vehicle manufacturer, as well as US automotive plant of DaimlerChrysler and its production licenses.
In the mid-1990s, the plant rated most efficient, the most productive domestic plant the Volga Automotive Plant (Avtovaz) at Tol'yatti, operated at about 70 percent of capacity, and the Gor'kiy Automotive Plant (GAZ) in Nizhniy Novgorod was the only other major plant operating above 30 percent in 1995. The two main truck manufacturers, are the Likhachev Automotive Plant (ZIL) in Moscow and the Kama Automotive Plant (KamAZ) in Naberezhnyye Chelny. The traditional Soviet truck was a heavy diesel model
The Russian Market for Cars (from Scientific Automotive and Engine Institute)
In April 2005, the Russian government proposed an "industrial assembly" regime to promote foreign carmakers to set up assembly plants in Russia and bring in original equipment manufacturers (OEMs). To receive the dispensation, OEMs are required to organize production of at least 25,000 units a year on Russian soil and reduce imports of components by 30% within 7-8 years.Up to October 2006, nine investment agreements had been concluded with foreign OEMs on construction in Russia (Toyota, Nissan, GM,Volkswagen and Ford) or joint ventures (Autoframos-Renault, GM-AutoVAZ) and Russian-owned companies(Izh-auto, Severstal-auto), which have already begun assembly of South Korean Kia and SsangYong models at existing production sites.
All Rights Reserved. Do not reproduce, copy and use the editorial content without permission. Contact us: autonews@gasgoo.com.