Research on China New Energy Vehicle Market
Shanghai (Gasgoo)-Gasgoo Automotive Research Institute has released a report on the overall trends of China new energy market in August, 2017. The report forecasted China new energy vehicle output, and interpreted the new energy vehicle market trend.
I. Forecast on China New Energy Vehicle Output
The government has made a series of policies to promote the development of NEV market
2.1 NEV subsidies have undergone annual cut and technology development is promoted

With the development of new energy market, subsidies to NEVs are decreasing gradually. According to the subsidy standards, subsidies from central government reduced 20% compared with last year, while local subsidies should not exceed 50% of the central government subsidies.
In order to promote key technology's upgrading and NEV market's development, subsidies also favor those models whose battery's energy density can meet the requirements. For example, buyer of those vehicles whose density is higher than 120Wh/kg can receive 1.1 times subsidies.
Dual-credit system is about to be launched and market will dominate the NEV segment
Dual-credit system means CAFC credits and NEV credits. According to this system, NEV models' extra credits can make up for negative CAFC credits. One NEV credit can offset one CAFC negative credit.
NEV enterprises have a good performance of CAFC credits
In 2016, 33 enterprises failed to meet the standards, which accounted for 34.3% of 96 enterprises.
Enterprises with positive credits mainly produce NEV models while enterprises with negative ones mainly produce SUV models. Take BYD for example. The company has a 1.748 million credits and the average fuel consumption is 3.1L/ 100KM.
It is difficult for SUV to reach standard while JVs just meet the standard
Enterprises, whose main products are SUV models, are under great pressure to realize CAFC standard. For example, it is hard for 2016 model specifications to reach Phase Four fuel consumption target. Those who haven't got NEV business is also under pressure to reach the standard. If 2016 model specifications are taken as parameters, the average fuel consumption should be reduced by 20%.
It's getting more and more difficult for traditional fuel vehicles to improve fuel-efficient ability
According to IHS data, relying solely on fuel-efficient improvement to reach the target poses great pressure. Comprehensive application of the following technologies can reduce fuel consumption by 20% by 2020 and another 10% percent by 2025.
NEV models are of great help to reduce CAFC value

According to the current CAFC computing way, NEV models can significantly decrease CAFC value. With a increase of 8 percent in BEV models, fuel consumption can be improved by 20 percent.
There are a large gap between the current value and the target of NEV credits and more models are needed
New energy passenger vehicle's sales reached 316,000 units, whose equivalent credits may be 940,000. Of all companies, 20 have positive credits and 75 have negative credits. Companies with positive credits are all self-owned brands. The new energy business of JVs haven't been fully conducted.

According to MIIT's data, the output of 2016 reached 23.57 million, which needs 1.886 million credits. Thus the market still needs 946,000 credits.
The dual credit system will promote a increase in NEV output
NEV models will decrease obviously CAFC value and NEV credits will be improved year by year. At present, the launch of joint ventures' NEV models are relatively conservative. PHEV will take a dominant role in a short period, but every single vehicle has fewer credits.
In 2018, China's new energy vehicle sales are expected to be over 1 million units and will reach 2 million in 2020.
II. Interpretation on New Energy Vehicle Market Trend
NEV Market Has Severely Affected by Policies with Large Fluctuations
In early 2017, NEV subsidary falloff and announcement review have resulted in halving the sales in Jan. 2017 with a sharp drop. With the launch of NEV promoting menu and increasing of consumption demand, the sales has gradually rebound, the sales for for 2017 H1 has reached up to 158,000 vehicles with Y-o-Y growth rate of 31.4%. The NEV are still dominated by BEV.
NEV Market is Dominated by BEV Models While Shares of SUV Are Gradually Growing
BEV has seized the major shares of NEV market, and its market shares have been increased year by year.
As the development of NEV market and consumers' favor in SUV, the market share of BEV is gradually expanding. For PHEV models, SUV is prodominating the main market shares.
ZD D2 and RoeweeRX5 are the Best-selling BEV and PHEV Models Respectively
ZD is the best-selling BEV model in 2017 H1 and the sales are 18,693, followed by BAIC EC Series and BYD e5, the accumulated sales for other models are all below 10,000.
Roewe eRX5 is the best-selling PHEV models, and the sales are the Tope 1 for 9,205 vehicles. The TOP5 best-selling models are all from SAIC and BYD.
Usage Scenarios Classification for NEVs
New energy market concentration of is obvious, with Top 10 area taking up 88% market shares
Current new energy car sales mainly focus on purchasing-limited, plate-limited cities and provinces that sales of traditional low-speed electronic vehicle dominate large parts. Top 10 areas take up 88% market shares.
Consumers in plate-limited cities are more likely to buy A class vehicles
Six plate-limited cities dominate 62% shares in new energy market
Models are mainly in A class vehicles which take up 57% shares, while A00 class vehicles take up 28% shares and vehicles for renting take up 11% shares.
A00 class vehicles take up large parts in non-plate-limited cities
In non-plate-limited cities that Sales over one thousand include Ningbo, Weifang, Changsha, Hefei, Jinhua, Zhengzhou, Qindao and Wuhan.
Models are dominated by A00 class vehicles, with shares reached 93%, while vehicles for renting only take up 1% shares.
New market and new business model become the major impetus in growing market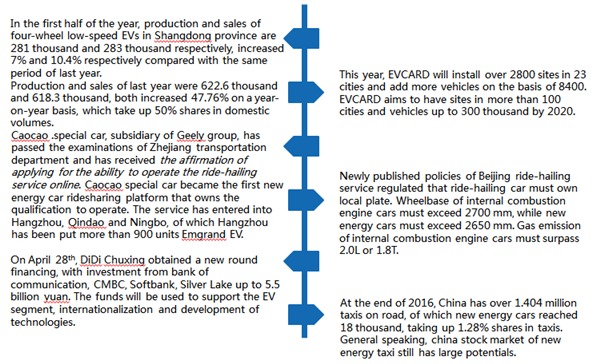 PotentialAnalysis on NEV Scene
Gasgoo not only offers timely news and profound insight about China auto industry, but also help with business connection and expansion for suppliers and purchasers via multiple channels and methods. Buyer service:buyer-support@gasgoo.comSeller Service:seller-support@gasgoo.com
All Rights Reserved. Do not reproduce, copy and use the editorial content without permission. Contact us:
autonews@gasgoo.com