Shanghai (Gasgoo)- In May 2018, according to data of CPCA, sales of China's passenger vehicles (incl. minivans) increased by 8.8% year-on-year (YoY) to 1.90 mn units (shown in Chart 1), and slide down 0.5% month-on-month(MoM) from 1.91 mn units in April. PV sales posted a YoY growth of 5.2% up to 9.89 mn units in YTD terms.
In the meantime, production output maintained robust growth momentum with an increase of 11.2% YoY to nearly 1.95 mn units, and YTD growth rate reached 3.3%. Although both monthly sales and production achieved positive growths, the growth rates of sales and production were negative while the figure was positive in the same period of 2016 and 2017.
Curiously, the pay-back effect brought by phase-out of tax incentives for vehicles fitted with small-displacement engine didn't cool down the market sharply in the first half of the year. However, the gap between wholesale volumes and retail volumes indicated a potential risk that accumulative inventory is being enlarged. In the first four months of 2018, the accumulation reached 1.11mn units, as shown in the Chart 2, and was close to the annual ones of the past few years (2015: 1.15mn units, 2016: 0.81mn units, and 2017: 1.26mn units). The inventory index of this May published by CADA (China Automobile Dealers Association) hits at 1.59 (shown in chart 3), exceeding the warning line of 1.5 mn. And the average index of 2018 YTD was higher, reaching at 1.60. The huge pressures over the inventory would push most automakers to reduce both production and sales in the summer.
In May, car segment kept dominant market share, hitting at 948,490 units and enjoying a 12.6% YoY growth. The rebound of the wholesale of cars pulled its YTD growth back to 4.6% from 2.8% last month. Consumers' preference for SUVs resulted in continuous vigorous growth in this segment and more new model launches. Although the YoY growth of SUV Segment in this May was landing to 7.4% from 18.2% in April and a decrease happened in MoM sales volumes, the YTD growth had been 12.1% and the YTD volumes was getting closer to those of the Car. MPV Segment continued to suffer a drop in sales (YoY change is -5.8% and YTD change is -12.0%), but the rate was narrowed. Compared with SUVs and cars, MPVs were losing its functional advantages. Most automakers who manufacture the budget MPVs, taking up most MPV shares, were upgrading in all dimensions, and hoped to slow down the rapid negative rate. In minivan segment, we saw a rise in sales volumes in May, but it still could not rescure the big failure in a wide view. It seemed that electrification can bring out more opportunities, and would be the main theme for the reshape of the minivan segment.
In top 10 sales groups, although Geely group (incl. Volvo) was still behind SAIC-GM-Wuling in YTD Sales of 2018, the group rose rapidly to the 3rd place in May and was ready to exceed SAIC-GM-Wuling as the biggest Chinese auto company on sales in coming months. Honda was still getting stuck in the quality scandal, and dropped by 5.5% in monthly sales. Another two Japanese automakers, Toyota and Nissan, took the opportunity to obtain nice sales performances in the year. Hyundai Group seemed to escape from the negative effects of last year, and the group was recovering in sales. But how to cope with the challenges from Chinese competitors was and will still be the biggest problem for Hyundai. BAIC group and SAIC group also appeared on the list, exceeding the Changan group. Nevertheless, we keep different views on these two carmakers by trend. We foresee BAIC group will step backward in 2018 because it is experiencing a long-time reform, and SAIC group will keep upward momentum owing to its flexibility, efficiency, and deep cooperation with GM and SAIC-GM-Wuling.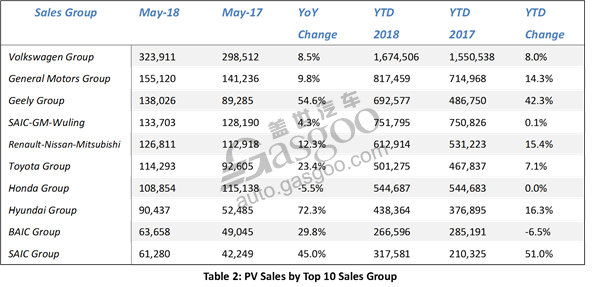 Gasgoo not only offers timely news and profound insight about China auto industry, but also help with business connection and expansion for suppliers and purchasers via multiple channels and methods.
All Rights Reserved. Do not reproduce, copy and use the editorial content without permission. Contact us: autonews@gasgoo.com.