Summary of eight Chinese public auto groups' 2020 sales
Shanghai (Gasgoo)- For the year of 2020, China auto sales reached 25.311 million units, dropping 1.9% from the previous year, according to the China Association of Automobile Manufacturers (CAAM).
As of Dec. 2020, China auto market was gaining year-on-year sales growth for nine consecutive months.
Affected by the impact of coronavirus outbreak in the first quarter, five major publicly-traded Chinese automobile groups suffered decrease in annual sales. SAIC Motor was still the No. 1, while it was also the only one that faced double-digit decline. The other three groups hereby listed, namely Changan Auto, Great Wall Motor and JAC Motors, managed to see growth regardless of the viral spread.
SAIC Motor's auto sales drop 10.22% in 2020
SAIC Motor announced its full-year sales dipped 10.22% from a year ago to 5,600,482 units last year. Despite the decrease, the company was honored the No.1 Chinese automaker by annual sales for the fifth year in a row.

In December 2020, SAIC Motor saw its monthly sales climb 7.01% over the previous year to 746,607 units, for the seventh month in a row representing year-on-year growth.
SAIC-GM-Wuling (SGMW) outperformed the other subsidiaries in terms of both annual sales and Dec. sales.
Wuling brand sold a total of 1,177,507 new vehicles through 2020 and has been posting year-on-year increase for nine consecutive months.

Roewe RX5 Plus; photo credit: Roewe

SAIC Motor's self-owned brands, including Roewe, MG, R Motor, Maxus, Yuejin, Wuling, Baojun, Hongyan and Sunwin Bus, sold roughly 2.6 million units through 2020, a highest-ever number on an annual basis.
SAIC Motor said its new energy vehicle (NEV) sales soared 77.8% over a year ago to around 320,000 units in 2020. Moreover, the sales of overseas markets amounted to 390,000 units (+11.3% YoY), 60% of which were from NEVs.
Dongfeng Motor Group's annual sales fall 2.17%
Dongfeng Motor Group logged a 2.17% decrease in its 2020 sales. The Wuhan-headquartered automaker attained nine consecutive months of year-on-year growth from April onwards, while the coronavirus-led plunge of 46.36% in the first quarter still brought down the annual sales.
The downturn completely resulted from the decline in annual PV sales. The group sold 2,313,497 PVs last year, which were 6.09% less than that of the year-ago period. Buoyed by the government's whopping investment in infrastructures, the CV business scored an 18.47% jump with 554,812 units sold in total.
With respect to monthly sales, Dongfeng Motor Group saw its Dec. sales leap 20.04% to 342,559 units with both PV and CV businesses achieving increase.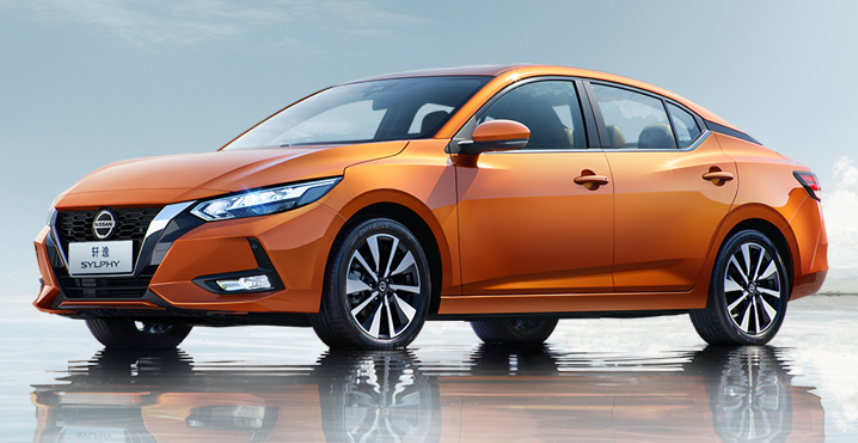 Sylphy; photo credit: Dongfeng Nissan

Dongfeng Motor Company Limited (DFL) recorded a 5.16% decline in 2020 sales. Among DFL's branches, Dongfeng Venucia posted the sharpest decline. Besides, Dongfeng Nissan saw its full-year sales slide 3.46%, while its monthly sales was representing growth for four straight months ended Dec. 31, 2020.
Venucia would be brought under the management of Dongfeng Nissan, serving as the second sub-brand of the PV business unit, DFL announced on Dec. 28.
Dongfeng Honda's sales vigorously rose 6.28% to 850,307 units in 2020 thanks to the strong demands of the Civic, the CR-V and the XR-V. Last month, the joint venture also boasted a 62.25% remarkable increase.
GAC Group's sales edge down 0.89% in 2020
GAC Group saw its 2020 sales edge down 0.89% year on year to 2,043,756 units, while its outputs inched up 0.54% to 2,034,834 units.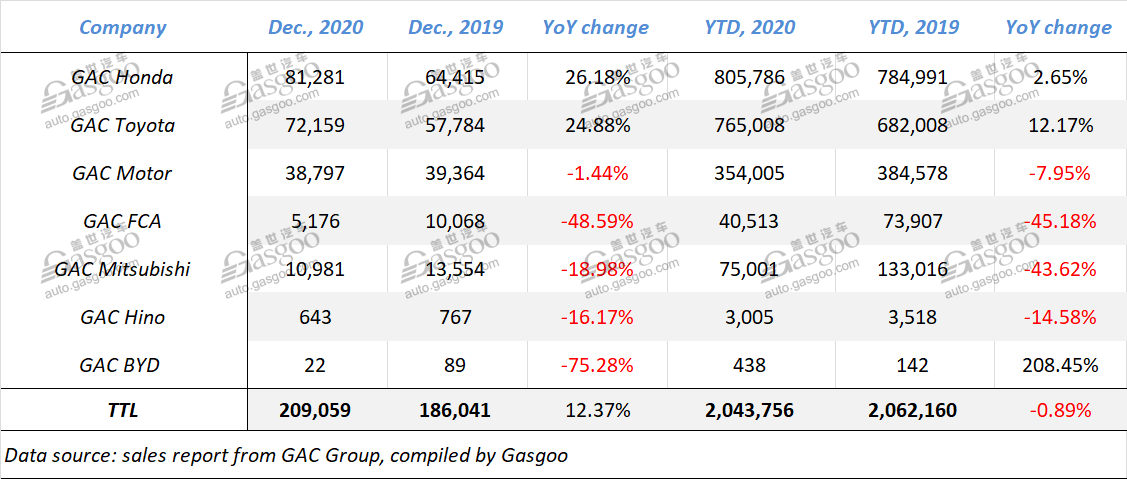 Among the vehicles sold last year, 2,040,313 units were PVs, sliding 0.88% compared to 2019. The decrease should be entirely attributable to the decline in car sales. With 979,099 units sold, the car unit posted an 11.69% drop, while MPV and SUV sales rose 12.12% and 11.69% respectively to 115,751 units and 945,463 units.
In December, GAC Group sold 209,059 vehicles, up by 12.37% over the previous year. The automaker was achieving double-digit growth in monthly wholesales through the second-half of 2020.
Among subsidiaries, both GAC Honda and GAC Toyota scored growth in full-year wholesales. In terms of Dec. sales performance, the two Sino-Japanese joint ventureall posted double-digit increase.
Trumpchi GS4; photo credit: GAC Motor

GAC Motor, the group's self-owned PV subsidiary, recorded a 7.95% decrease in annual sales. Its monthly wholesales stood over 30,000 units between August and December.
GAC Group said it had eight models whose annual sales topped 100,000 units. The sales of the top 3 models—the Levin, the Accord and the Camry—reached 226,683 units, 210,574 units and 185,140 units respectively.
Changan Automobile sees 2020 sales jump 13.98%
Chongqing Changan Automobile Co., Ltd. (Changan Automobile) said its new vehicle sales reached 2,003,663 units in 2020, up by 13.98% compared to the previous year. It sold 200,616 vehicles last month, representing a year-on-year growth of 3.57%.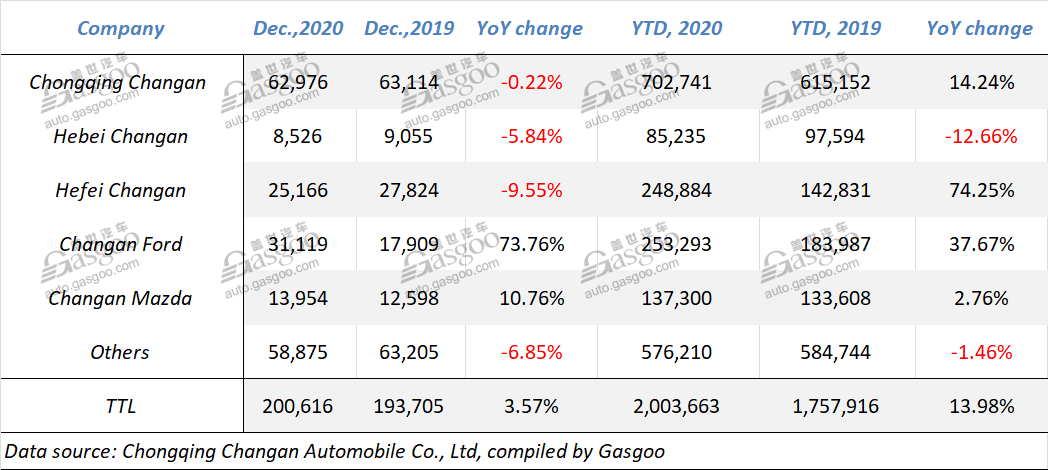 By the end of December 2020, the Chongqing-based automaker had gained year-over-year increase for the ninth month in a row.
Most subsidiaries posted growth in full-year sales. Hefei Changan was the fastest-growing one with a surge of up to 74.25%. Both Chongqing Changan and Changan Ford boasted double-digit rise as well.
Ford Edge; photo credit: Changan Ford

Changan Ford scored year-on-year monthly sales growth for nine consecutive months as of Dec. 2020. Notably, the growth was standing over 40% through the fourth quarter.
The Sino-Japanese automaker Changan Mazda saw its annual sales edge up 2.76% to 137,300 units.
Changan Automobile said its sales of self-owned brands jumped 12.9% from a year earlier to 1,503,605 units, of which 978,398 units (+20.6% YoY) were PVs.
The sales of three key SUV models—the CS75, the CS55 and the CS35—reached 266,824 units, 109,929 units and 95,211 units respectively last year. The company also sold 174,912 Eado sedanthrough 2020.
Geely Auto achieves 2020's sales target
Geely Automobile Holdings Limited (called "Geely Auto" for short) and its subsidiaries sold a total of 1,320,217 new vehicles last year, a decrease of roughly 3% from the year-ago period and in line with the 1.32 million-unit sales target set for 2020.
The company said it aims to sell 1.53 million vehicles in 2021, gaining a 16% year-on-year increase.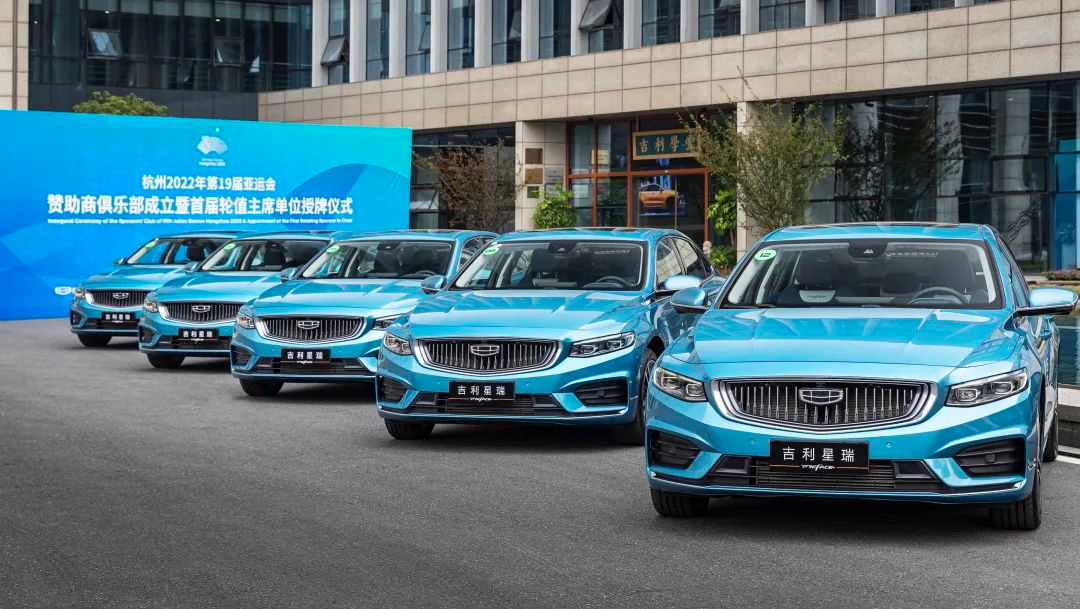 Geely Preface; photo credit: Geely Auto

In December 2020, the group (Geely Auto and its subsidiaries) saw its sales volume jump around 19% from a year earlier to 154,202 units. The monthly export volume was up more than twofold over a year ago to 11,905 units, while the domestic sales rose roughly 12% to 142,297 units.
In December 2020, the sales of sedans, SUVs and MPVs stood at 57,289 units, 93,839 units and 3,074 units respectively. The sales of the Preface exceeded 12,000 units, only two months after the car hit the market.
During the same month, the total sales volume of LYNK & CO-branded vehicles was 24,853 units, skyrocketing 130% year on year and breaking the brand's record-high monthly sales volume for the sixth month in a row.
Great Wall Motor succeeds in fulfilling 2020's sales target
Great Wall Motor (GWM) said its annual sales in 2020 climbed 4.84% from a year ago to 1,111,598 units, surpassing its 1.02 million-unit sales target.
The upturn resulted from the double-digit increase in the full-year sales of Great Wall Pickup and ORA.
With 225,002 units sold in total, Great Wall Pickup scored a remarkable year-on-year growth of 51.18% in yearly sales and took nearly 50% of share in Chinese pickup market. The POER pickup was crowned the best-selling pickup model in China with an annual sales volume of 114,878 units.
By the end of Dec. 2020, the BEV-focused brand ORA posted year-on-year sales growth for ten consecutive months. Notably, its monthly sales exceeded 10,000 units in both November and December.
Thanks to the successive increase, ORA gained a 44.76% blooming growth with 56,261 units sold in 2020.
Third-generation Haval H6; photo credit: GWM
Haval saw its 2020 sales drop 2.5% over a year earlier to 750,228 units, while it was honored the No.1 Chinese SUV brand for 11 straight months.
With a sales volume of around 376,864 units, the Haval H6 was still China's hottest-selling SUV model of the year. For the year-end sprint, the company sold 55,632 H6 SUVs in December, up by 33.4%.
JAC Motors wins 7.63% rise in 2020 sales
JAC Motors completed its 450,000-unit annual sales target as well. Last year, the Hefei-based automaker sold 453,361 new vehicles in total, which were 7.63% more than that of the prior-year level.

The yearly upturn should be wholly credited to the two-digit growth in CV sales. With 297,787 units sold, JAC's CV business posted a 15.03% sales increase. However, PV sales still fell 4.19% due to the decrease in MPV and car sales.
By the end of Dec., 2020, the company attained year-on-year rise in monthly sales for nine straight months.
Of the new vehicles sold in 2020, 49,835 units were the all-electric PVs, a year-over-year decline of 14.12%. The full-year export volume was down by 19.04% to 36,693 units.
iEV S4; photo credit: JAC Motors

According to previous reports, JAC Motor aims to sell 500,000 units of complete vehicles and chassis in 2021, while the goal has not been officially announced yet.
JAC Volkswagen, the joint venture between Volkswagen Group and JAC Motors, was renamed in early December as Volkswagen (Anhui) Automotive Company Limited. With a 75% stake in the joint venture, Volkswagen takes over management control at Volkswagen (Anhui).
BYD records 7.46% YoY decrease in 2020 auto sales
BYD closed its year of 2020 with an annual sales volume of 426,972 units, a year-on-year decrease of 7.46%.
Due to the impact of coronavirus pandemic, the year-on-year change in monthly sales remained negative through the first half of 2020. The incessant rise during the second half of the year helped narrow the sales decrease of the whole year.
BYD Han; photo credit: BYD

Annual NEV sales slid 17.35% to 189,689 units. The NEV unit was posting year-over-year decrease of over 45% in monthly sales during the first six months and started rebounding from September. In December, BYD saw its NEV sales surge 120.18% over the prior-year period to 28,841 units.
Despite the downturn in overall sales, BYD's oil-fueled vehicle sales still climbed 2.32% last year thanks to a year-over-year hike of 43.73% in SUV sales. Unlike the continuous rising movement in monthly NEV sales, the fuel-burning vehicle unit was posting decline for four straight months as of December 2020.
Gasgoo not only offers timely news and profound insight about China auto industry, but also help with business connection and expansion for suppliers and purchasers via multiple channels and methods. Buyer service:buyer-support@gasgoo.comSeller Service:seller-support@gasgoo.com
All Rights Reserved. Do not reproduce, copy and use the editorial content without permission. Contact us:
autonews@gasgoo.com