Overview of 2017 sales and 2018 strategies of ten new energy automakers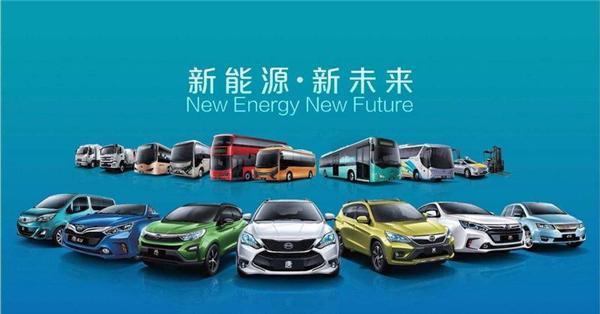 Shanghai (Gasgoo)- As NEVs are growing unprecedentedly popular, today we round up the 2017 sales and 2018 strategies of ten new energy automakers.

BYD
BYD delivered 113,669 NEVs in 2017, taking the sales crown in NEV market. It released a variety of new models in 2017, including the 2017 Qin, e6 400, Tang, Qin EV 300 and e5 300, etc.
BYD not only plans to release the second-gen Tang and Qin and the new energy version model of the Song Max, but also intends to launch an A0-class pure electric vehicle model in 2018.
BYD targets to deliver 200,000 NEVs and aims to build 30,000 charging piles in 2018. Its Electric Future Plan will cover 400 cities in 2018. Besides, it will also set up another battery factory in Qinghai with an annual capacity of 10GWh for ternary lithium-ion battery.
BAIC BJEV
BAIC BJEV sold 103,199 units in 2017, taking the sales championship in Chinese pure electric vehicle market. It also put 106 battery swapping stations and 5,000 battery-swapping vehicles into operation during last year. By the end of 2017, BAIC BJEV also helped build 46,000 public charging piles and independently built 32,000 private charging piles. Besides, it launched a range of new models in 2017, including the LITE, EU400, EH300, EX/EU 260, EC200 and EC180, etc.
In 2018, it will release four or five new models, including the EU 450 and the ET 400. Among them, an exquisite crossover model with a range of 400km will be launched. With an annual sales target of 150,000 vehicles and revenue target of RMB 19 billion in 2018, BAIC BJEV aims to take up the largest market shares in Chinese NEV market.
SAIC Passenger Vehicle
SAIC Passenger Vehicle released the Roewe e950 and ERX5 in 2017. Its NEV sales reached 44,236 units in 2017. SAIC plans to sell 100,000 NEVs in 2018 and will release two new models in the first half of this year and three models in the second half of 2018.
ZHIDOU
ZHIDOU achieved the qualification of manufacturing pure electric vehicles in 2017. It delivered more than 42,484 NEVs and released the D2, D2S and D3 in 2017.
In 2018, ZHIDOU will launch the upgraded model of the D3, the D3S. The all-new ZHIDOU D4 will be also released in 2018. ZHIDOU is slated to release premium Z series models in 2019 and will release entry-level A Series models in 2020.
Zotye Auto
Zotye sales reached 37,877 NEVs in 2017. It released the Zotye E200, Z500EV and Cloud 100 Plus and Domy Sesame, etc. in 2017.
Chery New Energy
Sales of Chery New Energy soared 113% over the previous year to 36,900 units, exceeding its annual sales target of 30,000 units in 2017. Chery New Energy released the Arrizo 5e, Chery eQ and Chery eQ1 in 2017. It will reveal new models including two models with three versions. The Chery eQ will offer a new updated variant. The Chery Ant eQ1 will offer two different version models with different maximum ranges, which is respectively 251km and 301km. At the same time, Chery will launch three models, including the Tiggo 3xEV, the Tiggo 7e and the Tiggo 7 PHEV.
Chery New Energy also intends to apply and update the technology of the eQ models to a lightweight platform. Moreover, it also plans to realize electrification for all models in 2020.
JMEV
JMEV delivered 4,914 NEVs in December, 2017, and it posted total NEV sales of 30,270 units in 2017. As to specific models, sales of the E100 and E200 both exceeded 10,000 units.
JMEV will release 9 NEV models. Among them, three A00-class models, the E200N, E200L and E200NL and two A0-class models, the E160P and the E160L will hit the market in the first quarter in 2018. The SUV model, the E500 will be released in the second quarter of 2018. The A00-class model, the E300 will be released in the third quarter, and in the last quarter, another A00-class model, the E180 will be also released.
It sets an annual sales target of 40,000 units in 2018, 76,000 units in 2019 and expects to achieve an annual sales target of 100,000 units in 2020.
Changan Automobile
Changan Automobile delivered 11,805 NEVs in December and 61,237 NEVs throughout 2017. It released the CS15EV, Eado PHEV and new Eado EV300 and Benben EV, etc. in 2017. Changan will release a compact SUV PHEV and a MPV EV and will target to achieve NEV sales of 80,000 units in 2018.
JAC
In 2017, JAC posted output and sales of pure electric passenger vehicles of 28,352 units and 28,263 units respectively, surging 54.63% and 53.86% on an annual basis. It released the iEV6E and the 2017 iEV4, iEV7 and iEV7S in 2017, covering minicar, sedan and SUV.
JAC plans to release the iEVA50 with a range of 400 km. The first model co-developed by JAC and Volkswagen will hit the market in 2018. In addition, more than ten models under six platforms will cover all segments to meet the diversified demands for vehicles.
JAC will also release an all-new platform dubbed 432, which can be used in hybrid models, electric vehicles and fuel-powered vehicles, covering MPV, A-class sedan and SUV. The first NEV model under this new platform will go on sale in the second half of 2019.
Geely Auto
Geely's NEV deliveries reached 25,000 units in 2017. Geely expects to release more than five NEV models in 2018. Apart from the Emgrand EV, Geely will also release the pure electric models of compact SUVs and compact sedans, according to customers' different demands. It emphasizes that its 2018 pure electric models will have a range of 400km. Meanwhile, Geely's future sedans and SUVs will be built based on an all-new electric platform, and will hit the market in the second half of 2018. What's more, Geely will offer hybrid and plug-in hybrid versions for all of its models in the future.
According to Geely's new energy strategy, it plans to reach annual sales of 2 million in 2020, among which, 90% will be new energy products. And among the 90% new energy products, pure electric vehicles will take up 35% and hybrid vehicles will account for 65% of the 90% new energy products.
Gasgoo not only offers timely news and profound insight about China auto industry, but also help with business connection and expansion for suppliers and purchasers via multiple channels and methods. Buyer service:buyer-support@gasgoo.comSeller Service:seller-support@gasgoo.com
All Rights Reserved. Do not reproduce, copy and use the editorial content without permission. Contact us:
autonews@gasgoo.com