Shanghai (Gasgoo)- Speaking of Chinese NEV brands, such startups as NIO, WM Motor and Xpeng Motors must frequently come to your mind. In fact, multiple traditional OEMs also operate NEV business through an independent arm, but use different strategies.
EV manufacturers such as BAIC BJEV, Chery New Energy, GAC NE and Changan New Energy are named after their parent companies. However, some NEV divisions were launched as independent brands, such as Great Wall Motor's ORA, Geely's Geometry and Volvo's Polestar.
How did those NEV arms perform so far under different branding tactics? Why did OEMs select the strategy?

(BAIC EU5, photo source: BAIC BJEV)

Among EV makers taking on the name of their parent companies, BAIC BJEV and Chery New Energy have obtained the official qualification to independently manufacture vehicles. For the first half of 2019, the NEV subsidiaries of BAIC Group and Chery delivered 52,737 and 27,951 all-electric PVs respectively, ranked second and fifth by semi-annual retail sales of pure electric PVs, according to the China Passenger Car Association (CPCA) who cites the data from WAYS.

Those independent NEV brands also catch the eye of the public with frequent moves.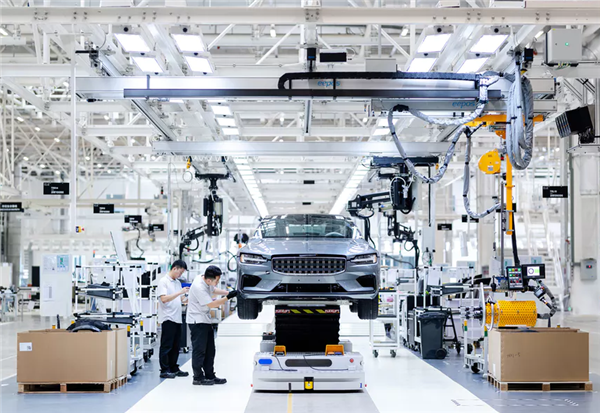 (Polestar Chengdu plant, photo source: Polestar)
Polestar formally kicked off on August 27 the operation of its production base in Chengdu, which is designed to be the brand's unique manufacturing center worldwide. Its first mass-produced model, the Polestar 1, will be created there with a limited capacity of 500 units on an annual basis.

(Polestar 2, photo source: Polestar)

As early as June 2017, its parent Volvo announced that Polestar would be hewn off and operated independently, focusing on high-end electric performance cars. Aside from the Polestar 1, the Polestar 2 five-door fastback made its debut in China in April, 2019 and is scheduled to be handed over next year.
(ORA iQ, photo source: ORA)

The one-year-old ORA has so far rolled out two mass-produced models—the iQ and the R1 hit the market in August and December, 2018 respectively. Its third production model, the R2, has been listed in the MIIT's Catalogue of Recommended Models for the Promotion and Application of New Energy Vehicles. Obviously, the Great Wall Motor's NEV brand is comparatively fast in new product launching.
As the youngest one, Geely's Geometry was unveiled on April 11, 2019 with its first model—the Geometry A—going on sale at the same time. Moreover, the Geely Emgrand EV and the Emgrand GSe will be sold via the sales channel of Geometry.

(ORA R1 "Goddess" edition)

Building an all-new brand means much more than just announcing a name, but requires an automaker to pump a huge amount of money and energy, and restructure the systems of sales channel, user experience and services. For example, Polestar provides consumers with the so-called "high-performance experience"; Geometry made its debut in Singapore to highlight its global ambition, and ORA also released the special edition dubbed "Goddess" to deliver a fashion and exquisite branding impression.

Polestar temporarily has no product available for sale in China. Let's see how much vehicles sold by Geometry and ORA since they were brought to the market.
(Geometry A, photo source: Geometry Auto)

Sales volume of the Geometry A reached 1,017 units, 1,375 units and 1,743 units in April, May and June respectively, presenting month-on-month growth for two straight months. Nevertheless, these figures were still eclipsed by the 27,000-unit order the carmaker previously boasted. In August, the newborn BEV brand saw its sales drop to 1,176 units, primarily due to the slash on NEV subsidy.
As of the launching date, the automaker had received orders of over 18,000 Geometry A BEVs from countries like Singapore, French, Norway and Argentina, according to Zheng Zhuang, general manager of Geely New Energy Sales Company.
(ORA R1, photo source: ORA)

In terms of sales volume, ORA clearly performed much better than the Geely-owned brand. Since its launch in September 2018, cumulative sales of the ORA iQ and the R1 has totaled 33,824 units by the end of this year's August, according to Great Wall Motor's sales report. Of that, 30,309 units were sold during the first eight months of 2019.

(Polestar logo, photo source: Polestar)

The marketing modes adopted by the three NEV brands are quite different. Polestar is to prioritize leasing over selling cars, by happenstance according with the car-sharing concept that is regarded as one of trends for future automobile industry and the consumers'mentality downplaying the sense of ownership of a possession.
Under the "audacious" business model, consumers are free from the expenses and risks spawned in repair, maintenance and devaluation.
(Geometry A, photo source: Geometry Auto)

Geometry decides to develop its sales channels based on the existing resources of Geely New Energy. The BEV-specific channel of Geely New Energy will be completely updated in the future under the name of "Geometry" with particular standards of service, brand image and branding strategies.
ORA opts to take moves in both traditional sales channels and new retail business model. According to previous reports, the NEV brand was ready to increase the number of franchise stores and dealer outlets to 150 and 300, and decrease number of shop-in-shop to 20 in 2019.

(ORA logo, photo source: Great Wall Motors)

ORA also sell products on e-commerce platforms by virtue of its partnership with Tmall, JD.com, Suning.com and 58.com, etc.
Operating vehicles in car-sharing filed is another appealing option. The Great Wall Motors-owned NEV brand launched its own mobility service platform, OLA Sharing, to consume production capacity and increase profitability.

It has been universally acknowledged that the to-date NEV industry is driven by both market and policy. Among reasons why automakers set up an all-new NEV brand, the product platform and financing are two significant angles on which our explanation is based.
The oldest NEVs were built on the platforms which stemmed from fossil fuel-powered vehicle platforms, thus automakers were largely curbed when they were developing a new NEV model. Building an all-new platform will not only help carmakers get rid of the constraints over R&D, but make products more competitive and more fitted for users's demands.
Some industrial analysts said the phase-out of NEV subsidy will intensify automakers' capital pressure, while spinning off the NEV arm and taking it public as an independent entity will be a proper way to raise funds.
Additionally, an all-new brand is easier to trigger the "upscale" impression of consumers, who will be willing to buy products even though the price is a bit higher. There were successful cases in conventional fuel-burning vehicle domain. For instance, Great Wall Motors and Geely launched their premium brands—WEY and Lynk & Co—to move upscale.
Gasgoo not only offers timely news and profound insight about China auto industry, but also help with business connection and expansion for suppliers and purchasers via multiple channels and methods. Buyer service: buyer-support@gasgoo.com Seller Service: seller-support@gasgoo.com
All Rights Reserved. Do not reproduce, copy and use the editorial content without permission. Contact us: autonews@gasgoo.com.