Four Japanese automakers see two-digit drop in Aug. China sales amidst chip shortage
Shanghai (Gasgoo)- Amid the industry-wide chip shortage, four Japanese automakers all logged double-digit decrease in their China sales last month. Honda Motor was the one suffering the steepest drop in August. In terms of year-to-date sales, Mazda Motor was still the only one posting decrease.

According to Kyodo, Toyota Motor saw its monthly China sales fall 11.9% from a year earlier in August, the biggest decrease it suffered so far this year.
Due to the decline in Aug. sales, the increase in the year-to-date sales of Toyota Motor's China business shrank to 18.7%, versus the 24.2% growth in Jan.-Jul. volume.

In early August, Toyota suspended production at one assembly line in Guangzhou, China, which it operates with its Chinese joint-venture partner GAC Group, according to a person familiar with the matter. After being reached for comment, Toyota China said the shutdown was a fact and it had adjusted its production schedule due to the shortage of chip-related components.
Despite the sales downturn, Toyota still kept enriching the product lineup for its Chinese market. On August 27, FAW-Toyota put the Crown Kluger SUV onto the market, aiming to filling in the gap in market deployment of premium cars.
Kluger; photo credit: FAW-Toyota

The Kluger is the first model under Crown, which was just claimed by FAW-Toyota as a premium car brand in mid-July. Its advent is expected to help the joint venture strengthen its presence in HEV segment and achieve the 1 million-unit annual sales goal by 2022.
Affected by the coronavirus resurgence and auto parts supply constraints, Honda Motor's China unit posted a 38.3% year-on-year slump in August with 91,694 new vehicles delivered. Of those, 17,376 vehicles were equipped with the hybrid powertrain system "Sport Hybrid".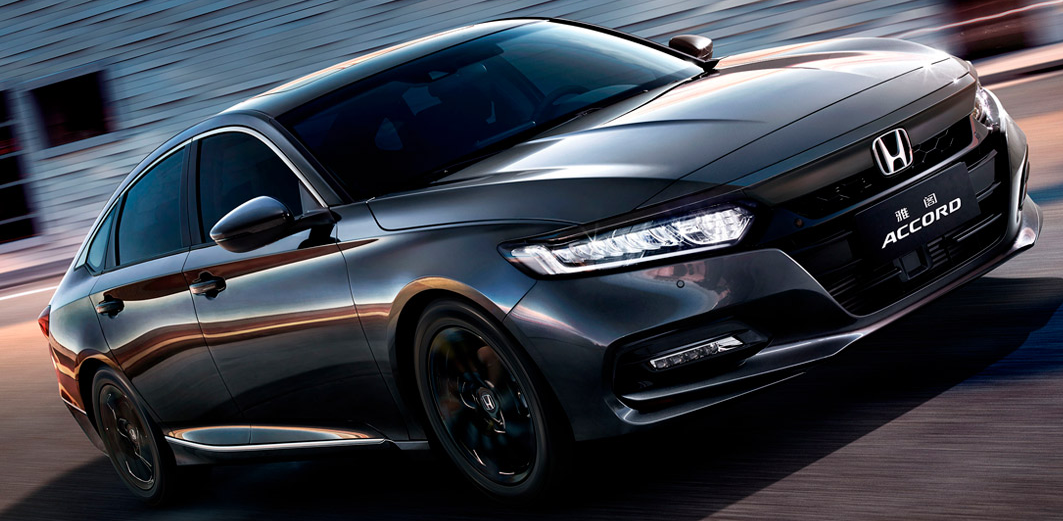 Accord; photo credit: GAC Honda

Both GAC Honda and Dongfeng Honda logged two-digit decrease in Aug. deliveries. The joint venture with GAC Group delivered 52,451 new vehicles, representing a 26.3% decline from a year earlier. Meanwhile, 39,243 consumers took delivery of Dongfeng Honda's vehicles, a 49.4% plunge year-over-year.
Honda Motor has never released sales of all-electric vehicles for Chinese market. The company plans to introduce 10 Honda-brand BEV models within five years. The first production model based on the Honda SUV e: prototype is scheduled to go on sale in spring 2022.
According to a media report released in mid-August, Honda will invest about 3 billion yuan ($464.16 million) in an existing factory of GAC Honda to increase its NEV capacity in China. The plan is to add capacity of 120,000 NEVs, with production starting as early as February 2024.
X-Trail; photo credit: Dongfeng Nissan

As of August 2021, Nissan Motor posted year-on-year decrease in monthly China sales for the fourth consecutive month. The external factors accountable for the decline in Aug. sales were still the coronavirus pandemic, shortage of raw material, and natural disaster, the same as the reason the company gave in July.
Last month, Dongfeng Motor Company Limited (DFL)'s passenger vehicle unit, namely, Dongfeng Nissan, delivered 113,166 new vehicles, which were 10.6% fewer than that of the prior-year period. The deliveries of Nissan-branded vehicles stood at 90,018 units, including 15,023 seventh-generation Altimas, 47,937 Sylphys, 5,126 Tiidas, 9,228 X-Trails, and 13,349 Qashqais. Meanwhile, DFL also delivered 5,808 new vehicles under Venucia brand, representing a 13.7% year-on-year growth.
"During the past four months, the whole auto industry is facing a myriad of challenges due to external factors, which will also lay many uncertaines in the auto market for the rest of this year," said DFL's president Shohei Yamazaki.
Despite the challenges, Nissan Motor still kept launching new products to meet demands of Chinese consumers. The all-new X-Trail hit the market on Jul. 30 as Nissan's most "globalized" strategy model. Besides, presale of the Venucia Online V kicked off at the 2021 Chengdu Motor Show.
Mazda Motor Corporation's China deliveries dip 27.7% over a year earlier, suffering two-digit decrease in monthly sales for five straight months. The decrease in its year-to-date deliveries widened to 7.2%, versus the 4.1% drop in the Jan.-Jul. volume.
Changan Mazda saw its July deliveries flop 28.6% to 8,790 units, while FAW-Mazda encountered a 25.4% year-on-year decline with 3,738 vehicles delivered.

Mazda3 Axela; photo credit: Changan Mazda

With a delivery volume of 5,846 units, the Mazda3 Axela was still the best-selling model in August. In the meantime, the deliveries of the Mazda CX-4 and CX-5 reached 2,046 units and 1,727 units respectively.
Mazda Motor's China unit is going through a significant business restructure. Changan Mazda last month filed a request with China's top market regulator to acquire 100% stake in FAW Mazda Motor Sales Co. Ltd. (FMSC) and have signed several agreements with Mazda Motor, and FAW Group for the transaction. As part of solutions for the business merger, FAW Group will acquire 5% stake in Changan Mazda at an assessed consideration of the 60% equity interests it holds in FMSC.
As Mazda Motor's only China joint venture in the future, Changan Mazda will see great expansion of its production lineups and dealership network. The combination of Changan Mazda and FMSC's sales channels would start at the end of August this year, a local media outlet said last month, citing a dealer of FMSC. Nevertheless, the existing sale and after-sale services for FMSC's consumers will not be affected temporarily.
Gasgoo not only offers timely news and profound insight about China auto industry, but also help with business connection and expansion for suppliers and purchasers via multiple channels and methods. Buyer service:buyer-support@gasgoo.comSeller Service:seller-support@gasgoo.com
All Rights Reserved. Do not reproduce, copy and use the editorial content without permission. Contact us:
autonews@gasgoo.com