Auto China 2018: NEV models from Chinese auto startups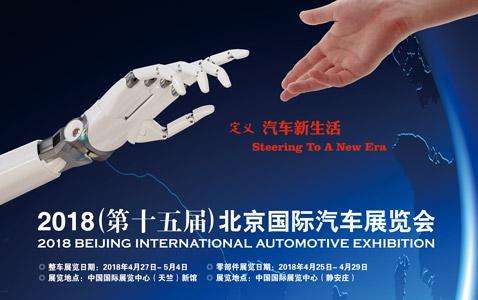 At the eve of Auto China 2018, Chinese premium automotive portal Gasgoo rounds up the new NEV models from Chinese fledgling auto startups that will be presented at Auto China 2018. Let's have a look!
NIO ES8 Six-seat Version
China's EV startup NIO will show off its large-size pure electric SUV, the ES8 six-seat version at Auto China 2018. The NIO ES8 is a seven-seat SUV with price range between RMB 448,000 and RMB 548,000. The to-be-released six-seat version is expected to have a lower price range and will provide more options to customers.
The NIO ES8 six-seat version will have the same design style as the existing model. Adopting the X-bar design language, the model features an exaggeratedly designed body. Thanks to a black multi-spoke intake grille mated with wide silver chrome trims, the model looks more three-dimensional. What's more, the model is strikingly highlighted with split-type daytime running lamps and headlights.
Take the existing ES8 model as a reference. The NIO ES8 six-seat version measures 5,022mm in length, 1.962mm in width and 1,753mm in height and sets on a wheelbase of 3,010mm. Compared with the Tesla Model X, the model features shorter length and width, but boasts longer wheelbase and height.
Based on an intelligent electric motor platform, the ES8 six-seat version adopts NIO's self-developed all-aluminum body. Coming fitted with a dual-drive AC asynchronous motor, the model delivers a maximum combined power output of 650hp and can sprint from 0-100km/h in 4.4 seconds.
In addition, the model can get 80% charged in one hour thanks to the 70kWh ternary lithium batteries. In the meantime, the new model boasts a range of 355km under NEDC and also a range of 500km under the constant speed of 60km/h. Moreover, the NIO ES8 boasts a swappable battery pack, which can be swapped within three minutes. The model can also get power from NIO's mobile power-charging vehicles.
NIO eve Concept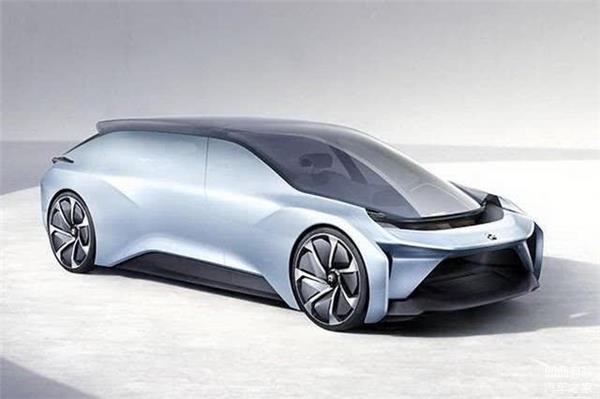 It is reported that the NIO eve concept will make its debut at Auto China 2018. The new model, based on the designing idea of future transportation, will come with NOMI artificial intelligent system.
The concept model adopts a very futuristic exterior design style, featuring an unmistakable front end. With headlights and engine hood connected together and a large intake grille, the model demonstrates a strong high-tech sense.
Featuring smooth sidelines, the model also is equipped with side windows which can adjust the transparency of the glass. It boasts a multilayered rear end. In addition, the model also offers a full-glass roof and a panoramic front windshield, looking more futuristic.
Designed simply and neatly in its interior, the model boasts a wrap-around cabin with a wide variety of cutting-edge amenities, such as a center console featuring several LCD screens and a rectangular float-designed steering wheel. Moreover, the crucial information like speed and navigation can be projected on the front windshield glass.
Adopting side-slide design on the doors, the model can carry six passengers and features foldable tables and full flat-bed seats, providing comfortable space for passengers.
What's more, the NIO eve concept also adopts NOMI artificial intelligent interaction system, which has also been deployed in the NIO ES8. The premium system offers abundant functions with capabilities of learning and adapting customers' needs.
WM EX5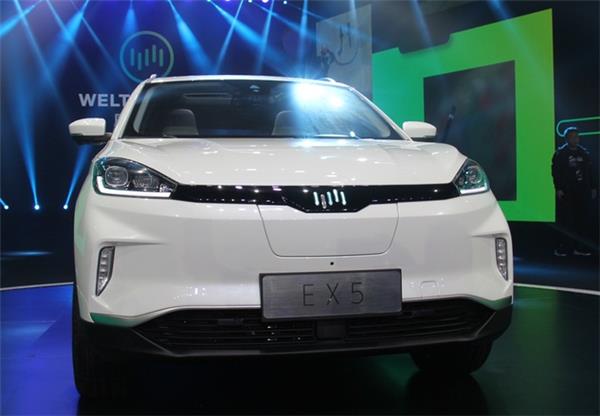 WM Motor's first pure electric SUV model, the EX5 rolled off the production line on Mar. 28. Positioned as an intelligent SUV with abundant intelligent connected functions, the WM EX5 boasts a maximum range of 600km with a set of pure electric power system. As is revealed from WM Motor previously, the model will be priced at around RMB 200,000 and will start presale at Auto China 2018 in Beijing. Besides, the EX5 is expected to hit the market at the third quarter of this year.
Featuring a closed-type intake grille, the EX5 looks sporty and dynamic with sharp-designed headlights paired with LED daytime running lamps as well as a large heat-radiating vent. Thanks to the multiple lines at its front end, the model delivers a multilayered sense. It is noteworthy that the family logo bearing on its front end can be lighted when it is charging and can also show off the quantity of electricity.
The new model looks very exquisite and stylish thanks to the eye-catching pulling-through tail lights at its rear end and smooth side body lines. At the same time, the model's windows feature interactive function, which can not only automatically synchronize the information of the owners' mobile phones before they get on the car, but also can provide intelligent information about the quantity of electricity and routes.
The prototype model of the WM EX5 boasts a futuristic well-rounded rear end with a pulling-through design style, simple and neat rear end lines and a silver fender, aiming to attract the youngsters.
Thanks to the network safety protection system co-developed by WM Motor and 360, the EX5 adopts a wide variety of high-tech safety technologies, such as 360 onboard security central gateways, basic protection of onboard network safety and car guardian.
Xpeng G3
The Xpeng G3 made its China debut on Apr. 23, and will start preorder at the Global Mobile Internet Conference (GMIC) 2018 on Apr. 26 as well as finish a small-scale delivery of the model by the end of this year. According to He Xiaopeng, CEO of Xpeng Motors, the G3 is a pure electric compact SUV that features 2.5L autonomous driving function with price range between RMB 200,000 and RMB 280,000.
The pure electric SUV model adopts EV's typical design of no intake grille on its front end, mated with long and narrow headlights on both sides, delivering a strong high-tech sense. At the same time, it features specially-designed five-spoke wheel rims, red brake caliper, suspended roof, pulling-through tail lights, looking very dynamic and sporty.
In terms of the interior, the new model adopts a panoramic front windshield, offering a more excellent field of view compared with other ordinary models. It boasts a large LCD center console, which integrates a variety of functional keys. Noticeably, the G3 offers the standard 360 roof camera, which contains a high-definition camera and a 360-degree rotatable pan-and-tilt camera.
The new model is likely to be powered by the same electric motor as that of the released 1.0 version with a maximum power output of 190hp. It is disclosed that Xpeng Motors will develop three new models next year. What's more, Xpeng Motors will build up more than 1,000 supercharging stations across China, set up 10,000 Xpeng-exclusive charging piles and connect selected more than 10,000 third-party charging piles over the next three years.
BYTON Concept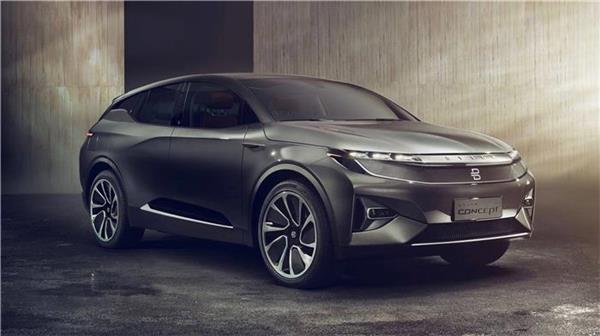 The BYTON Concept will be presented at Auto Beijing 2018 in April. Previously, the model made its world premiere at the CES 2018. Positioned as a luxury intelligent mid-size SUV, it sets on a wheelbase of 2945mm. As is known, its mass-produced model will offer two optional battery pack versions, which will have a range of 400km and 520km respectively. The price is expected to start at RMB 300,000 (about $45,000).
Designed with internet-based concept, the BYTON Concept features a shorter front suspension and a different body proportion compared with other traditional SUVs. Measuring 4,850mm in length, 1,960mm in width and 1,650mm in height and paired with 22-inch wheel hubs, the model delivers a strong sporty sense.
The BYTON Concept adopts the traditional design style for its side door, but adds BYTON Intuitive Access function, which can recognize drivers' information and open the door through the facial recognition technology. In addition, the BYTON Concept also adopts intelligent facial design at the rear end.
The BYTON Concept's most striking features are its interior style and the function designing. The new model comes with a shared experience display which measures 125cm in length and 25cm in height. Covering the model's entire center console, the display can adjust luminosity according to the change of lights and also support gesture-recognition function. The model also adds a 9-inch touch driver tablet on the center of its two-spoke steering wheel, integrating diver-related vehicle operating functions, such as seat adjustment.
The BYTON Concept maximizes its cabin space by removing the middle gear position of its front seats. Besides, it adopts a 2+2 seat arrangement, featuring a mode of living room in its front seats.
It is said that the BYTON Concept will offer two battery versions. Featuring a 71kWh battery pack, the rear-drive version will have a range of 400km. The four-wheel drive version will boast a range of 520km with a 95kWh battery pack. It can be 80% charged in 30 minutes under a quick charging mode. What's more, the model will also provide two powertrain versions: the rear-drive single electric motor can deliver a maximum power output of 200kW and a peak torque of 400Nm, while the dual-motor version will deliver a maximum power output of 350kW and a peak torque of 710Nm.
Additionally, the BYTON Concept is based on a new platform which is designed exclusive to electric vehicles. The new model will feature the L3 ADAS function after it is put into mass production. At the same time, the vehicle platform has made good preparation for the upgrading of sensors and cameras in the future, which will help realize L4 autonomous driving function after 2020. As is reported, the BYTON Concept is expected to hit the market in 2019 with a starting price of around RMB 300,000.
AIWAYS U5 ION
China's fledgling EV startup AIWAYS recently released its first model, the U5 ION in Shanghai. Positioned as an A+ class SUV model with an expected price range between RMB 200,000 and 300,000, the AIWAYS U5 ION will be presented at Auto China 2018 and is scheduled to hit the market in 2019.
It is said that AIWAYS has built up two products platforms, the GES and the MAS, and will have a mass-produced new model per 30 months in the future. The MAS platform can cover A, A+ and B class models with wheelbases vary from 2,700mm to 3,000mm. At the same time, the platform supports at least 15 models covering SUV, sedan, MPV, crossover and pickup.
The U5 ION looks beautiful, aggressive, dynamic and masculine thanks to its double-colored body, floated roof, LED front headlights connected with the intake grille, upward sidelines as well as obvious waistlines and side skirts. It bears the badge in the middle of its well-rounded front end. The new model adopts a pulling-through design style for its tail lights at the rear end, which not only echoes the design style at its front end, but also uplift the recognition of the whole model.
It boasts a comfortable, premium and stylish interior with a high-tech cabin. Adopting a floated design idea for its interior, the model boasts a 12.3-inch vertically-installed large screen, a 10.25-inch digitalized instrument panel and a rear-seat information end. Car owners can interact with these cutting-edge configurations via key, touching, voicing and gesturing.
With an all-new interior design idea, customers can design and customize their desired interior, thanks to the flexible options for interior combination. What's more, the new model offers customer-exclusive biological ID to secure safety. What's worth mentioning, the U5 ION carries the L2 autonomous driving function, enabling the U5 ION to be more advanced than at the models in its same class. With a wide variety of high-tech amenities, such as vehicle-pedestrian interaction, environment monitoring, life sensing, the model delivers a safer experience for both drivers and passengers.
The U5 ION is slated to come with the AI-Power energy pack, which is available with autonomous wireless electric charging. Besides, the AIWAYS also offers various battery options, with which customers can choose suitable pack in accordance with their needs.
AIWAYS RG
AIWAYS, one of Chinese internet-based EV startup, recently revealed the designing image of its first pure electric coupe, the AIWAYS RG. The new model, mainly designed by Roland Gurnpert, father of Audi quattro as well as founder and CEO of Gumpert, will be unveiled at Auto China 2018.
From the designing image of the model's exterior, it features simple and aggressive lines at its front end. With its flat rectangular front end expanding from the central line to both sides, the new model boasts LED headlights, which are connected with the fender and fog lights. What's more, it features a sharp lower spoiler and the same design style of rear end as its front end, accentuating the futuristic and scientific sense of the model.
It is disclosed by AIWAYS that the new roadster can sprint from 0-100km in less than 3 seconds with a range between 600km and 800km under pure electric cruise mode. Strikingly, the model adopts material of ultra-high-rigid steel and carbon fiber for its body.
Singulato iS6
Singulato will disclose that its first mass-produced iS6 will hit the market at Auto China 2018. The Singulato iS6 measures a length of 4,900mm, width 1,950mm and height 1,750mm, and features a wheelbase of 2,960mm. In addition, the model will be a pure electric mid-size SUV, offering a five-seat version and a seven-seat version. The model features a smaller size than that of the NIO ES8, hence a cheaper price than that of the ES8, pricing between RMB 200,000 and RMB 300,000 after exempting the NEV subsidies.
The Singulato iS6 will employ autonomous driving function on some selected variants, as well as a 16.4-inch HUD (Head Up Display). At the same time, the navigation can be displayed simultaneously on its center console, instrument panel and HUD. It also boasts a wide variety of other high-tech amenities, such as on-board intelligent connected system, OTA (Over the Air) and 15 Harman/Kardon loudspeaker boxes.
The iS6 will offer two optional version models, a two-wheel drive and a four-wheel drive version. Meanwhile, the model will have a range of 400km (under the New European Driving Cycle), while at the mode of quick charging, the model's maximum range per hour will reach 320km. What's more, the model is slated to offer a battery-swapping version as well as a version with a range of 300km.
Hybrid Kinetic H500
The H500 adopts wave-shaped lines for its hood which quite resembles the design of Porsche. The waistlines of the body side, clinging to the windows, stretch from the headlights to taillights and the fastback rear-end design makes the vehicle look more smoothly.
As to the interior, the designer integrates the liquid crystal instrument board with the central control display and uses a liquid crystal display for its center console. Besides, there are not many physical buttons inside the model.
Up to now, the details of power, configurations and driving mileage for the H500 have yet to be revealed.
Hybrid Kinetic K350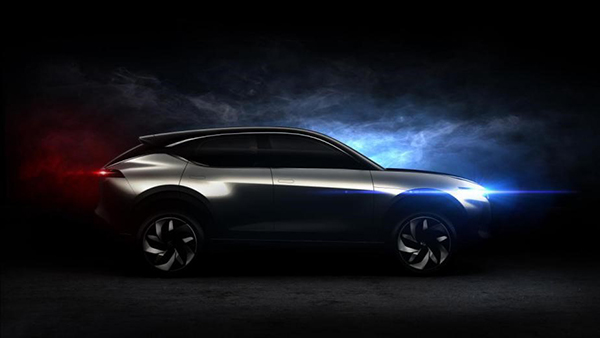 According to the image of the K350 concept vehicle, the new model features a balanced body with neat and sporty lines. In addition, the floating roof endows the vehicle with more fashionable sense. Reportedly, the K350 is designed to accommodate the needs and requirements of a variety of purposes.
Hybrid Kinetic HK GT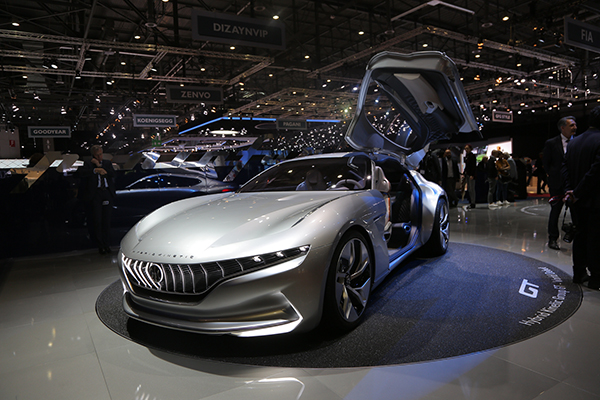 The supercar HK GT adopts fastback body design with two-door four-seat layout which looks quite sporty. The LED headlights are next to both sides of intake grille. Moreover, the narrow taillights and the large gull-wing doors make the vehicle more unmistakable.
As to the interior, the HK GT is fitted with a sporty double-spoke flat-bottom steering wheel and barrel-shaped seats. Besides, it uses touch screens as the replacement of traditional panels which offers a futuristic feeling.
The new model is powered by a graphene battery with capacity of 20kWh and four permanent magnet motors, paired with a two-speed transmission. Additionally, it can sprint from 0-100km/h in less than 2.7 seconds and run at a top speed of 350km/h.
Dearcc EV 10
Dearcc, one of China's fledgling EV startups, will debut an upgraded model of the Dearcc EV10 on Apr. 25 at Auto China 2018. The new model's combined range will be uplifted to 270km, which is 115km longer than that of its existing model.
It is said that the upgraded Dearcc EV10 almost keeps the same features as its existing model. The model will boast a more powerful mobility thanks to its range improvement.
Positioned as a mini electric vehicle model, the existing Dearcc EV 10 is Dearcc's first model product. Take the existing model as a reference. The model will have a price range between RMB 133,800 and RMB 141,800 after the NEV subsidies. The model measures 3,693mm in length, 1,650mm in width and 1,532mm in height and sets on a wheelbase of 2,400mm. What's more, it boasts a neat-designed exterior and interior design style. It can be 80% charged in 48 minutes under the fast-charging mode. It also boasts the highest speed of 100km/h.
YUDO π7
YUDO New-Energy Automobile Co., Ltd., (YUDO AUTO) is slated to unveil its third SUV model, the π7 at Auto China 2018. The new model features a newly-designed front end and a U-shaped intake grille mated with matrix LED headlights, demonstrating a very futuristic looking. In addition, the pure electric SUV will carry L3 driver assistance system.
Adopting an all-new designing idea at its front end, the new model features a closed intake grille, which is decorated with U-shaped chrome trims, looking more exquisite. It also boasts sharp-designed LED headlights mated with LED daytime running lamps. In addition, the fog lights on both sides are also LED-featured.
Thanks to the smooth sidelines and chrome trims around side windows, the π7's exquisite sense is strongly strengthened. It also boasts a sharply designed rear end. With sophisticated design inside the LED tail lights, the model looks very three-dimensional after turning on the tail lights. Besides, the YUDO π7 boasts a simple-designed bumper. With a black bottom fender mated with reflective strips on both sides, the model is safer while driving at night.
Gasgoo not only offers timely news and profound insight about China auto industry, but also help with business connection and expansion for suppliers and purchasers via multiple channels and methods. Buyer service:buyer-support@gasgoo.comSeller Service:seller-support@gasgoo.com
All Rights Reserved. Do not reproduce, copy and use the editorial content without permission. Contact us:
autonews@gasgoo.com