As one of the four BRIC (Brazil, Russia, India and China) countries, Russia becomes so attractive that many international automakers have surged into the new market. With 2 million cars sold in 2006, Russia becomes the 6th largest auto consumption market in the world, but its auto aftermarket is still in its infancy.
Car loan sales in Russia are increasing very rapidly
According to market analysts, car loan sales in Russia have grown from almost zero in 2000 to $400 million in 2003, and are expected to reach $1.4 billion by 2007. The interest rate for car loans varies from 5 to 12 percent and continues to decline. The number of banks operating in the car loan market doubled in 2003, and terms of repayment have eased considerably. While, in 2002 only 10 percent of cars in large Russian cities were sold through a loan agreement, in 2003 this market share grew to 25-30 percent. However, in smaller cities and villages 95 percent of vehicles are still paid for upfront. Experts believe that loan programs continue to expand to the regions and future loan sales may reach 40 percent in 2004.
Auto maintenance industry develops slowly
There are nearly 20000 private workshops or factories in Russia, but many of them are small and short of well-trained working staffs. Those small workshops can just provide simple services like car repair, car washing, etc for old or second-handed cars. Over 2000 factories are franchised vendors by those large automakers, with half providing services for foreign brands. However, those chained shops such as MBO, Auto Union, Alarm, are making money.
Local spare parts providers leave behind from their foreign counterparts
Though most of auto parts providers are privately owned, the organization and management style does not change a lot from former state-owned ones, and inefficiency and old equipment bring them a lot of financial troubles. The auto industry is fast developing, but the auto parts sector is still of uncertainty. This provides a good chance for foreign enterprises to come into Russia.
Table1 Foreign Auto Parts Providers in Russia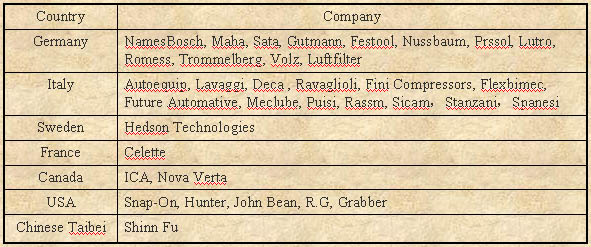 More and more auto parts are imported
Since the local auto parts providers are poorly equipped, the qualities of their products can not satisfy the local market. Some foreign vendors bring new technology and equipment to set up new factories, which stimulate the development of local market. Many foreign automakers import a large sum of parts from different countries and then assemble new cars. Little by little, more auto parts are imported to the country.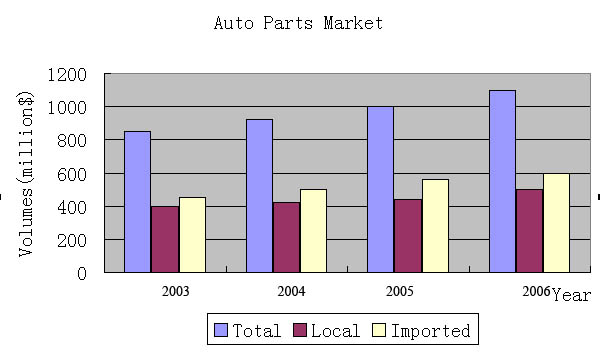 Consumers have different tastes towards auto parts
For companies with an eye on the Russian auto aftermarket, Julia Onufriychuk, director of the International Department of Auto Motor and Sports in Russia, advised that consumers are divided into one group that purchases the lowest-priced products and another group that insists on buying popular brands, such as Bosch, ZF, Valeo, and Delco. In other words, there are only two extreme groups of consumers in Russia, with a very slim room for the auto parts suppliers to appeal to the middle levels of the market.
Russia is ready to enter the WTO; more auto service related companies are coming into the market; Russian government has big plans to reinforce its auto market; thus, the auto aftermarket will become more prosperous and promising.

All Rights Reserved. Do not reproduce, copy and use the editorial content without permission. Contact us: autonews@gasgoo.com.