Besides benefits to the university community, the automakers and automotive related industries present in Italy also profit from the technological know-how transfer from the relevant research centers, both public and private, which are centers of excellence providing high added value to the industries in the sector.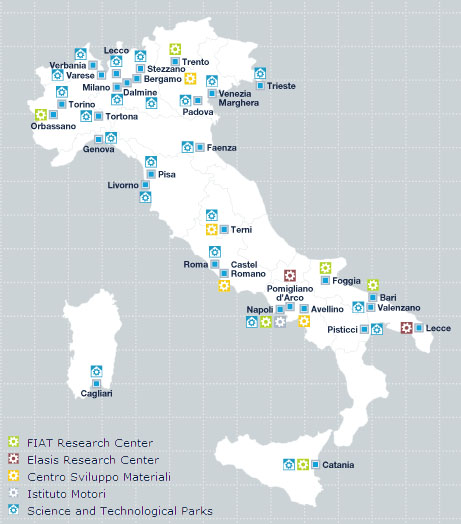 The CRF-Centro Ricerche FIAT (FIAT Research Center) is a center of automotive excellence whose goal is to promote, develop and transfer new products/processes and innovative methodologies. It was founded in 1976 as a reference point for innovation and R&D services by the companies belonging to the FIAT Group. It provides its clients with effective and creative solutions at competitive costs.
The CRF is unique within the Italian R&D community because it is entirely financed by private capital and wholly dedicated to transfering its R&D results to industry. This allows it to combine the creativity needed in R&D with the rigorous pursuit of the objectives required for know-how transfer and industrialization.
At the close of 2004, CRF boasted:
470 products, production processes and methodologies under development
1,211 active patents
948 patents pending
51 registered software programs and trademarks
280 clients
198 proposals accepted in the V EU Policy Program
69 proposals already accepted in the VI EU Policy Program
780 partners in collective programs
The Center's staff is comprised of 935 employees of which 57% are graduates in Engineering, Science, Mathematics or Economics.
Besides its head office in Orbassano (Turin), the CRF has five decentralized sites located in Bari, Naples, Catania, Foggia and Trento. It also holds a majority stake in the Ricerche Plast-Optica in Udine and has developed a global network with prestigious research institutes and organizations throughout the world. This network further strengthens its capacity for global innovation strategies, for its implementation of specific operating activities on the local level, for the creation of skills, and for constant monitoring of activities focused on competitiveness and growth.
Elasis
Elasis is a highly specialized research center which carries out applied R&D in the Automotive sector focusing on the study of new design methodologies and advanced trials and on their application in the development of highly innovative products/processes.
Elasis has two research facilities located in the South of Italy, one in Pomigliano d'Arco and the other in Lecce. These employ a total of 804 researchers and technicians.
Elasis avails itself of highly advanced technology for design and calculation, experimentation and computer-aided projections and its IT support is of international renown.
Elasis contributes to the development of the Italian research system also through cooperation with the Ministry of Education, Universities and Research, the Ministry of Industry, the Ministry of the Environment, and with the most important national and international public and private research centers.

Centro Sviluppo Materiali
The Centro Sviluppo Materiali SpA is a national and international reference point for research into innovative materials and related production, design and technologies. It provides its services to heavy industries including steel, plants and manufacturing, and to small and medium-sized enterprises, using both traditional and advanced materials. It focuses on the areas where its research centers are located: its main center in Castel Romano (Rome) and in Terni, Dalmine (Bergamo), Modena, and Avellino.
Today, the CSM, with its 320 researchers, is one of the most important centers for research into materials in Europe.
The CSM works in close synergy with industry, universities and with national and international research centers. It represents Italy in CECA Research and it is a member of the European Consortium, EMARC (which is comprised of seven highly qualified industrial research centers). It also has a foreign branch located in Brussels to better support its internationalization goals.

Istituto Motori
The IM was founded in Naples, in 1940 within the context of the National Research Council and it focuses on basic and applied research and post-graduate training in relation to propulsion and to its environmental impact with particular reference to internal combustion engines and to correlated chemical-physical processes.
The lstituto Motori employs about 100 people from the Neapolitan universities and from other Italian universities. It collaborates with several important research laboratories located in the USA, Japan and Europe.
The FIAT Research Center
All Rights Reserved. Do not reproduce, copy and use the editorial content without permission. Contact us: autonews@gasgoo.com.