After three years of continuous growth, the vehicle market in Spain has shown a slight drop of 0.3 per cent, with 1,953,134 units registered.
The overall volume of registration continues, therefore, to be maintained at high levels. Practically all the markets presented positive progress, except for that of passenger cars and buses.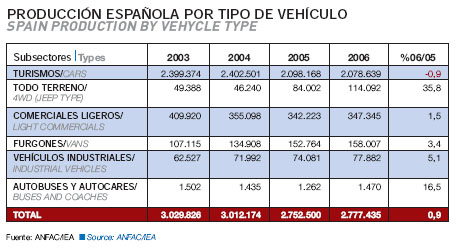 The passenger car segment, decreased overall by 2 per cent in the year compared to the record figures achieved in 2005. Despite this drop, the Spanish market continues to be ranked fifth in Europe with an average number of registrations in the last triennium higher than 1.5 million units. The lesser demand from individuals (-1.9 per cent) is seen as the main cause of this drop. The slight deceleration of private consumption throughout the year, as well as the inflationist pressures and the increases in the rates of interest have managed to reduce the dynamism of the demand from families, already heavily indebted as they are.
The demand for off-road vehicles continues a strong upward tendency growing since 2003 at a rate higher than 10 per cent. In particular, in 2006 the increase in the registrations of this type of vehicles has been 12.6 per cent. The variety on offer, its versatility and the changes in leisure time activities make the off-road vehicle very popular. On the other hand, industrial vehicles, with the exception of buses, have also progressed well.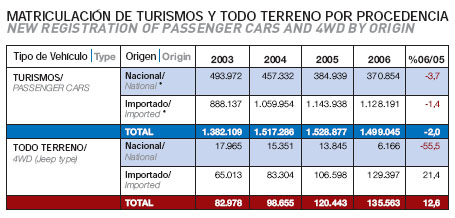 The 3 per cent increase in the light commercial vehicles and vans segment is noteworthy; its share accounts for more than 86 per cent of the
market and situates it at nearly 300 thousand units. Good investment, in both equipment and in construction, as well as the dynamism of the commercial and industrial activity in the last year has enabled these good results in the industrial vehicle market.
All Rights Reserved. Do not reproduce, copy and use the editorial content without permission. Contact us: autonews@gasgoo.com.