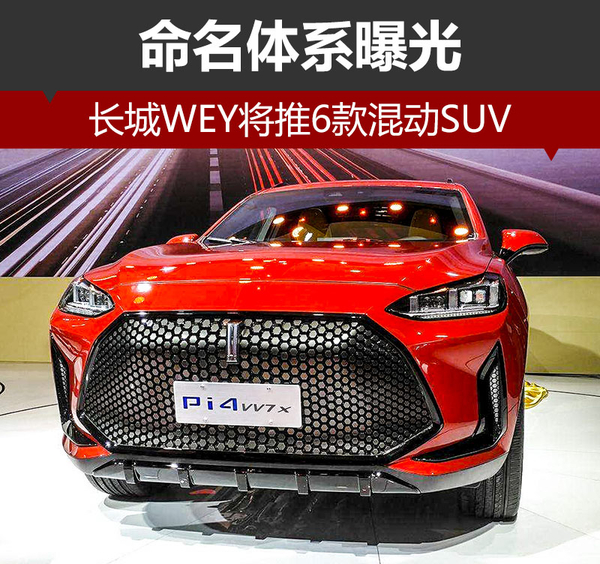 Shanghai 12th May 2017 Gasgoo-The Great Wall Automobile WEY brand recently launched its first large-scale "luxury" SUV model—VV7c/VV7s, the price ranges from 16.78 to 18.88 million Yuan. Internet Info Agency learned from the State Administration for Industry and Commerce Trademark Office that the Great Wall Automobile has registered a variety of new car name trademark, according to the information that the WEY brand is expected to launch 6 hybrid SUV models, we can also see the naming system of the new products.
According to the unveiled information, the Great Wall Automobile is expected to launch six hybrid SUV models, the name will combine the dynamic model and type. The six models respectively are Hi4 VV5c, Hi4 VV5s, Hi4 VV7c, Hi4 VV7x, Pi4 VV7c, Pi4 VV7x.
The head of WEY Pi4 VV7x uses a large area of the honeycomb shape grille, which looks like simple hexagonal, highly fit the front line of head. The tail uses the fastback design, featured with sports style.
WEY Pi4 VV7c is built on the basis of VV7c, but compared to VV7, the grille detail is more bold and more beautiful.
In terms of the charge, Pi4 VV7c can be full-charged in 4 hours by household charger 1.6 kW (220V) and the pure electric mileage reaches 50 km. In addition, the official 0-100 km / h acceleration time only costs 6.5 seconds.
The Great Wall Automobile previously said they would invest 5 billion 80 million Yuan for the new energy vehicle development project, in the future they will launch the "ISG light-mixed models, P2 strong-mixed models and plug-in hybrid models, electric four-wheel drive and strong- mixed models, pure electric models and so on, WEY Pi4 VV7x/VV7c, which is the first model to be equipped with plug-in hybrid system is expected to launch within the year.
All Rights Reserved. Do not reproduce, copy and use the editorial content without permission. Contact us: autonews@gasgoo.com.