Roundup of global automakers' e-offensive for China
New energy vehicles (NEVs), merely including BEVs, PHEVs, and FCVs, are rapidly gaining popularity in China, the world's largest auto market. After years of hovering at around 5%, the segment now routinely accounts for more than 10% of the country's monthly auto sales. Chinese government also provides substantial policy support to boost the development and adoption of clean-energy vehicles. Those favorable factors have all spurred global legacy automakers to look into an electric future in this country.
Gasgoo here takes a look at some of the world's biggest automakers and their electrification agenda for China.
Volkswagen
By 2025, Volkswagen (VW) Group China plans to deliver up to 1.5 million new energy vehicles per year.
To achieve the loft goal, the German auto giant has designed a comprehensive plan that covers production capacity, products, charging network, and other areas.

ID.3; photo credit: Volkswagen

VW Group will expand the annual production capacity of electric vehicles based on the MEB platform to 600,000 units at its two joint ventures with FAW Group and SAIC Motor.
The group is also building its third MEB plant in China with JAC Group. The Hefei-based plant, with a capacity of up to 350,000 cars per year, is scheduled to be completed by the end of 2022 so that series production can start in 2023.
Besides, VW Group's subsidiary Audi AG inked an agreement in Jan. 2021 with FAW Group to build a joint venture for the future production of PPE (Premium Platform Electric)-based electric vehicles in Changchun in the northeast of China. The production capacity still remains unknown.
As of 2025, 15 MEB-based models will be locally produced in China under various VV Group's brands and are expected to account for 35% of the group's full-year China sales.
To satisfy users' charging needs, VW Group plans to build 6,000 charging piles and 500 charging stations in eight Chinese cities this year. The cumulative number of charging pillars is anticipated to reach 17,000 by 2025 in the country.
BMW
BMW Group is aiming for a quarter of its sales in China to be all-electric vehicles by 2025, Jochen Goller, President and CEO of BMW Group Region China, said in mid-April at the Auto Shanghai 2021.
BMW iX3; photo credit: BMW China

According to Goller, BMW (including MINI brand) will launch 12 pure battery electric vehicle models for sales in the country by 2023.
Aside from the Shenyang-based car plant co-operated with Brilliance Auto, BMW is building another electric vehicle manufacturing base through the joint venture with Great Wall Motor, namely, Spotlight Automotive Ltd. Goller noted Spotlight Automotive would start making two electric MINI-branded models for global market from 2023.
The energy supply network is also part of BMW's bid to seize EV demand in China. The German auto giant said in June it planned to add 360,000 electric vehicle charging points across China this year and build 100 "three-in-one" charging stations that integrate photovoltaic (PV), EV charging with energy storage by the end of 2022.
Mercedes-Benz
There is little information about Mercedes-Benz's long-term EV plans dedicated to Chinese market.

EQA; photo credit: Mercedes-Benz China

Regarding the plan for 2021, the German luxury carmaker wishes to introduce three new NEV models in China. The two all-electric SUV models, the EQA and the EQB, are manufactured by Beijing Benz, and have been available for presale in China since late October. Moreover, the EQS, the first model based on Mercedes-Benz's dedicated large-sized EV platform "EVA" (Electric Vehicle Architecture), made its world's debut in Shanghai in April.
Honda Motor
In October, Honda Motor announces a comprehensive strategy for electrified automobile business in China.
According to the strategy, all new models Honda will introduce in China after 2030 will be electrified, including both hybrid (HEVs) and BEVs.

e:NS1; photo credit: Honda

Over the next five years, Honda will introduce the first 10 Honda-branded EV models in the country, namely, the "e:N Series". These models are expected to be exported from China.
The first set of the e:N Series models—e:NS1 and e:NP1—will hit the market in spring 2022 through Dongfeng Honda and GAC Honda respectively.
Additionally, three concepts under the e:N Series are being developed with the aim to begin sales within 5 fives.
New EV-dedicated production plants will be built by the aforesaid two joint ventures with the goal of starting production in 2024, said Honda.
Toyota Motor
By the end of 2025, Toyota Motor plans to roll out a total of 10 full-electric vehicle models in China, including the three models (the IZOA EV, the C-HR EV, and the Lexus UX EV) launched in 2020, the Japanese automaker said in February.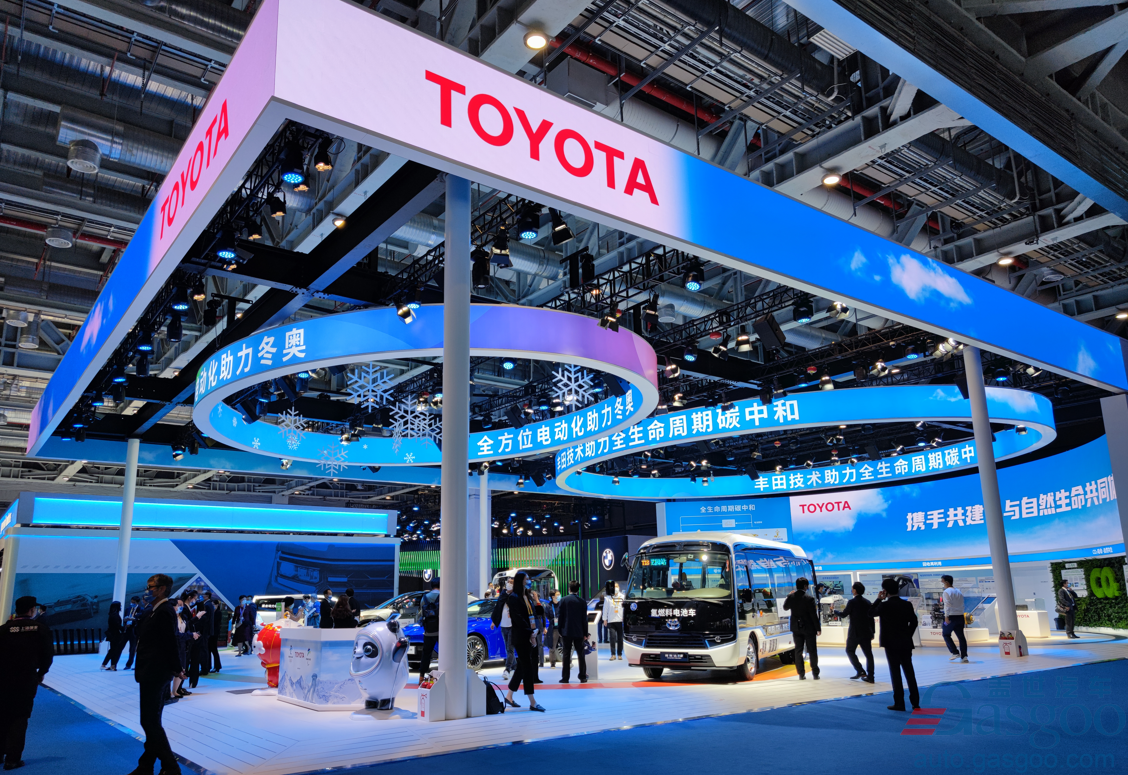 The automaker is ambitious to carry out in China the four-pronged attack for electric power solutions, including hybrid, plug-in hybrid, pure electric, as well as hydrogen fuel, within five years.
Unlike those who place biggest emphasis on pure electric vehicles, Toyota also regards hydrogen fuel cells as a centerpiece of its China e-mobility offensive. To gain a head start in China's FCV domain, it built two Beijing-based joint ventures, namely United Fuel Cell System R&D (Beijing) Co., Ltd. (FCRD) and Toyota SinoHytec Fuel Cell Co.,Ltd. (FCTS), focusing on the development of fuel cell systems for commercial vehicles, and the manufacturing and sales of fuel cells respectively.
Nissan
Nine models in Nissan's China lineup are to be equipped with electrified powertrains, including the all-electric Nissan Ariya, which made its China debut last year at the Auto China 2020 and will go on sale in the country next year.
Sylphy Zero Emission

The automaker plans to roll-out 6 e-POWER models in China by 2025 as part of its Nissan Intelligent Mobility vision for changing how vehicles are powered, driven, and applied in society.
The e-Power is a hybrid system in-house developed by Nissan, while featuring a 100% electric motor-driven system that provides responsive acceleration, smooth deceleration and cabin quietness similar to an EV, said Nissan.
The first model equipped with the e-POWER series hybrid technology for users in China is the Sylphy, one of the most popular sedan models among Chinese consumers. The model is expected to hit the market in the fourth quarter of this year.
General Motors
General Motors (GM) wants more than 40% of its new models launched in China to be electric vehicles by 2025, the company said in a statement released at its Tech Day event in August 2020.
According to the statement, GM's electric vehicles, many of which will be pure electric cars, will be manufactured in China with all components sourced from local suppliers.
Ultium BEV platform

In September, GM launched its electric vehicle platform Ultium in China. The platform can accommodate different cells to optimize global sourcing and keep up with technological advances, said the company.
GM plans to roll out more than 30 Ultium-based EVs globally by 2025, over 20 of which will hit Chinese market.
Ford Motor
Under the "FORD CHINA 2.0" strategy Ford Motor announced in April 2019, the U.S.-based automaker wished to launch 30+ new Ford and Lincoln vehicles tailored to Chinese consumers over the next three years, of which more than 10 would be electrified vehicles.
Mustang Mach-E SUV
The China-made version of the Mustang Mach-E SUV, sitting alone as Ford's only fully electric passenger vehicle model, went on sale in April, meaning Ford has taken a faster lane to a green tomorrow in the world's vastest auto market.
Hyundai and Kia
Hyundai Motor Co. and its sibling Kia Corp. will release all-electric vehicle models every year in China starting in 2022, as part of efforts to regain ground in the world's biggest auto market.
Mistra BEV; photo credit: Beijing Hyundai

Under the strategy titled "Rising Again, For China" issued in April, the two South Korean automakers will expand their NEV lineup in China to a total of 21 models by 2030, including HEVs and FCEVs.

Hyundai Motor's first full-electric IONIQ 5, which rides on its proprietary EV platform E-GMP, is likely to go on sale in China next year.
Regarding the hydrogen business, Hyundai Motor Group's first overseas hydrogen fuel cell system factory is under construction in Guangzhou, capital of China's Guangdong province. The building works are set to be completed in the second half of 2022. The factory is designed to feature a fuel cell system capacity of 6,500 sets per year, and the volume will be lifted based on local market and policy demands.
Besides, Hyundai Motor's hotter-selling FCEV model, the NEXO, will be introduced in China in the near future.
Volvo Cars
Volvo Cars has not announced the specific sales target and EV introduction plan for Chinese market. However, the automaker said it plans to become a fully electric car company by 2030 worldwide. By then, the company intends to only sell fully electric cars and phase out any car in its global portfolio with an internal combustion engine, including hybrids.
Volvo XC90 Recharge; photo credit: Volvo Cars

The 2030 ambition cannot be achieved without the contribution of Chinese market. During the grace period before 2023 ends, Volvo Cars will continue to offer consumers in China its highly efficient hybrid vehicle models and push the electrification transition based on China's actual market and policy environments.
Tesla
Tesla's Gigafactory Shanghai reached in early August an annualized vehicle production rate of 450,000 Model Y and Model 3 vehicles, according to the company's Q2 financial results. It is reasonable to assume the rate may grow to 500,000 units as production continues to ramp up.

Model Y

Tesla China didn't set the delivery guidance for 2021, while it seeks to shatter the record created in 2020, which amounted to 499,550 units.
Gasgoo not only offers timely news and profound insight about China auto industry, but also help with business connection and expansion for suppliers and purchasers via multiple channels and methods. Buyer service:buyer-support@gasgoo.comSeller Service:seller-support@gasgoo.com
All Rights Reserved. Do not reproduce, copy and use the editorial content without permission. Contact us:
autonews@gasgoo.com