Gasgoo expects China's passenger vehicle sales to reach 22.55 million
In 2022, China's passenger vehicle (PV) sales are expected to reach 22.55 million units while the sales volume of new energy PVs will amount to 4.8 million with a share of 21%, according to a report by Gasgoo Auto Research Institute. Between 2021 and 2028, the PV segment will see a compound growth rate of 3.2% in sales.
For the past year, China's overall PV market showed a strong growth momentum in the first quarter on the low basis of the previous year when the market was hit hard by COVID-19. In the second quarter of 2021, the decline became larger and larger because of the high-volume base in the same period of 2020 when the market saw recovery from the crisis and the world-wide chip supply shortage whose impact began to show up.
Taking various factors into account, Gasgoo Auto Research Institute, a think tank of Gasgoo which offers insights and in-depth reports on China's automotive industry, predicts a year-over-year growth of 5.5% to 22.58 million units in China's 2022 PV production and a year-over-year increase of 4.9% to 22.55 million vehicles in the country's 2022 PV sales.
In the mid-to-long term, China's vehicle market may not see a substantial growth with PV sales increasing at a compound annual growth rate of 3.2%, Gasgoo Auto Research Institute said after considering China's economy outlook, vehicles per 1000 people in major cities, and road network density. By 2028, the market will have an annual PV sales volume of 26.8 million units.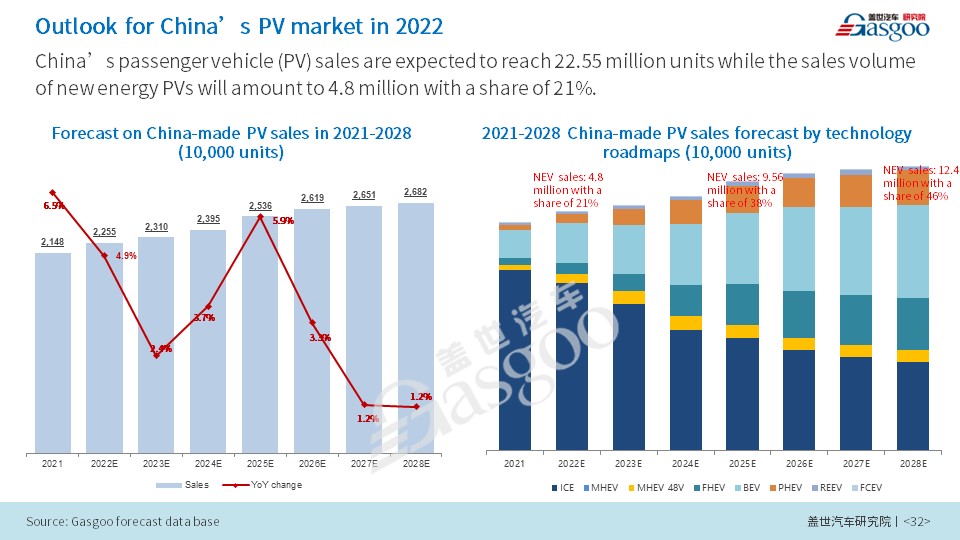 For 2022, the PV segment will still be affected by disruptions of supply chain in the first quarter and is anticipated to maintain high-speed growth in the second and third quarter thanks to the relatively low volume of the previous year. The second half of this year will contribute more than the first one.
The chip supply shortage will continue to plague the industry and last to 2023, according to Gasgoo Auto Research Institute. On the one hand, such factors as sporadic COVID-19 outbreak and other natural disasters caused production disruption and supply shortage. On the other hand, the market share of electric vehicles, which require much more chips than conventional ones, gets higher and higher, resulting in stronger demand.
By segment, shortage of MCUs and high-performance SOCs, where local products are not so competitive at current stage, may persist in the market. But for IGBT chips and memory chips, local players, such as BYD, Starpower and GigaDevice, may bring breakthroughs for settling domestic supply chain constraints.
For new vehicle inventory, the first six months of this year are expected to be at a relatively low level while some automakers will build up inventory in the second half of this year. But in the coming two years, the inventory will not remain so high-level as before.
Gasgoo Auto Research Institute anticipates China will accomplish the target that new energy vehicles sales will account for 25% of the country's total new vehicle sales by 2025 ahead of schedule. For this year, the new energy PV segment's sales will jump 45% from a year earlier to 4.8 million with a market share of 21%. The phasing-out of many policies such as national subsidies and purchasing tax exemption for new energy vehicles may spur another consumption spree in 2022.
In 2021, the sales of new energy passenger vehicles in China set another new record. The segment's share of the overall passenger vehicle sales jumped from 5.8% in 2020 to 14.8% last year, according to the China Passenger Car Association.
The explosive growth of the segment was driven by policies, efforts at the supply end and strong market demand, Gasgoo Auto Research Institute said.
In policy, the new energy vehicle development planning for 2021-2035 set a higher standard for the market while the ratio for new energy vehicle credits becomes stricter. The winding back in government subsidies encourage certain consumers to bring forward new energy vehicle consumption. Besides, such tier-one cities like Shanghai tighten their traffic regulations, making new energy vehicle licenses much preferable.
In supply, a great many new energy vehicle models from local automobile startups, Chinese brands and joint ventures have sprung up to offer rich options for consumers. Traditional local self-owned automakers also establish new high-end new energy vehicle brands to differentiate from existing ones, and launch hybrid products at the same time. Foreign automotive groups began to launch electrification strategies and battery electric vehicle dedicated platforms successively from 2020.
In market demands, thanks to intelligent and comfort features on those new energy vehicles, more and more young consumers would like to choose one as their first vehicle. It is reported that for the whole year of 2021, individual users accounted for over 80% of the new energy vehicle market.
By segment, A00 battery electric vehicles like the Wuling Hongguang MINIEV and B-class battery electric vehicles like the Tesla Model Y are expected to have rapid growth. Such plug-in hybrid electric vehicles as the BYD Qin PLUS DM-i will drive the development of the compact segment's electrification.
Since China's new energy vehicle market has entered into market-driven phase, the share of individual buyers will remain at about 80%. But under carbon peak and carbon neutrality target, operation-used new energy vehicles will have a slight increase in scale and share.
Gasgoo not only offers timely news and profound insight about China auto industry, but also help with business connection and expansion for suppliers and purchasers via multiple channels and methods. Buyer service:buyer-support@gasgoo.comSeller Service:seller-support@gasgoo.com
All Rights Reserved. Do not reproduce, copy and use the editorial content without permission. Contact us:
autonews@gasgoo.com