Li Auto, NIO get best-ever monthly deliveries in Nov. 2022, but XPeng still faces YoY drop
On the first day of Dec. 2022, the five major Chinese new energy vehicle (NEV) startups all released their deliveries for the month of Nov. and the first eleven months of this year.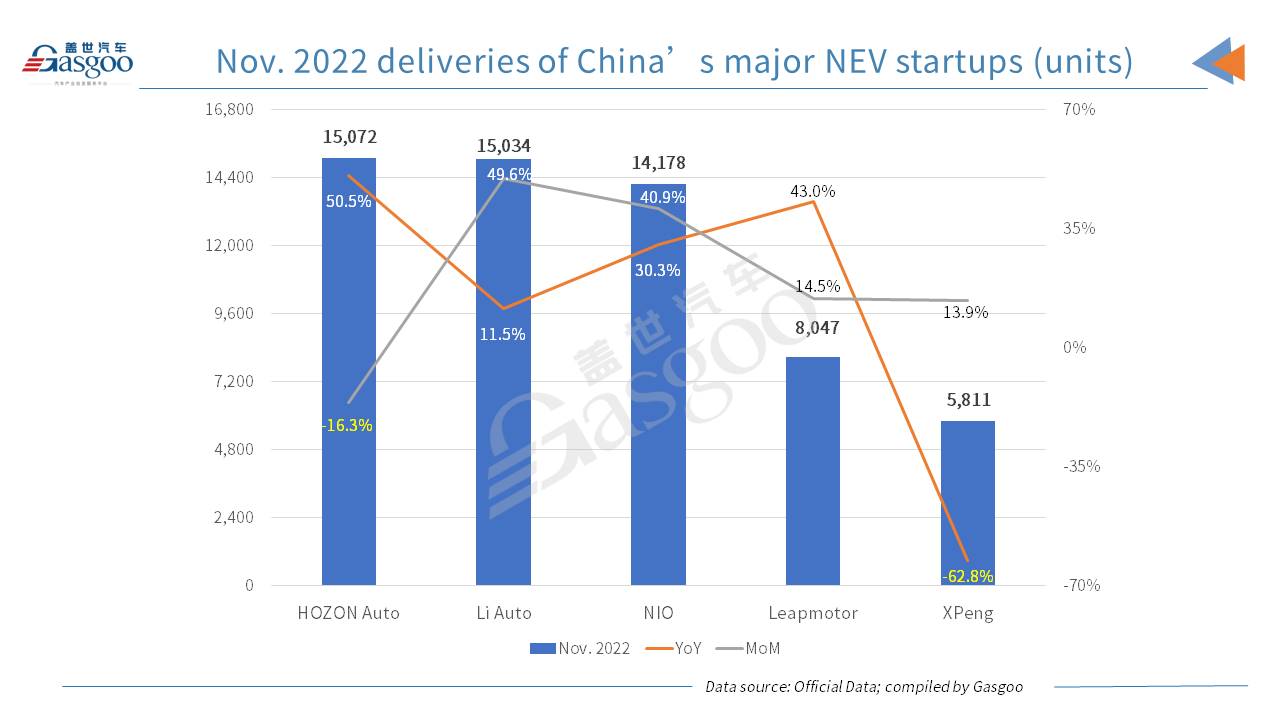 In Nov. 2022, both Li Auto and NIO achieved their best-ever monthly deliveries, both HOZON Auto and Leapmotor scored a remarkable year-on-year leap, while XPeng was the only one to face a downward movement from a year ago.
Among the five NEV startups, HOZON Auto was the only one to encounter a month-on-month decrease in Nov. deliveries, while the other four all boasted a double-digit growth compared to Oct. 2022.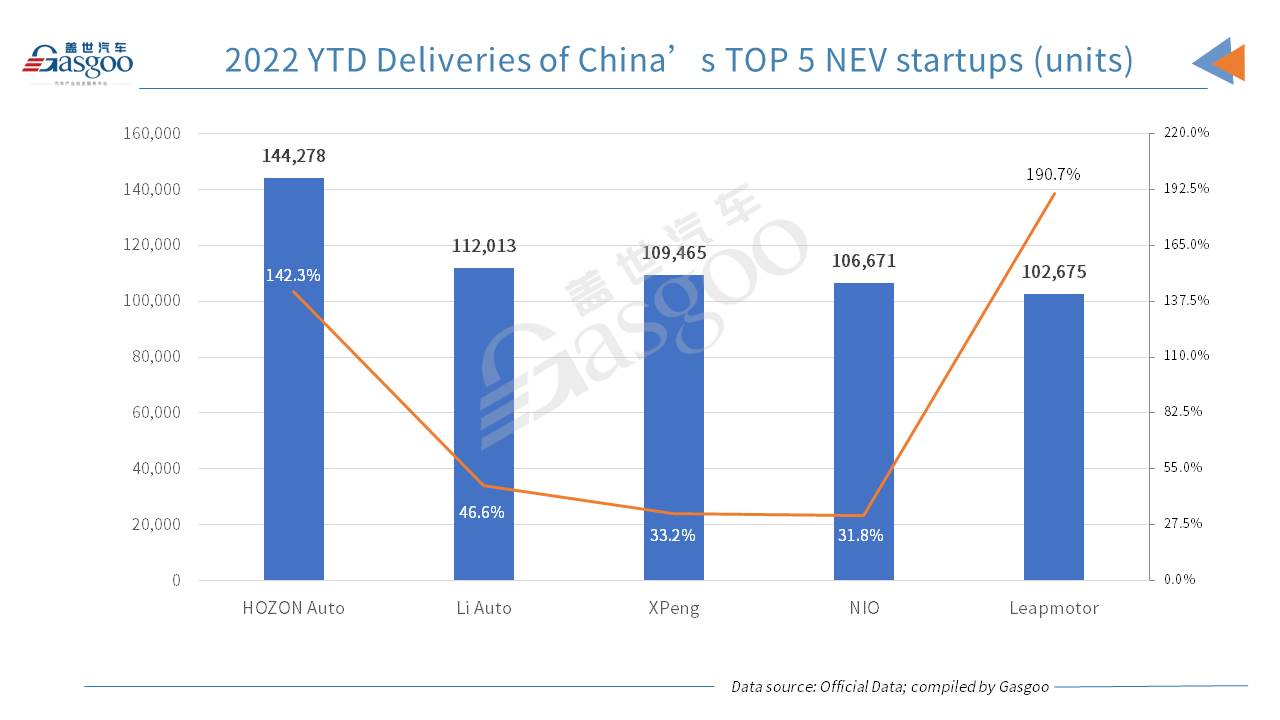 For the first eleven months of 2022, the top 5 Chinese NEV startups all gained a year-on-year leap in their year-to-date deliveries, of which Leapmotor was credited the fastest-growing one. HOZON Auto outsold other startups with a three-digit year-over-year rise as well. Compared to the rankings by Jan.-Oct. deliveries, NIO moved up one spot to the fourth place thanks to its blooming deliveries in Nov., while XPeng dropped to the third.
HOZON Auto once again ranked highest among Chinese NEV startups by delivering 15,072 vehicles in Nov., for the fifth month in a row taking the championship.
On the last day of Nov., the company delivered the first NETA S sports sedans in Hangzhou. As the first model to use NETA's in-house developed intelligent cockpit system NETA SPACE, the NETA S features Qualcomm's third-generation Snapdragon chip, a 17.6-inch central control screen, 12.3-inch passenger-side infotainment screen, a 13.3-inch instrument binnacle, and an AR-HUD.
HOZON Auto has so far deployed across China a total of 360 service centers, which offer not only sales, but also charging, after-sales, user care, and other services.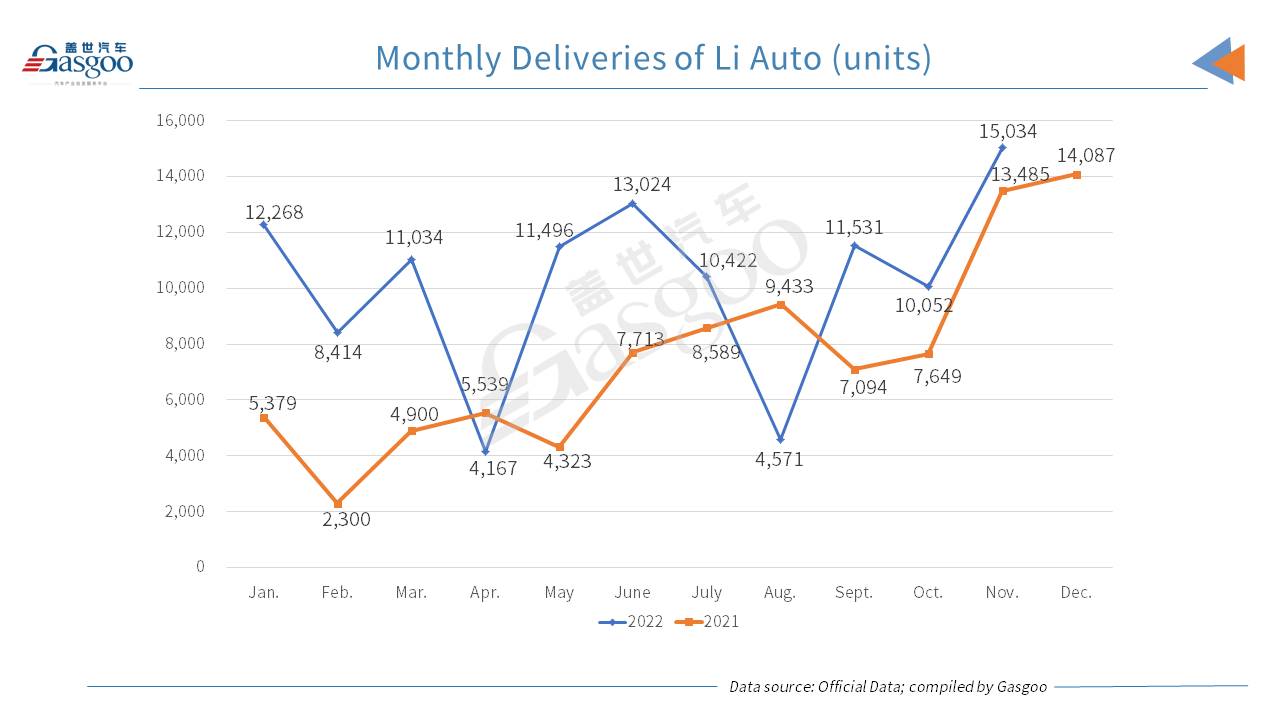 Li Auto only delivered 38 vehicles fewer than that of HOZON Auto in Nov. 2022.
By the end of Nov. this year, the startup's cumulative delivery volume reached 236,101 units, among which 112,013 units were delivered this year.
"Since its launch, Li L8 has received positive user feedback and wide recognition, off to a strong start with continued increase in orders," said Yanan Shen, co-founder and president of Li Auto.
Mr. Shen also commented that orders of the Li L9 remained robust and the level of its user satisfaction continued to exceed the company's expectations.
NIO's monthly deliveries hit a new high of 14,178 units last month, exceeding 10,000 units for six straight months.
In Nov., NIO saw the combined deliveries of the three models built on the NT2 platform (the ET7, the ES7, and the ET5) steadily grew to 11,072 units.
"NIO will further accelerate the production and delivery in December 2022", the company said in a press release.
Regarding power network, the company launched last month 51 battery swap stations, 62 supercharging stations, and 53 destination charging stations, and had access to 14,840 third-party charging piles.
Leapmotor logged a two-digit increase in its Nov. deliveries from both the previous year and the previous month. The company saw its year-to-date deliveries surpass 100,000 vehicles, while it still ranked the lowest temporarily among the five startups.
At the earnings calls held to elucidate the third-quarter financial results, Leapmotor disclosed its full-year delivery target of 120,000 vehicles for the year of 2022, indicating that the company should deliver more than 17,300 vehicles in Dec. to hit the goal.
Leapmotor also revealed it planned to roll out an REEV (range-extended electric vehicle) model in the fourth quarter of this year to improve its profitability.
XPeng's Nov. deliveries plunged over 60% year on year, but still rose 14% over a month ago.
Of the vehicles delivered by XPeng last month, 1,546 units were the flagship G9 SUVs.
XPeng expects its deliveries to significantly increase in December 2022 as the G9's production ramp-up accelerates under normalized operating conditions.
The company revealed it will roll out three new models successively starting from the first quarter of 2023, in a bid to further improve XPeng's product competitiveness.
Gasgoo not only offers timely news and profound insight about China auto industry, but also help with business connection and expansion for suppliers and purchasers via multiple channels and methods. Buyer service:buyer-support@gasgoo.comSeller Service:seller-support@gasgoo.com
All Rights Reserved. Do not reproduce, copy and use the editorial content without permission. Contact us:
autonews@gasgoo.com