Revealed: how Chinese automakers perform on sales amid prolonged downturn by end-Aug.
Shanghai (Gasgoo)- China's auto sales fell 6.9% year over year to 1.958 million units in August, according to the China Association of Automobile Manufacturers (CAAM), posting year-on-year decrease for the 14th month in a row.

Gasgoo hereby rounded up sales data given by nine major Chinese automakers. Their sales in August totaled nearly 1.306 million units, accounting for roughly 67% of all auto sales. Only three companies—Dongfeng Motor Group, Great Wall Motors and Chery Holding—realized growth in monthly sales.
SAIC Motor
SAIC Motor reported a 7.87% YoY decrease in August sales, a slower downturn than that of July, but still faced the 12th-month-in-a-row decline.
The group has so far sold 3,863,948 new vehicles this year, compared with 4,535,822 units sold between January and August, 2018.
The top three subsidiaries by Jan.-Aug. sales all posted apparent drop. Particularly, sales volume of SAIC-GM-Wuling substantially fell 26.05% from the prior-year. Besides, they also failed to gain positive growth in August sales.
(Photo source: MG)

Although joint ventures all suffered downturn, SAIC's self-owned PV business got an Aug. sales volume higher than that of a year ago. According to the sales announcement, SAIC Motor PV sold 51,042 new vehicles last month with a slight increase of 2.07%.
In August, sales volume of MG-branded vehicles amounted to 21,927 units, jumping 28% year on year. Moreover, year-to-date sales of MG Motor India reached 4,500 units.
Roewe got a sales volume exceeding 29,000 units in August. Of that, respective sales of the Roewe RX5 and the RX5 MAX topped 10,000 units.
Dongfeng Motor Group
Dongfeng Motor Group said year-to-date auto sales reached 1,828,499 units as of August, 2019, down by 4.92% over the previous year. Of that, 233,190 units were sold in August, an increase of 2.69% compared with the year-ago period.
In August, the automaker saw its PV sales edge up 1.08% to 198,842 units with both car and SUV businesses achieving growth, while the MPV business hit by a substantial plunge. The sales volume of cars, SUVs and MPVs reached 102,550 units (+1.11%), 88,894 units (+7.15%) and 7,398 units (-39.98%) respectively.

(Photo source: Dongfeng Nissan)

Sino-Japanese brands like Dongfeng Nissan, Dongfeng Infiniti and Dongfeng Honda all gained year-on-year sales increase in August. Particularly, Dongfeng Infiniti posted a surge up to 55.82%.
Eclipsed by Japanese brands' overall rising performance, two joint ventures with French automakers—Dongfeng Renault and DPCA—still suffered plunge of over 50% in August sales.
GAC Group
GAC Group's auto sales slide 6.78% year on year to 161,774 units in August, the automaker reported on September 9.
PV sales in August reached 161,581 units, falling 6.4% from the previous year. Of that, car and MPV sales evidently rose 13.22% and 25.42% respectively, while their growth was completely counteracted by the 26.25% year-on-year decrease in SUV sales.
GAC Honda saw its Aug. sales edge up 1.89%, versus the 8.6% year-on-year decrease in July sales.

(Photo source: GAC Toyota)

GAC Toyota still maintained its rising momentum. The joint venture sold 58,000 new vehicles last month, a year-over-year growth of 6.34%. Year-to-date sales jumped 19.44% to 431,224 units.
GAC Mitsubishi, witnessed its monthly sales edge down 5.26 % to 10,800 units in this year's August.
GAC Motor, the group's self-owned PV subsidiary, saw its August sales tumble 28.75% to 29,931 units. Its Jan.-Aug. sales represented a double-digit drop as well.
Changan Automobile
Changan Automobile posted a year-on-year decline of 5.2% in July sales, according to the automaker's latest announcement.
Four subsidiaries, namely, Hebei Changan, Hefei Changan, Changan Ford and Changan Mazda, all posted double-digit downturn in August sales, while their decrease were significantly counteracted by a 35.6% year-on-year jump in Chongqing Changan's sales.
Changan Ford hasn't got its sales back on a positive track yet. Compared with a 24.5% decline in July sales, it faced a widened decrease last month.
From August on, Jiangling Motors Holding would no longer be included in the sales report due to its completion of equity change, said Changan Automobile.
In August, the sales volume of Changan's self-owned vehicles amounted to 92,075 units, rising 11.7% month on month and climbing 6.2% year on year, according to a post on the automaker's WeChat account.
Geely Auto
Geely Automobile said its total sales volume (including Lynk & Co-branded vehicles) in August, 2019 reached 101,223 units, a year-on-year drop of roughly 19%, but up by approximately 11% over the previous month.
Among vehicles sold last month, 7,897 units were new energy and electrified vehicles (NEEVs). Besides, the group exported 3,208 vehicles in August with a jump of around 26% from the prior-year.
(Photo source: Geely Automobile)

The hotter-selling NEEV models in August were the Emgrand EV, the Jiaji MHEV, the Xingyue MHEV and Geometry A, which accounted for around 73% of total NEEV sales. According to Geely Automobile, 2,529 units of the Jiaji MPV and 1,176 units of the Geometry A BEV were sold last month.
The group's year-to-date sales shrank roughly 17% from the previous year to 844,278 units, completing 62% of Geely's revised full-year sales goal of 1,360,000 units for the year of 2019. Of that, Jan.-Aug. sales volume of NEEVs skyrocketed 110% over the year-ago period.
Moreover, the August sales volumes of the Lynk & Co 01, 02 and 03 were 4,134 units, 1,750 units and 5,098 units respectively.
Great Wall Motors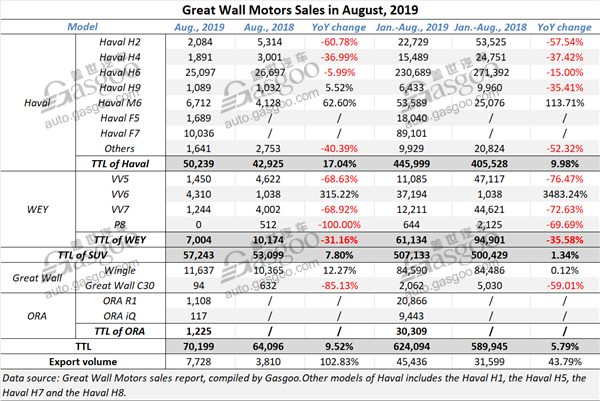 Great Wall Motors saw its auto sales in August rise 9.52% to 70,199 units, which made its year-to-date sales total 624,094 units, a year-on-year growth of 5.79%, according to the automaker's announcement.
Great Wall Motors sustained its championship in China's SUV domain with the sales volume of Haval brand jumping 17.04% over the previous year.
The growth in Haval August sales was largely ascribed to the outstanding performances of the F Series, which came to the market in September, 2018. The fresh power and the evident increases in the sales of the Haval H9 and the Haval M6 entirely offset the downturn in the sales of the Haval H2, H4, H6 and other models.
The combined sales of the ORA R1 and iQ reached 1,225 units in August, plunging 40.85% month on month due to the prolonged influence from the NEV subsidy slash.
To strengthen the pickup onslaught, Great Wall Motors officially launched the new P Series Pickup on August 18. Last month, the company's pickup sales amounted to 11,637 units, up by 12.27% year on year, and shooting up 44.11% month on month.
Chery Holding
Chery Holding said its auto sales volume in August reached 65,200 units, jumping 33.2% over a month ago and climbing 5.4% over a year ago amid an overall market downturn. Of that, both PV and CV sales represented double-digit month-on-month growth.
For the first eight months, the group sold a total of 439,000 vehicles. Year-to-date sales of indigenous brands grew 5.9% from the previous year.
In August, Chery Automobile boasted a month-on-month increase of 15% and a year-over-year growth of 4.4% primarily thanks to the strong demands from new products.
(Photo source: Chery Automobile)

Monthly sales volume of the all-new Tiggo 8 amounted to 10,198 units, rising 10% from the previous month and surging 42% compared with the year-ago period. Fresh power also comes from such new models as the Tiggo 5x HERO, the Arrizo GX Pro & the Arrizo 5 Pro that comply with the China Ⅵ Emission Standard and the 2020 Tiggo 3 Million-unit Global Edition.
By virtue of the stable growth in sales of special vehicles and logistics vehicles, Chery Holding saw its CV sales in August soar 51% over a month earlier and edge up 4.8% from the prior-year.
BYD
Sales at BYD fell 13.95% to 36,009 units in August, versus the 16.96% year-on-year drop in July sales, according to the automaker's latest sales report.
Both NEV and oil-fueled vehicle businesses posted downturn in August sales. It seems that the NEV subsidy slash still impinged on BYD. After coming across an 11.84% decline in July, its NEV sales slide 23.44% to 16,719 units last month.
(Photo source: BYD)

August sales volume of oil-fuel vehicles edged down 3.59%, versus the 22.16% year-on-year decrease in July sales.
The contracted drop should be completely attributed to the rising SUV sales which showed a stupendous year-on-year growth of 104.52%. Nevertheless, both sedan and MPV sectors were hit by decline of over 30% in August.
Regarding monthly performance of specific models, sales volumes of the Tang, Qin and Yuan series reached 4,833 units, 3,635 units and 4,127 units respectively. The Song Family had a sales volume of 17,174 units, among which 4,458 units and 12,716 units were the all-new Song Max and the Song Pro.
JAC Motors
JAC Motors saw its August sales fall 28.16% from a year ago to 26,347 units with both PV and CV sectors recording negative growth. With 289,117 vehicles sold through August, its year-to-date sales also dipped 11.54%.

(Photo source: JAC Motors)

The company's PV sales in August tumbled 49.04% year on year to 9,170 units. SUV and MPV sales were decrease by 38.34% and 35.94% to 6,366 units and 2,353 units respectively. Only 451 cars were sold, a steep plunge of 88.72%.
Among PVs sold last month, 3,109 cars were powered by all-electric power system, versus 5,800 units for the month of 2018. However, the NEV business still attained a 41.56% year-on-year surge in terms of Jan.-Aug. sales.
Last month, JAC Motors encountered setbacks in export. It exported 3,556 vehicles to the markets outside China, posting a sharp decline of 58.64% from the year-ago period. By the end of August, total auto export volume slumped 47.71% to 32,176 units.
Gasgoo not only offers timely news and profound insight about China auto industry, but also help with business connection and expansion for suppliers and purchasers via multiple channels and methods. Buyer service:buyer-support@gasgoo.comSeller Service:seller-support@gasgoo.com
All Rights Reserved. Do not reproduce, copy and use the editorial content without permission. Contact us:
autonews@gasgoo.com