China NEV insurance registrations in Feb.: Tesla outperforms totals of Chinese startups
Shanghai (Gasgoo)- In February 2021, consumers in China bought the MLI (Mandatory Liability Insurance for Traffic Accidents of Motor Vehicles) for 93,680 China-built new energy vehicles (NEVs) , representing a marvelous surge of 841% over the previous year, according to the China Insurance Regulatory Commission (CIRC).
The remarkable growth was mainly due to the low base for the year-ago period when the country was at the height of the coronavirus pandemic and many consumers were locked down in their homes.
Chinese startups also scored extraordinary year-on-year growth for the same reason. Last month, insurance registrations of the vehicles from Chinese startups amounted to 13,057 units, rocketing 705.5% from the previous year, while plunging 48% month on month due to the Chinese New Year holiday.
For the first two months of the year, the NEV insurance volume totaled 239,136 units (+346.6% YoY), 16% of which came from Chinese startups.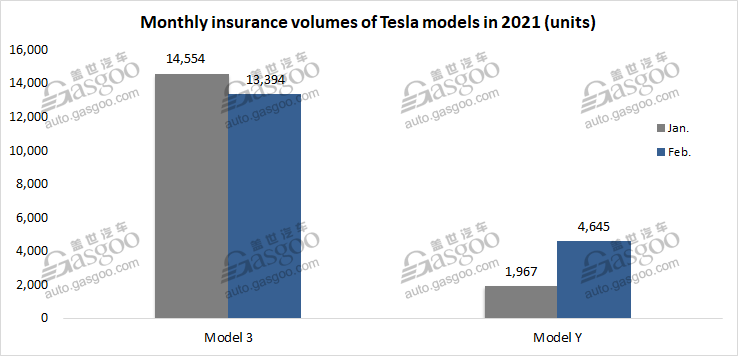 It is noteworthy that Tesla was streets ahead of Chinese startups in terms of monthly insurance registrations. Last month, consumers in China bought the MLI for 18,039 China-made Model 3s and Model Ys, more than the totals of all Chinese startups. Of the vehicles registered, there were 13,394 Model 3s and 4,645 Model Ys.
Although most EV manufacturers faced month-over-month plunge in Feb. due to the holiday, Tesla China achieved a growth of 9.2% thanks to the surging demands of the Model Ys. The Model Y, Tesla's second locally-produced model in China, had an insurance volume of 1,967 units in Jan. after it hit the market at the beginning of the month.

As for the landscape of Chinese startups in Feb., the majority of market share was still dominated by the six companies, namely, NIO, XPeng, Li Auto, WM Motor, HOZON Auto and Leapmotor. With aggregated registrations of 12,445 units, they contributed to around 95% of the Chinese startups' totals.
Clearly, NIO, XPeng and Li Auto firmly maintained their leadership as the first-tier Chinese startups. NIO still took the crown with an insurance volume of 5,739 units, which more than doubled that of the runner-up XPeng. Li Auto's volume was only 41 units fewer than that of XPeng, while 1,485 units more than that of WM Motor.

NIO posted a month-on-month decrease of 20.2% in Feb. registration with all three models facing decline. The ES8, the ES6 and the EC6 had insurance volume of 1,351 units, 2,277 units and 2,111 units respectively, of which the EC6 recorded the biggest month-on-month drop.
Among coupe SUV models priced above 300,000 yuan ($45,870) in China, the EC6 was honored the runner-up by Feb. insurance volume. In addition, in terms of registrations, the ES8 was the No.6 full-sized SUV model priced over 400,000 yuan ($61,160), while the ES6 was the No.7 mid-sized SUV priced above 300,000 yuan.

XPeng saw its monthly registrations tumble from 5,542 units in Jan. to 2,332 units in Feb., which included 880 G3s (-55.2% MoM) and 1,452 P7s (-59.4% MoM). According to the monthly data compiled by Gasgoo, the P7, the company's second production model available for scale delivery from June 2020, had outperformed the G3 for eight consecutive months as of Feb. 2021.
The Guangzhou-based company moves much ahead of many other Chinese startups regarding the scale application of self-developed autonomous driving technologies. XPeng released in Jan. the first OTA (over-the-air) of XPILOT 3.0, its full-stack in-house-developed automotive driving system, which has become a core selling point of XPeng's vehicles.
As a main part of the XPILOT 3.0, NGP (Navigation Guided Pilot), the company's navigation-assisted highway autonomous driving solution, had been activated in around 20% of all P7s delivered and has assisted customers in driving for more than 1.3 million kilometers by the end of February, He Xiaopeng, Co-founder, Chairman and CEO of XPeng, said at a quarterly earnings call.

Li Auto witnessed its Feb. insurance volume flop 53.9% compared to the previous month, while rocket 646.3% compared to the previous year.
The EV maker currently has only one model for sale, namely the Li ONE REEV with a NEDC range of up to 800 kilometers. It also revealed the plan of launching all-electric vehicles, while the specific timeline has not been announced yet.
Li Auto said the cumulative deliveries of the Li ONE surpassed 40,000 units as of Feb. 18, 2021, only 14.5 months after the delivery kicked off. Notably, Li Auto was also the first Chinese EV startup that achieved the milestone in such a short time.
As for the car ownership, NIO's registrations for private usages amounted to 4,683 units in Feb., versus 1,056 units handed over to business users. For XPeng and Li Auto, the proportion of individual users stood at 86.1% and 82.6% respectively.
Among the second-tier ones, WM Motor, HOZON Auto and Leapmotor all failed to surpass 1,000 units in Feb. insurance registrations.
All three Chinese startups had a major sales contributor that upstaged the other models. WM Motor recorded an insurance volume of 806 units, of which 793 units were the EX5. With registrations of 682 units, the Nezha V made up 96.9% of HOZON Auto's Feb. totals. For Leapmotor, the T03 had an insurance volume of 548 units, while the S01 only recorded 25 units.
To seize more market share, the second-tier Chinese startups are intensifying their business deployment. Freeman Shen, founder and CEO of WM Motor, said the company will quicken its deployment in products, intelligentization, sales channels and technologies in 2021, and will tap mobility service. HOZON Auto plans to invest 2 billion yuan ($305.82 million) this year in the construction of an intelligent technology R&D hub, and roll out the mass-produced version of the concept car Eureka 03 and two new refreshed models. Leapmotor announced in Jan. it raised a total of 4.3 billion yuan ($657.512 million) in its series B financing, exceeding the target by over 1 billion yuan ($152.91 million). It also formed partnership with Hefei municipal government, planning to build its second manufacturing plant with an annual capacity of 200,000 units in the capital of Anhui province.
Gasgoo not only offers timely news and profound insight about China auto industry, but also help with business connection and expansion for suppliers and purchasers via multiple channels and methods. Buyer service:buyer-support@gasgoo.comSeller Service:seller-support@gasgoo.com
All Rights Reserved. Do not reproduce, copy and use the editorial content without permission. Contact us:
autonews@gasgoo.com