Summary of Chinese mainstream automobile groups' April sales
Shanghai (Gasgoo)- China auto sales in April climbed 4.4% year on year to 2.07 million units, according to the China Association of Automobile Manufacturers (CAAM). Under the general upward climate, quite a few automakers in country garnered sales growth as well.
Aside from SAIC Motor, Great Wall Motor and BYD, the other automakers Gasgoo hereby enumerated all recorded increase in April sales—even this year's first-time growth for most of them.
SAIC Motor achieves slight increase in April retail sales
Benefitting from the resilient demand, SAIC Motor saw its auto wholesale volume surge to 417,560 units in April from 231,455 units in March.
The year-on-year decrease in April sales stood at 8.6%, versus 58.56% and 86.95% drop in Mar. and Feb. volumes.
The growth in retail sales was turned to be positive. The company said its April deliveries edged up 1.3% from the year-ago period to 413,300 units.
Among subsidiaries, SAIC Volkswagen regained the championship in terms of April wholesales, but still recorded a double-digit downturn.
SAIC-GM-Wuling (SGWM) dropped to the runner-up place, while achieved a 13.53% growth compared to the same period a year ago and was outsold by SAIC Volkswagen by only 100 units.

(Baojun RS-3, photo source: SGWM)

The generous cash handouts largely contributed to the blooming sales. SGWM announced in early April it had set aside RMB1 billion to subsidize consumers' new-car purchase in response to China's encouragement to boost automobile shopping. Under the new project, dealers of Baojun brand would offer buyers across China subsidy of up to RMB10,000 per car.
FAW Group records 20.4% growth in April sales

FAW Group saw its complete vehicle outputs in April jump 19.7% from a year ago to 342,333 units, and sold 330,503 vehicles during the same period with a vigorous year-on-year growth of 20.4%, the Chinese state-run automaker said last week.
In the Jan.-Apr. period, FAW Group produced and sold 899,281 and 938,407 vehicles respectively.
(Hongqi H5, photo source: Hongqi)

With 14,519 units sold, Hongqi boasts a stupendous year-over-year growth of 168% last month. FAW Car and FAW Jiefang sold 13,166 and 67,959 vehicles in April, achieving 4.8% and 86.8% growth compared to the prior-year period.
There are two brands operated by FAW Car, namely, Besturn and Mazda. FAW Group announced earlier this month that it will set up a dedicate business unit for Mazda, which means the brand jointly developed with the Japanese automaker will be separated from FAW Car and operated at the same level as FAW-Volkswagen (FAW-VW) and FAW-Toyota.
The group said FAW-VW's outputs and sales reached 175,948 units (+11.2%) and 161,632 units (+7.7%). The Sino-German automaker reported its auto deliveries in April amounted to 165,714 units (including the sales of imported vehicles), growing 9.9% year on year and surging 41% month on month. The volume also made FAW-VW honored the champion in China by April PV retail sales.
FAW-Toyota gained an 8.5% year-on-year growth with 71,575 vehicles sold. The sales of the RAV4, the Corolla and the Avalon all hit their monthly target.
Dongfeng Motor Corporation sees April sales rise 8.3%
Dongfeng Motor Corporation saw its April sales grow 8.3% over a year earlier to 244,205 units, which also bottomed out from the volume of 110,814 units for March.

The increase in the sales of both PVs and CVs contributed to the overall growth together. PV sales climbed 3% year on year to 183,337 units, while the CV sector served a stronger driving power that posted a 28.18% jump with 60,868 units sold.
For the Jan.-Apr. period, Dongfeng still failed to lift its sales out of downturn, but the decrease has been getting increasingly smaller month by month.
(Civic, photo source: Dongfeng Honda)

Many of the subsidiaries got positive growth in April sales. Both Dongfeng Honda and Dongfeng Renault clocked double-digit growth, versus their more than 85% year-on-year plunge in March. Besides, Dongfeng Liuzhou, Dongfeng Passenger Vehicle Company and Dongfeng Trucks all obtained manifest increase.
In April, Dongfeng Motor Company Limited almost rebounded to its prior-year sales level. The sales contributor, Dongfeng Nissan, saw its sales edge up 1.27% from a year ago.
GAC Group wins growth in April thanks to Sino-Japanese JVs' impetus
GAC Group saw its auto sales in April rise 6.1% year on year to 166,273 units, which made its year-to-date sales aggregate 472,370 units, still showing a slump of 27.49% due to the coronavirus outbreak.
The increase in PV sales is accountable for the total sales growth. Last month, the Guangzhou-based automaker sold 166,117 PVs, 6.21% more than the year-ago level. The CV sales tumbled 49.84% to only 156 units, while it failed to hold the overall growth back because of its small volume.
Two Sino-Japanese joint ventures—GAC Honda and GAC Toyota—took up over 80% of the group's April sales. Notably, GAC Toyota attained an exceptional growth of 46.9% with 63,607 vehicles sold. GAC Honda also had a sales volume more than that of the prior-year period.
(Highlander, photo source: GAC Toyota)

As the main sales drivers of GAC Group, GAC Honda and GAC Toyota ran at 120% and 140% production capacity in 2019, according to the group's annual result. Thus, both of them are expanding capacities to support the climbing sales. According to local media outlets, GAC Toyota plans to build its fifth production line with an annual capacity of 200,000 vehicles to be added. GAC Honda has completed in Feb. the capacity expansion project for one of the plants at Zengcheng District with the vehicle capacity doubled to 240,000 units per year.
Changan says auto sales jump 32% YoY in April

Chongqing Changan Automobile Co., Ltd. (Changan) achieved a double-digit year-on-year growth in April sales, stopping three consecutive months of downturn.
The automaker said its new vehicle sales in April jumped 32.03% from a year ago to 159,557 units. The sales volume of Changan's self-owned brand reached 119,435 units, leaping 37.5% compared the year-ago period.
In the same month, Changan sold 3,485 new vehicles to overseas markets, a year-over-year growth of 3.1%.
Most of the subsidiaries achieved remarkable increase. Both Changan Ford and Changan Mazda recorded a year-on-year growth of over 35%. Besides, Hefei Changan was still the fastest-growing one.
(CS75 PLUS, photo source: Changan Automobile)

Changan stated there were four models whose April sales volume exceeded 10,000 units, namely, the CS75 series (20,113 units, +161.6%), the Eado (12,192 units, +87.1%), the CS35 series (10,330 units, +25.3%) and Oshan X7 (10,078 units).
For the first four months, the automaker still posted a decrease of 18.45% from a year earlier as its first-quarter sales slumped due to the coronavirus spread.
Geely Auto boasts 2% year-on-year sales growth in April

Geely Auto announced a year-on-year growth of 2% in its April vehicle sales, which was a rather inspiring performance amid the prolong downturn in overall auto market.
Last month, the automaker sold 105,468 new vehicles (including Lynk & Co-branded cars), a month-on-month surge of 44%. Of those, 5,439 units were new energy and electrified vehicles (NEEVs).
(Photo source: Geely Auto's WeChat account)
As of April, the company has completed 22% of its 1.41-million-unit annual sales target with a year-to-date sales volume of 311,495 units (-34%).
In April, the sales volumes of Geely-branded sedans, SUVs and MPVs reached 43,067 units, 61,179 units and 1,222 units respectively. Notably, the volume of the ICON, Geely's second BMA (B-segment Modular Architecture) that hit the market in late February, stood at 2,565 units.
With 10,156 new vehicles sold, Lynk & Co gained a year-on-year increase of 12% in April. The all-new flagship coupe SUV, the Lynk & Co 05, went on sale on May 5 with its prices ranging from RMB175,800 and RMB212,800.
Great Wall Motor posts much smaller YoY decline in April sales
Great Wall Motor (GWM) said its new vehicle sales volume reached 80,828 units in April, dipping 3.59% year on year, while jumping 34.6% over a month ago.
Due to the coronavirus spread, its year-to-date sales still represented a year-on-year decrease of 37.13%, versus 47.04% drop in Q1 volume.
Haval, the domestic popular SUV brand, witnessed the decrease in its April sales shrunk to 2.3%. With 24,018 units sold, the well-received SUV model Haval H6 had a year-on-year decline of 14.36%, but posted an apparent rebound from the previous month. Besides, the sales volumes of Haval H9, M6 and F7 grew 46.96%, 50.9% and 7.6% respectively.
(Wingle 7, photo source: Great Wall Motor)

The automaker still took the leadership in China's pickup market with its pickup sales jumping 20% from the year-ago period to 15,729 units. The Wingle 5 gasoline-powered "China Ⅵ" version and the Wingle 7 "New Champion" version hit the market on Feb. 29, which are expected to help GWM grasp more market share.
ORA sold 1,765 new cars in April, a 61.75% downward movement. The flagging sales of the ORA iQ should be more blamed for the slump. For the first four months, the BEV-focused brand was still mired in a steep plunge.
JAC Motors attains growth in both April outputs and sales
Last month, JAC Motors gained double-digit growth in both outputs and sales. To be specific, 46,335 and 42,719 new vehicles were produced and sold respectively, representing year-on-year jump of 22.42% and 22.28%.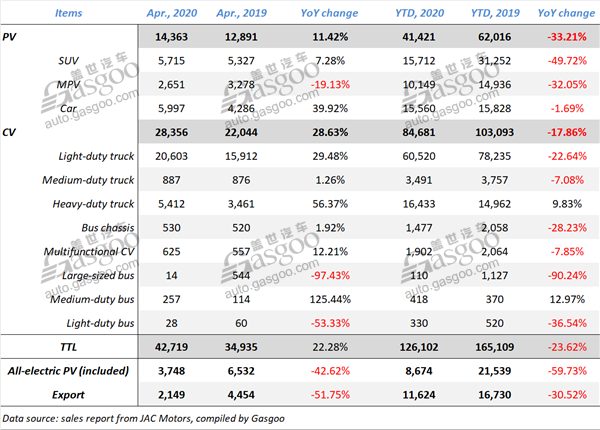 PV sales in April evidently rose 11.42% to 14,363 units thanks to the upward movement showed in SUV and car sales. Notably, the decrease in the year-to-date car sales was shrunk to only 1.69% as a result of the 39.92% surge the sector achieved last month.
There were 3,748 all-electric vehicles among the PVs sold in April, a steep slide of 42.62%. However, the Jan.-Apr. volume was still more than halved over the previous year.
(iC5, photo source: JAC Motors)

The Hefei-based automaker put the iC5 pure electric sedan onto to the market on May 10. It is the product rolling off the assembly line shared by JAC-Volkswagen Motors. after they set up the joint venture, and has a NEDC-rated range of up to 530km.
CV sales also vigorously grew 28.63% to 28,356 units. Except the large-sized bus and the light-duty bus, the other sectors all accomplished year-over-year rise.
BYD posts growth in April oil-fueled vehicle sales, but NEV sales still slump
For the month of April, BYD posted a 15.94% decrease from the prior-year period, while boasted a month-on-month growth of 3.95% as the market has continually take a favorable turn with the coronavirus ebbing in China.

Oil-fueled vehicle sales in April jumped 36.06% over a year earlier to 18,814 units. Of those, 15,073 units were SUVs, representing a stupendous year-on-year increase of 313.19%. However, the sales of sedans and MPVs still slumped 30.6% and 77.69% respectively.
The overall downturn entirely stemmed from the 45.88% plunge in April NEV sales. It was also the tenth month in a row for the NEV sector to suffer decrease.
(BYD e2, photo source: BYD)

Among NEVs sold last month, 12,262 units were PVs, a year-on-year slump of 46.07%. Of those, sales volumes of BEVs and PHEVs amounted to 9,966 units (-38.16%) and 2,296 units (-65.13%).
Selling 93,082 vehicles for the first four months, BYD posted a 40.11% plunge compared with the same period a year ago, 7.78 percentage points fewer than the decline in Q1 volume. The main cause contributing to the decrease was the flagging sales offered by the NEV arm. It is worth noting that the drop in the year-to-date fuel-burning vehicle sales was shrunk to 0.58%.
Gasgoo not only offers timely news and profound insight about China auto industry, but also help with business connection and expansion for suppliers and purchasers via multiple channels and methods. Buyer service:buyer-support@gasgoo.comSeller Service:seller-support@gasgoo.com
All Rights Reserved. Do not reproduce, copy and use the editorial content without permission. Contact us:
autonews@gasgoo.com