What encourages China local automakers to roll out premium brands?
Shanghai (Gasgoo)- In November, several major Chinese indigenous auto brands made significant headway in going upmarket.
Last month, SAIC Motor launched Zhiji Motor, a high-end smart electric vehicle (EV) brand it will jointly develop with Shanghai's Pudong New Area and e-commerce giant Alibaba Group.
The project is expected to see 10 billion yuan ($1.521 billion) worth of investment. It will focus on product and technology innovation, with a brand-new production and marketing model that seeks to reconstruct the traditional automotive industry and break the boundaries between users and enterprises.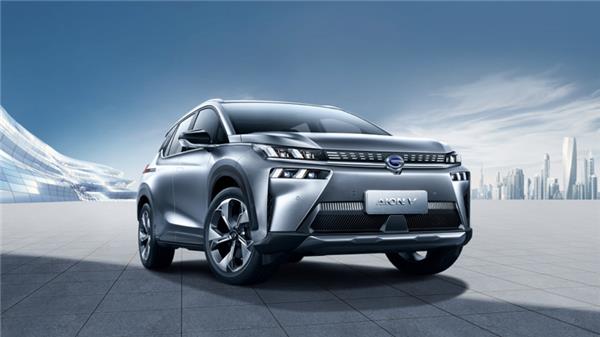 Aion V; photo credit: GAC NE

GAC Group has launched its Aion product series as a standalone brand with focus on premium intelligent electric vehicles (EVs). The automaker announced the spin-off of Aion from GAC's product lineup at the Auto Guangzhou 2020, where the brand's fourth model, the Aion Y, was unveiled.
Changan Auto is working with Huawei and CATL, leading global providers of ICT (information and communications technology) devices and power batteries, to develop an upscale smart car brand, said Zhu Huarong, chairman of Changan Auto. The early R&D business of their first jointly-developed model has been completed, and the product is about to go into mass production.

VOYAH FREE; photo credit: Dongfeng Motor

VOYAH, the premium EV brand Dongfeng Motor launched in July, saw the pre-production car of its first mass-produced model roll off the production line on Nov. 25. Dubbed VOAYH FREE, the much-anticipated production model will make its world's debut on Dec. 18.
There are a number of factors that make those automakers scramble to launch premium car brands or high-end products.
"Moving upscale" has become a must-go approach for Chinese domestic brands to survive the increasingly fierce competition and earn more market share.

In 2018, China's auto market retreat for the first time in 28 years. Affected by such factors as the transition to China Ⅵ emission standards, the phase-out of NEV subsidiary and coronavirus pandemic, auto sales represented a continued downshift. According to the China Passenger Car Association (CPCA), retail sales of China's locally-produced PVs (referring to cars, SUVs and MPVs) slid 7.4% from the previous year to 20,702,482 units in 2019. With 17,001,550 units delivered, the country's PV market still posted a year on year decrease of 8.3% for the first eleven months of 2020.
However, luxury car brands defied the downward trend to report robust market growth. The CPCA's data show that the retail sales of luxury PVs jumped 12.6% to 2,027,579 units in the Jan.-Oct. period of the year, while Chinese local brands posted a year-on-year decline of 17.3% with 5,166,683 PVs delivered in total.
In terms of market share, luxury PV brands accounted for 13.6% of total Jan.-Oct. PV deliveries, versus 10.7% for the full year of 2019. China's self-owned brands saw their combined share drop to 34.6% in 2020's first ten months from 37.9% in 2019.
The increase in the share of luxury cars partly stemmed from the discounts offered by automakers and dealers, but more importantly the consumption upgrades coming after the substantial growth in residents' income made consumers more apt to choosing higher-end products.
Additionally, the price cut offered by joint-venture brands made local brands less competitive in terms of price. Among the top 10 automakers by Jan.-Oct. PV deliveries, the seven joint ventures, including FAW-VW, SAIC VW, SAIC GM, Dongfeng Nissan, Dongfeng Toyota, GAC Honda and FAW-Toyota, took a total of 44.7% market share, while the share of three Chinese automakers, namely Geely Auto, Changan Auto and Great Wall Motor, totaled only 16%.
Caught in the middle by both luxury and joint-venture brands, China's local brands have to go upmarket to seek more development space. Besides, launching more upscale cars also suits the shopping trend following consumption upgrades.
WEY and Lynk & Co set good examples in operating premium brands.
Spawned from Chinese indigenous car brands, WEY and Lynk & Co choose rather different development routes. The WEY trademark, first introduced in 2017, is to Haval what Lexus is to Toyota and Infiniti is to Nissan. Using a marketing network separate from that of Haval, WEY highlights a brand image as entry luxe.

WEY VV6; photo credit: WEY

The annual sales of WEY and Lynk & Co, the premium brands of Great Wall Motor and Geely Auto, reached 100,043 units and 128,066 units respectively last year. Their robust sales indicate that China's self-owned high-end vehicles can be well-received as well as some mainstream joint-venture models, and no longer are labeled as cheap and shoddy products.

Lynk & Co 06; photo credit: Lynk & Co

Lynk & Co touts its essence of youth and connectivity. Its vehicles are positioned between those of the Geely brand and Swedish brand Volvo, which was purchased by Geely in 2010. Based on the same CMA (compact modular architecture) and powertrains as some Volvo's cars, Lynk & Co's products are highly recognized by consumers.
Nevertheless, the success of WEY and Lynk & Co does not mean their business models will be equally efficient to others as automakers are in different development stages and face different challenges. "There are diverse routes for companies to go upscale. Some with powerful technologies and capital strengths can roll out all-new premium brands, while others can leverage the global leading technologies by working with industrial partners through multiple means," said Ye Shengji, the Deputy Secretary General of the China Association of Automobile Manufacturers (CAAM).
New technology trends bring historic opportunities to Chinese local auto brands
Most premium brands launched by domestic automakers, such as Dongfeng Motor's VOYAH and GAC Group's Aion, focus on EVs. In fuel-burning vehicle area, global peers have undoubtedly moved much ahead of local ones, while in terms of the transition towards electrification, Chinese brands seem to pose a proper opportunity to keep up with or even overtake foreign rivals as this is an emerging area to all players.
Both traditional carmakers and startups are quick on the draw in deploying electrified businesses. For instance, companies like BYD kicked off early offensive in batteries and other EV-related core parts, in a bid to make China-made electrified vehicles stand out from their rivals in R&D cost and range.

Photo credit: Geely Auto

Cui Dongshu, secretary general of the China Passenger Car Association (CPCA), said global auto brands' slow progress in developing electrification offers a good timing for China's self-owned brands to move upscale. Chinese indigenous brands will easily succeed in the deployment of premium electrified products by virtue of a large amount of R&D expenditure as they have worked on electrification for a relatively long period, and have sound financial capability and abundant resources of such components as batteries and electric motors.
It is worth mentioning that China also stands at the forefront of the world in Internet industry development, which makes Chinese local brands gain a head start in leveraging intelligence technologies, such as human-vehicle interaction, IoV (Internet of Vehicles) and smart operating system.
Prominent cases include Geely's GKUI Smart Ecosystem, the "in-Call" smart connected system jointly developed by Changan and Tencent, and the AliOS-enabled Banma intelligent infotainment system co-created by SAIC Motor and Alibaba Group. Intelligent-connected facilities now serve as important selling points for China's self-developed premium vehicles.
Gasgoo not only offers timely news and profound insight about China auto industry, but also help with business connection and expansion for suppliers and purchasers via multiple channels and methods. Buyer service:buyer-support@gasgoo.comSeller Service:seller-support@gasgoo.com
All Rights Reserved. Do not reproduce, copy and use the editorial content without permission. Contact us:
autonews@gasgoo.com