CATL announces 130 bln yuan plus investment for battery capacity expansion within one year
For the first eleven months of 2021, CATL ranked highest among power battery manufacturers worldwide with an installed battery capacity of 79.8GWh, posting a 180.1% year-on-year surge and accounting for 31.8% of the world's total volume, according to the data from the market tracker SNE Research.

Photo credit: CATL

The today's largest power battery manufacturer stated in Nov. that the shipments of global power and energy storage batteries are expected to hit 1,516GWh in 2025, according to the forecast of the battery research institute GGII. Correspondingly, the company should reach an annual sales volume of 455GWh to take 30% global share.
Given the factors like maintenance of production facilities, shifts of manufacturing technique and product types, as well as the seasonal fluctuation of market demands, CATL should deploy 520GWh in annual battery making capacity before 2025 to realize the sale target.
Based on the principal of prudence, CATL's all battery manufacturing lines, which have already started production, will reach a 240GWh per year of lithium battery capacity when they go into stable operation. Thus, the company still faces a deficit of 280GWh capacity.
CATL is vigorously promoting the expansion for its battery production capacity. According to CATL's Q3 financial results, the company's fixed assets and projects under construction were valued at 31.85 billion yuan ($5.001 billion) and 21.495 billion yuan ($3.375 billion) as of Sept. 2021, rising 62.32% and 273.81% respectively from the level by the end of Dec. 2020. CATL attributed the remarkable growth to the investment in ramping up manufacturing capacity.

CATL signing agreement for Yibin base's 7th-10th phases; photo credit: CATL

Over the past one year, CATL released 11 announcements about its battery capacity expansion plans, involving no more than 131 billion yuan. Among the ten projects, eight will be carried out by CATL or its wholly-owned subsidiaries, and the other two are managed by CATL's joint ventures with automakers FAW Group and SAIC Motor.
Gasgoo hereby made a table including key information about CATL's capacity expansion plans announced between Dec. 2020 and Nov. 2021.
Of the plans listed above, those located in Liyang, Fuding, Zhaoqing, Yichun, Xiamen, and Gui'an New District have seen construction commence this year. Gasgoo made another table to show more details about these ongoing building works as below.
Among those projects under construction, the one, who had ground-breaking in mid-Jun., is managed by two joint ventures between CATL and SAIC Motor.
As for the capacity completed, the first phase of CATL's Yibin battery manufacturing base was put into operation in mid-June 2021. It is one of the ten phases of battery making projects CATL signed with Yibin municipal government.
In late Dec., CATL announced the start of operation at its Fuding base's first phase with a workshop beginning production.
Moreover, CATL entered into a strategic cooperation framework agreement with Shanghai municipal government in mid-August to locate a high-end manufacturing base in Lin-gang Special Area, home to Tesla's Giagafactory 3. The decision will greatly facilitate the battery supply to Tesla, a major client of CATL.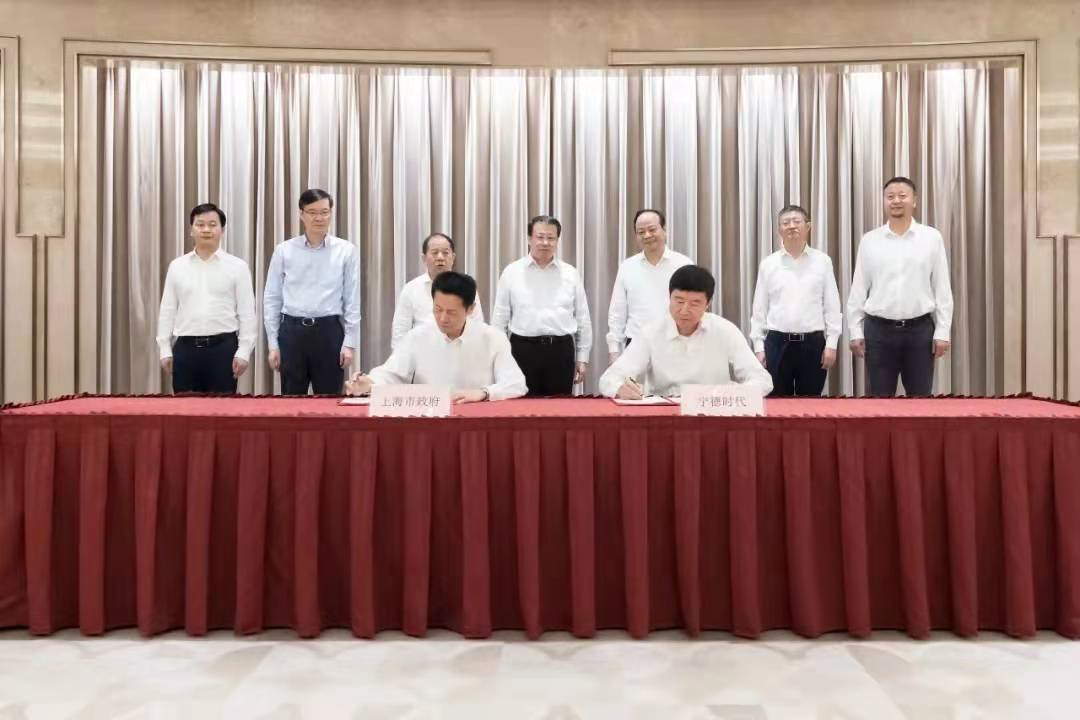 CATL, Shanghai municipal government signing agreement; photo credit: CATL

About the detailed capacity volume, the framework deal mentioned nothing. Nevertheless, according to a governmental official, CATL's Shanghai factory will produce battery modules and is likely to start production in Jan. 2022.
As for the market outside China, after starting building its first overseas battery factory in Thuringia, Germany in Oct. 2019, CATL will reportedly launch its battery manufacturing journey in the U.S.
In Oct. 2021, the U.S.-based commercial electric vehicle maker Electric Last Mile Solutions Inc. said it had signed a battery supply deal with CATL. The duo were also exploring a setup where CATL would have a U.S. plant that would produce battery cells and ship them to the ELMS plant in Indiana for assembly into battery packs, an ELMS spokesman said.
To secure the upstream raw material supplies for battery production, CATL will build a lithium battery material industrial park in Yichang city, central China's Hubei Province. The facility construction, which is managed by CATL's two subsidiaries—Guangdong Brunp Recycling Technology Co., Ltd. and Ningbo Brunp Contemporary Amperex Co., Ltd., began on Dec. 4.
According to CATL, the Yichang-based industrial park will feature a designed annual production capacity of 360,000-ton iron phosphate, 220,000-ton lithium iron phosphate, 180,000-ton NCM precursor, 40,000-ton lithium cobalt oxide, and 40,000-ton recycled graphite once all facilities go into full operation. In addition, the industrial park will also have the capability of recycling 300,000 ton/year of batteries.
Although in the short term lithium-ion batteries are expected to remain dominant, CATL is vigorously working on alternative technologies in fear of the shortage and high prices of lithium following the soaring EV demands.
CATL's first-generation sodium-ion battery; photo credit: CATL

CATL became in July the first automotive battery maker to unveil a sodium-ion battery and said it planned to build a supply chain for the new technology in 2030. It did not disclose cost details of its new battery, but noted that sodium is the sixth most common element on earth.
Gasgoo not only offers timely news and profound insight about China auto industry, but also help with business connection and expansion for suppliers and purchasers via multiple channels and methods. Buyer service:buyer-support@gasgoo.comSeller Service:seller-support@gasgoo.com
All Rights Reserved. Do not reproduce, copy and use the editorial content without permission. Contact us:
autonews@gasgoo.com