Gasgoo Awards 2022 attracts dozens of candidates in smart cockpit segment
Earlier this month, Gasgoo, a global leading automotive industry information service platform, has started the Gasgoo Awards 2022. For the Top 100 Players of China's New Automotive Supply Chain, the program will cover ten core segments, namely autonomous driving, smart cockpit, software, automotive chip, electrification, thermal management, body and chassis, interiors and exteriors, lightweight and new materials, as well as service providers.
In smart cockpit segment, the Gasgoo Awards 2022 have attracted 24 companies with 34 technologies to apply for the Top 100 Players of China's New Automotive Supply Chain. Here are some details about them
Marelli
1) Product: Dyna-View TM Cockpit Domain Controller
Description
Dyna-View Wide Display Cockpit Domain Controller
Unique advantages
Leveraging standard TFT-LCD size,Dyna-View provides 1st automotive seamless splicing wide display solution through integrating HDR, slim bezel, one black technologies, perfectly balancing display performance and product cost.
Through Hypervisor dual operation system, it can dynamically adjust regions of Cluster and CID, to ensure safety and compatibility in Cockpit Domain Controller.
With Marelli R-TouchTM technology, Dyna-View facilitates the intelligent interconnection between mobile phone and vehicle electrical system.
Application
Vehicle wide display cockpit domain controller, provides driving information, navigation, central infotainment and other functions.
Prospect
With the evolution of wide screen cockpit, consumers require better display quality and cell phone connection ability, Dyna-View cockpit domain controller provides best display performance and user experience with best product cost. The product will help to increase market share of local dimming and slim bezel of TFT-LCD in automotive scope, perform as strong competitors of OLED.
Photo credit: Marelli
2) Product: Smart-Surface (Interactive Translucent Deco)
Description
Provide HMI function and seamless design in the decorating of cabin finisher with Interior and Electronics Technology.
Unique advantages
Electronic functions such as information display and touch SW with vibrating feedback (Haptic-SW) are integrated with decoration to reduce the division of products;
Hidden display function can meet the needs of simple design.
Application
Intelligent multi-effect ambient lighting; Haptic SW; Information display
Prospect
By integrating HMI with decoration, we will provide a seamless and advanced cabin design,meeting the trend of intelligent cabin, and having a wide range of applications.
Photo credit: Marelli
Product: Reconfigurable Seating
Description

The Reconfigurable Seating integrates Power Long Rail, Stadium Swivel Seat and IP Nesting technologies, providing solutions for various daily scenarios.

Power Long Rail and Stadium Swivel Seat: The combination of Magna's power Long Rail technology and Stadium Swivel Seat provides ease of reconfigurability and flexibility for various occupant and cargo situations. The vehicle cabin can be reshaped to offer a more useable and collaborative interior for the autonomous vehicle, ride sharing and car sharing scenarios of the future.

IP Nesting: The passenger seat nests into the instrument panel by combining stadium cushion flip-up and long rails to provide cargo storage space for improved mobility. The use of a stadium cushion and long rails provides additional cargo storage space and an enhanced user experience by offering an adaptable, flexible interior.

Unique advantages
Power Long Rails: Enables conference / cargo mode seat arrangements; Power version with quick and comfort adj; Manual override ability; removable seat attachment; Mountable inside the floor.
Stadium Swivel Seat: Enables conference / campfire seat arrangements; Best-in-class swivel mechanism package and stadium cushion enable compact swivel arc; Low rotational efforts and high rotational stability through use of rolling elements in swivel mechanism.
IP Nesting: One step, single-handed operation to move seat to IP nesting position; Seat back recliner; Fore/aft comfort adjustment; Integrated restraint system (ABTS capable); Option for power IP nesting
Application
Under cargo mode, the vehicle's first row passenger seat is on long rails and slides up towards the IP (instrument panel) to create additional cargo between the second and first row seats. Or the first and second row seat are both on long rails and nest together towards the front or rear of the vehicle creating an open area for cargo.

Under campfire mode, the first-row passenger seat swivels around to face an occupant in the second row. Or, in a 3-row vehicle, the second row seats swivel around to face occupants in the third row.
Prospect

From carrying cargo to a long car ride to ride sharing – Magna have reconfigurable solutions that are reshaping the future of the vehicle cabin, no matter the vehicle segment. The cabin can easily reconfigure to different "modes" utilizing three technologies, power long rails, stadium swivel mechanism and IP nesting, all while fitting in various vehicle architectures - Coupes, Sedans, MPVs, SUVs and Commercial Vehicles.

Photo credit: Magna
Product: App Store
Description
With the APP store, an on-board scalable application platform that can be implemented on the cockpit entertainment system, mainstream application services are provided to end users through this platform which could realize more application scenarios by enriching the functions of the entertainment system.
Unique advantages
Massive content resources are contained on this platform which could be customized as well to meet the in-cockpit application scenarios.
It provides application management, updating and maintenance through entire lifecycle for the customers and HMI can be also customized according to customer request.
It provides customization services to adapt the API for OEM owned applications.
Mainstream payment ways are integrated to support in-cockpit online payment.
It provides personalized applications for worldwide regions.
Application
Good adaptation of all entertainment system running Android OS, it's covering all major categories such as navigation, weather, multimedia, travelling, working efficiency, social communication, entertainment, games, etc., The application platform or apps can be embedded in vehicles before delivery or by OTA afterwards to ensure end users always enjoying up-to-date applications. In addition, all applications are well managed and updated on the platform through lifecycle.
Prospect
All applications provided by the platform are designed in accordance with standardized interfaces which support the trend of intelligent cockpit EEA with software and hardware decoupling.
The platform acts as an intermediate platform for the customers and all content players, Faurecia will be in charge of coordinating and integrating all application layer resources to provide application services for the customers.
The massive applications in the platform can cover most applications in mainstream countries and regions worldwide, OEMs can greatly leverage this platform as software application solutions for exporting projects.
All applications in the platform have long-term cooperation contract with Faurecia for facilitating operation and maintenance services throughout the lifecycle.
Photo credit: Faurecia
Product: Huawei Intelligent Cockpit Solution
Description
Based on HarmonyOS for Auto (HOS-A), Huawei intelligent cockpit solutions were built especially for intelligent vehicles by the Huawei Intelligent Automotive Solution BU (IAS BU). Prioritizing driving safety, the system equips cockpits with intelligent services, powerful capabilities of Huawei Mobile Services for Auto (HMS-A), and application ecosystems. Together, these deliver a personalized intelligent cockpit experience and seamlessly interconnect people with their vehicle and home appliances across all scenarios.
Unique advantages
Provides a centralized Harmony OS for auto and specially designed ecosystem for cockpits. Supports smooth upgrades, so consumers always access the latest experiences.
Thanks to the powerful Harmony OS for auto's platform capability, OEM, hardware and software partners can develop personalized user experience. For example, the cockpit allows users to define head unit functions, including window layout, gesture control, and quick launch. By virtue of the platform's visual ability, the technology can intelligently identify drivers to protect private information and personalizes functions linked to specific users.
Transforms the cockpit into a living space by interacting with HarmonyOS-powered devices, seamlessly interconnecting the person with their vehicle and home appliances across scenarios like navigation, entertainment, and video calling.
Boasts an extensive application ecosystem aligned with cockpits, delivering a superior entertainment experience to users (e.g., Deep Voice Control Tech). Provides open APIs to simplify application development and reduce costs so that developers can quickly adapt their applications to cockpits and roll out the latest functions.
Based on the open system platform capabilities, work with Huawei's industry-leading automotive products — modules, Cockpit Vision, and Huawei Sound, Huawei intelligent cockpit solutions enable OEMs and software partners to develop the ecosystem for users to deliver an all-new driving experience.
Application
Huawei intelligent cockpit solution was first commercially deployed in ARCFOX αS (Huawei Inside) and AITO M5 (Huawei Smart Selection) in 2021. In 2022, seven or eight more new commercial models with the solution will be launched to the markets.
Prospect
Huawei Intelligent cockpit solution will focus on delivering better experience, improving HarmonyOS for auto platform capability, with opening more APIs. This will set more vehicle models on the track towards intelligent cockpit transformation. The solution will continue to help hardware and software suppliers to do differentiated innovation, and deliver interconnectivity, superior experience, and the latest functions to more consumers.
photo credit: Huawei
Shenzhen Hangsheng Electronics Corp.,Ltd.
Product: HSAE Electronics Intelligent Cockpit
Description
Hangsheng electronic intelligent cockpit system is developed based on Qualcomm 8155 platform and Hypervisor virtualization system, supports future-oriented SOA architecture design, through public-private hybrid cloud service, system security, unified account, AI service, deeply customized terminal platform, multi-screen and multi-mode 6 core architectures such as the interactive system, realizing the decoupling of software and hardware, and improving the functional integration.
Unique advantages
Based on SOC with high computing power and virtualization technology, it realizes one core and multiple screens, supports multiple operating systems, and multi-screen interaction
Software and hardware separation development mode, flexible software framework, support for multiple hardware system platforms
Intelligently connect the smart devices in the car to realize the intelligent linkage of the devices in the cockpit
Make full use of high-performance AI algorithm integration including surround view system +MOD, DMS/OMS, FACEID, AR-MAP and health indicator detection and other functions
Based on distributed architecture and mobile phone sensorless interconnection, realize multi-scenario interconnection of people-vehicles-home
Multi-modal interactive experience, based on AI framework personal voice assistant to realize intelligent scene service
Application
By providing multi-mode interactive intelligent experience and personalized car networking services, a unified interactive platform and user interface for the intelligent cockpit is formed, which further improves system integration and functional safety, and meets users' customization requirements in different scenarios.
Prospect
For the needs of different customers, Hangsheng intelligent cockpit will be mass-produced and implemented in a variety of models. With the development of EEA architecture and intelligent cockpit technology, Hangsheng will increase the independent research and development of cockpit system and the improvement of cockpit experience, and achieve active deployment. The new-generation domain controller, based on the next-generation chip solution, realizes more ADAS function integration, more sensor fusion, more personalized user experience, provides more integrated intelligent cockpit system solutions, and facilitates the scale of intelligent cockpit systems landing.
Photo credit: Shenzhen Hangsheng Electronics Corp.,Ltd.
Ningbo Preh Joyson Automotive Electronics Co., Ltd.
Product: Joyson Preh Haptic Rotary Knob Bonded to a Touchscreen Surface
Description
The Preh rotary knob, bonded to a touchscreen surface, is the first of its kind in series production in the automotive industry. The combination of a knob with a touch display contributes to driving safety, with intuitive operation reducing eyes-off-road time. Studies have shown that even short glances away from road traffic significantly increase the risk of accidents. Function controls, especially at high speeds or on bumpy roads, can be operated easier, faster and safer using a clearly tactile surface. In its first application in the 2021 Ford Mustang Mach-E, the rotary knob is used for the sound system volume control. The operational possibilities of this rotary controller are extensive. Entire function submenus (e.g., audio, climate, navigation, etc.) can potentially controlled via turn and press selection, making the rotary actuator potentially the central control element in the vehicle. Preh has filed 11 patent applications for the rotary knob in the areas of detection, haptics, water protection and production technology, of which four patents have already been granted.
It was a major challenge to find a suitable adhesive that would withstand the effects of both extreme temperatures and strong vibrations. After a very extensive search and the development of the material pairings in-house, a solution was found that meets the demanding environmental requirements.
The touch operations must function under all conceivable conditions. Water, temperatures, vibrations, shocks, EMC influences, mobile communications, or even extremely fast rotations must not restrict the functionality and reliability of the rotary actuator at any time. For example, the technical process had to be designed in such a way that liquids to which the control element might be exposed must not lead to functional failure, but can be "wiped out" by the rotary movement.
The controller can easily withstand two rotations within one second, i.e., it is designed in such a robust manner, that even at a very fast rotation the underlying capacitive detection works reliably and with absolute precision.
Another hurdle was to determine the proper height of the rotary control. It had to be neither too high nor too low, so that it could be easily grasped, but also so that clothing or other objects could not get caught on it.
The "doughnut" design made it possible to place a volume icon in the center space, which at the same time allows the driver as well as the passenger the optimal viewing angle to the center of the ring.
The cover glass was developed together with a supplier and it became clear that glass panes that are not double-glazed will crack. As a result, chemical-strength front glass was used to fulfill head impact requirements.
Unique advantages
Function controls, especially at high speeds or on bumpy roads, can be operated easier, faster and safer using a clearly tactile surface.
Application
The touch operation will work properly under all possible conditions. Water, temperature, vibration, impact, EMC, mobile communication, or even extremely fast rotation shall not limit the functionality and reliability of the product at any time. The cutout-free attachment—by means of a bonding process—allows the use of a standard 15.5" display instead of an expensive customized display. This is of significant advantage for pricing and variants management, as the standard display can be flexibly used in various car lines—either with a rotary knob or without.
Prospect
The control knob/touchscreen made its introduction on the 2021 Mustang Mach-E, in production since July 2020 and in the Ford F-150 Lightning. The Mach-E & the F-150 Lightning has been extremely well-received in the market. Further adoption in upcoming models is expected. Ford honored Preh with the World Excellence Award for the rotary knob.
Photo credit: Ningbo Preh Joyson Automotive Electronics Co., Ltd.
Product: Neusoft OneCoreGo Global Navigation
Description
To meet the development needs of the "new four modernizations", Neusoft OneCoreGo Global Navigation adopts the independent research and development IP OneCoreGo, which is based on a set of kernel engine to build complete navigation solutions, flexibly applied to all the travel scenarios in the global market, and supports CarPlay and ISA and other related certifications. Neusoft OneCoreGo Global Navigation has cooperated with top global auto makers on nearly 100 projects.
Unique advantages
Integrating advanced algorithms to realize smart travel: AR navigation (including AR HUD), lane-level navigation; Electric vehicle navigation to solve the mileage anxiety of electric vehicle owners; Hybrid navigation supporting a variety of mainstream operating systems; AI intelligent navigation, personalized routes & guidance mode, accurate ETA prediction.
Global Layout: An international team of 400+ people centered in China, Germany, the United States, Japan, and Malaysia; Integrating the global vehicle connectivity ecology, in-depth cooperation with 10+ global high-quality map dealers, supporting 20+ languages; Familiar with policies and regulations of various countries, and the product design conforming to habits of local users
Application
Based on Neusoft OneCoreGo Global Navigation and supported by self-compiled NDS data, the navigation solutions of all countries (or regions) can be implemented by a set of kernel engine. Currently, mass production projects have covered countries/regions like Japan, ASEAN, the Middle East, Europe, Australia, America, Africa, etc., enabling the globalization strategy of auto companies.
Prospect
Neusoft OneCoreGo Global Navigation will steadily output product iterations, continuously integrate advanced driving assistance, AR HUD display and multi-ecological services, etc., and users can have a seamless experience of smart travel brought by technical innovations.
Photo credit: Neusoft
1) Product: PATEO Qualcomm 8155 Based Smart Cockpit Platform
Description
The bottom layer of the PATEO Qualcomm 8155 based smart cockpit platform uses the hypervisor architecture to implement a one-chip multi-system technical solution, and relies on the QNX operating system (OS) to realize functions of the cluster, DMS / APA algorithms, etc., and Android OS to realize those of the IVI (In-Vehicle Infotainment) system.
Unique advantages
PATEO Qualcomm 8155 based smart cockpit platform supports display / touch / independent input on multiple screens, cross-screen display, switching application between primary and secondary screens, displaying application on the designated screen, as well as multi-zone sound field solution, built-in OTA & DVR (Driving Video Recorder), DMS / OMS (for cockpit monitoring), AVM algorithm, APA / AVP (for automatic parking), etc., which reduces the number of ECUs and substantially saves the hardware & software development costs.
Equipped with complete AI capabilities, it supports multi-round closed-loop voice interaction, continuous dialogue, vehicle control with one sentence with multiple intentions in hotel, food, attractions and other eco scenarios, voice-activated vehicle control and "See It, Say It" in all scenarios, as well as sound source localization (SSL), virtual character, and image & voice reproduction;
The multi-modal interaction solution, based on the mature voice solution, achieves interaction based on fusion of perceptions of multiple modalities such as voice, gesture, gaze, lip-reading and image, and is deeply integrated with the voice-empowered Soulmate system, to provide a more natural human-machine interaction (HMI) experience in the smart cockpit;
It also boasts a richer application ecosystem, which not only covers basic applications, multimedia, voice, navigation, mini-program and travel life, but also supports AR / high-definition (HD) map / indoor parking lot navigation, group driving road book, charging map, deep customization and other features, to meet the diverse user needs.
Application
Vehicular scenarios
Prospect
In the dual context of the centralization and intelligence of cockpit domain, the PATEO Qualcomm 8155 based smart cockpit platform will integrate more software, hardware and AI functions; in the future, smart cockpit products based on this platform will be equipped on vehicle models of multiple brands and put into mass production, thus bringing the consumer a richer car use experience.
Photo credit: PATEO
2) Product: PATEO Automotive Software Sales Platform
Description
PATEO Automotive Software Sales Platform is designed with a microservices architecture for the system functions to achieve high cohesion and low coupling and be easy to expand. By integrating and accessing the OTA & online payment systems, the SOA platform, the pre-embedded software and hardware services, etc., OEMs are able to put all software services on the PATEO Automotive Software Sales Platform. After the user purchases relevant software services on the IVI in the smart cockpit or on the cell phone app, the Software Sales Platform issues the software service package, including, among others, the resource / license authorization / signature files of the service available for sale, which is then obtained by the smart cockpit. After the verification is passed, the user can enjoy the purchased service in the vehicle.
Unique advantages
Realize platform-based intelligent vehicle software service and sales, without the need for customizing development of a business process for each saleable commodity; enable flexible, safe and convenient management of all automotive software, combined with user & product profiles, to achieve intelligent and personalized service recommendations, and deeply explore the application of intelligent vehicle business scenarios.
Application
As an independent and basic component of the automotive SOA, the PATEO Automotive Software Sales Platform can be combined with various scenarios to empower car companies, e.g.,
Automotive Software Sales Service + OTA = Paid Software Update
Automotive Software Sales Service + Membership System = Membership Benefits
Automotive Software Sales Service + Points Mall = Virtual E-commerce
Automotive Software Sales Service + Ecosystem + Card = Small-Amount Payment
Prospect
As a part of the automotive SOA, the PATEO Automotive Software Sales Platform puts the software definition & configuration rights in the user's hands, to realize scenario- / ecosystem-based differentiated automotive services, while truly empowering auto enterprises, to improve their competitiveness and help to seize the strategic commanding heights amid the competition of the global auto industry.
Photo credit: PATEO

3) Product: PATEO Intelligent Decision-Making Platform
Description
PATEO Intelligent Decision-Making Platform is a data-driven service product.
By analyzing the data uploaded from historical event tracking, it forms a user profile, and through real-time analysis of the data uploaded from real-time event tracking, it identifies the current driving scenario;
Based on different driving scenarios, combined with the user profile, it predicts user behavior, and recommends personalized services or applications in line with the current scenario to them.
Unique advantages
Fully distributed architecture, highly reliable processing of high concurrent business;
Strategy visualization configuration, which takes effect immediately after the change;
At the same time, it supports intelligent recommendation of different functions of multiple vehicle models and series.
Application
OEMs analyze and sort out the scenarios frequently used by the user, then configure the scenario recognition strategies on the visual interface of the intelligent recommendation & decision-making platform. After a strategy is enabled, the platform will automatically combine the event tracking data uploaded from the intelligent vehicle with user preferences and tags to provide user services based on their personalized requirements.
For example, the platform identifies the user's time to leave for work, automatically activates the map service, and plans a navigation route to avoid congestion; when the fuel level is low, the navigation automatically prompts the user to refuel, and provides guidance to a nearby gas station frequently visited by them, and so on and so forth.
At present, the platform has supported more than 100 scenarios. Among them, the "Time to Leave for Work" and the "Frequently Visited Gas Station(s)" are based on the platform's big data analysis capabilities. During configuration, select the corresponding tags to make personalized decision recommendations for different users.
Prospect
In the future, as the supported scenarios become more and more abundant, the platform will truly understand what the user wants, and offer the application services they need in a timely manner.
Photo credit: PATEO

Shanghai SenseTime Lingang Intelligent Technology Co., Ltd.
Product: SenseAuto Cabin
Description
The SenseAuto Cabin System comprises the company's driver monitoring system (DMS), occupant monitoring system (OMS) and in-vehicle infotainment (IVI) system, bringing smarter, safer and more comfortable in-vehicle experience for both drivers and passengers.
DMS: The company's DMS capabilities include driver identity verification, drowsiness detection, distraction detection, absence detection and anomaly detection to enhance overall driving safety. Its DMS also provides critical support to the SenseAuto Pilot smart driving system as it facilitates the essential safety protection for L2+ autonomous driving. Our DMS has been deployed in various car models, catering to both premium and mass markets.
OMS: Its OMS detects unauthorized passengers and unattended objects in the cabin, and offers detection of infants/children, pets, lost items and safety seats, which enhances the safety of passengers. Our OMS for infant/children detection has been installed in mass-produced car models in 2020 as a pioneer in the Chinese market.
IVI: The company have embedded its SenseMARS augmented reality technologies in its proprietary IVI system to provide innovative features including in-cabin augmented image quality, AR high-precision navigation and special effects for beauty cameras, smart albums and software agents assistance functions. For example, its IVI beauty camera for passengers has been installed in the mass-produced GAC Trumpchi in 2021, a pioneer in the Chinese market.
Photo credit: Shanghai SenseTime Lingang Intelligent Technology Co., Ltd.
1) Product: CMS
Description
The electronic exterior camera monitor systems (CMS) is a product based on cameras and displays which enhances the driver's visual perception of the surrounding and rear of the vehicle, reduces the occurrence of traffic accidents and improves driving safety.
The CMS is able to provide a wider field of view to bring side& rear full-view coverage. The images collected by the external cameras are displayed on the display screen in the car after data processing. Multiple functions can be integrated, such as blind spot warning and obstacle warning, which enhances the detection and early warning capabilities of moving objects around the vehicle. At the same time, based on the cross-domain computing platform, the CMS realizes fusion of advanced driver assistance (ADAS) features.
Unique advantages
YF-tech Possesses product development experience and mass production cases for monitors & cameras and have rich experience in CMS product technology development and manufacturing;
YF-tech has complete R&D capabilities in hardware, structure, software design, ISP image adjustment, functional safety development, which can quickly solve problems that may arise in the CMS system;
YF-tech has the industry-leading lightweight products and heat dissipation design capabilities; the camera module can achieve the smallest design and the body layout space requirements are lower which is conducive to the platform development of the car factory;
As a member of the new GB15084 standard committee, YF-tech has a deeper understanding of industry technology and product development trends.
Application
During driving, the rear + side panoramic view is provided to offer visual assistance for driving scenarios such as starting, turning, merging, changing lanes and reversing;
High Dynamic Range (HDR) display which can effectively deal with environments with strong light changes such as tunnel entrances and exits and eliminate glare caused by high beams;
The night vision enhancement function can ensure drivers to distinguish 24 color cards in the low environmental illumination of 0.1Lux which improves the safety of driving at night;
The LED flicker suppression function eliminates the potential flicker effect of the surrounding LED light source;
Electronic Image Stabilization (EIS) can eliminate jitter and get more steady pictures;
The hydrophobic coating process can effectively reduce the interference of rain then lenses are heated to quickly defrost and defog to ensure driving vision in bad weather.
Prospect
As the GB15084 regulations is to be promulgated, the CMS products represented by YF-tech are about to enter a period of widespread popularization.
Photo credit: YuanFeng Technology
2) Product: SA8155 Smart Cockpit
Description
Based on the Qualcomm 8155 chip,the SA8155 Smart Cockpit has achieved the industry-leading overall design. With one-core, multi-screen and multiple operating systems, it meets the requirements of Automotive Safety Integrity Level (ASIL), compatible with QNX, Android and other operating systems to meet customer demands for smart cockpit products to realize high-integration, high-performance, and high-experience.
Unique advantages
Hypervisor virtualization technology is adopted to realize the rapid startup of intelligent cockpit system.
Greatly improving VUI and GUI capabilities, supporting 6-channel video output and 12-channel video input; realizing the linkage of 6 screens of instruments, central control, co-driver and rear row; creating new information and entertainment experiences;
Equipped with Artificial Intelligence (AI) capabilities, the smart cockpit system has built-in integration of such technologies as NGP, DMS, AR-HUD, AVM and automatic parking, making driving more convenient and safer.
Application
Before getting into the car, the digital key can support a long-distance car searching of more than 40 meters. During approaching, it can realize functions such as unlocking the car, opening the door, starting the air conditioner and opening the tailgate with foot movements.
After getting in the car, Face-ID automatically recognizes the driver's identity and realizes personalized settings such as automatic seat adjustment, music playback, fragrance.
During driving, with the support of mobile phone and car interconnection technology, applications such as navigation, audio and video player, entertainment, office meetings, online content services and social networking can be realized through voice recognition or gesture recognition.
The NGP automatic navigation driving system can realize intelligent assistance on-ramp and off-ramp, adaptive cruise control and automatic decision-making to accelerate lane changes;
Visual assist functions of the CMS can effectively improve driving safety, such as blind spot warning, strong light suppression and night vision enhancement.
The DMS will intelligently monitor and warn of behaviors that affect safe driving, such as fatigued driving and distracted driving;
After driving, the AVM and automatic parking functions can realize parking space recognition and help car owners park more conveniently.
Prospect
As the improvement of hardware and algorithms, the application scale of intelligent cockpit, which is the core of human-computer interaction, has been further expanded. Trends such as vehicle-machine interconnection, multi-screen and integrated ADAS functions represented by the SA8155 intelligent cockpit are gradually becoming the standard of intelligent network connection.
Photo credit: YuanFeng Technology
Product: MINIEYE In-Cabin Sensing System
Description
The MINIEYE In-Cabin Sensing System provides a comprehensive perceptual solution for the cockpit. Its driver monitoring solution combined with occupancy monitoring and object detection algorithms, satisfies large varieties of interactive and customized needs, works to create an in-cabin environment with more comfort and security.
Unique advantages
Algorithm:MINIEYE's In-Cabin Sensing algorithm is based on years of engineering experience. It is accurate and robust. MINIEYE has been focusing on developing algorithms based on real-world traffic scenarios since founded. It is well-experienced in dealing with typical cases and corner cases related. Its algorithms are made to fit in to the special lighting conditions of the road, and are able to provide reliable results in all such situations. MINIEYE's algorithms are self-developed and maintained. They are able to continuously provide clients with timely and effective service and support.
Mass production experience in the Automotive Industry:MINIEYE's In-Cabin Sensing Solutions are trusted in the automotive industry. Their algorithms are well-fitted to the special requirements of the industry and yield great performances under varied situations of the in-cabin environment. MINIEYE's products are deployed on mass-produced vehicles with a vast variety of vehicle types, including buses, trucks, passenger cars, and etc. MINIEYE is one of the earliest computer vision solutions providers in China that entered mass production in the OEM market. MINIEYE has worked with various types of clients in the automotive industry, including some top OEMs, Tier 1s, fleet and telematics companies around the world. They are adaptive to the speech, styles, and requirements of different types of clients, and are able to fulfill the needs of their mass production projects readily.
Experience with Varied Types of Platforms:MINIEYE is well-experienced with multiple types of computing platforms based on client's requirements. MINIEYE has years of experience, and is able to speedily complete the embedding process of its algorithm onto FPGA and ARM platforms. MINIEYE is the IP holder of our self-designed CNN compression framework, along with FPGA based, and ARM based accelerators. It is able to run our algorithm on said platforms with small size and high efficiency.
Application
Driver sensing solution: driver monitoring system, driver ID
Occupant sensing solution: child detection, age and gender recognition, posture detection, seat belt detection
In-Cabin HMI: gesture interaction, gaze interaction, head post interaction, authorization and personalization.
Object and pet detection
Prospect
Multimodal interaction is the general trend of intelligent cockpit in the future. The real intelligent cockpit experience will change from passively accepting accurate commands that need to be learned to actively solving problems that are not recognized in time, that is, users' more needs are outside the instructions, actively observing users' pain points, thinking about users' needs, and forming services.
Photo credit: MINIEYE
AI Speech Co.,Ltd.
Product: Full-duplex interactive technology of AISpeech
Innovation and advantages
Description of Technology
With the full-duplex interaction technology of AISpeech, one wake-up can carry out multiple rounds of continuous cross-domain dialogue, making the dialogue between the machine and the machine smoother; and during the dialogue process, the user can dynamically segment the sentence, and the system will automatically block the meaningless words and filter the interfering information. Avoid false interruptions and identify users' true intentions; at the same time, users can interrupt broadcasts semantically in real time.
Unique advantages
The AISpeech full-duplex interaction technology adopts "full-duplex + semantic rejection" to optimize the interactive experience. The semantic rejection algorithm can remove audio clips without semantic meaning, save computing resources for back-end processing, improve the interactive robustness of the entire dialogue system, and improve user experience.
The full-duplex interaction technology of AISpeech can realize a wake-up, continuous interaction in multiple fields, and cross-field referential resolution.
The full-duplex interaction technology of AISpeech can in the cloud ignore the meaningless noise and dynamically segment sentences based on the rhythm and content of the user's speech, which can not only ensure the integrity of the user's input, but also ensure a faster response speed.
The full-duplex interaction technology of AISpeech is capable of real-time semantic interruption in the process of dialogue, and it is not easy to be interrupted by mistake. At the same time, for input without semantics, it will not interrupt the speech synthesis playback.
The full-duplex interaction technology of AISpeech supports intelligent judgment. In particular, it can actively interrupt the complex and lengthy expressions of users, actively break the deadlock of silence, and realize smooth and natural oral communication habits of users.
Application
At present, the full-duplex interactive technology of AISpeech has launched a full-line solution penetration, including AIOT solutions and enterprise information intelligent services, which have been deeply used in automotive, home, electronics, education, medical, government affairs, finance, logistics, hotels and other scenarios. In the automotive field, after integrating full-duplex interaction technology, the in-vehicle intelligent voice assistant can achieve "one wake-up, continuous conversation, and interrupt at any time", and the entire conversation experience is more natural and smoother.
Prospect
With the development of 5G technology, the Co-frequency Co-time full duplex technology that can double the spectral efficiency has gradually become possible. In the future, with the Co-frequency Co-time full duplex technology, human-computer interaction will achieve faster and more natural dialogue. At the same time, full-duplex combined with multi-modal recognition will also exert greater energy. With technologies such as voiceprint recognition, image processing, and iris recognition, useless information will be filtered more efficiently, and human-computer interaction will become more human-friendly. In addition, full-duplex combined with the Internet of Things technology, through the linkage of vehicle full-duplex and home full-duplex, the car and the home will be integrated into a truly interconnected and undifferentiated "unique space". Realize the AI life vision of intelligent interconnection of people-vehicles-homes.
Photo credit: AI Speech Co.,Ltd.

BiTECH
Product: Solution of Smart Cockpit Domain Controller based on Qualcomm SA8155
Description
The traditional cockpit domain is composed of several discrete subsystems or separate modules. Each system is like an "island". This architecture cannot support complex electronic cockpit functions such as multi-screen linkage and multi-screen interaction. Therefore, the cockpit domain controller is born. For automotive smart cockpit products, the definition, design and implementation of their products are both science and art. "Science" solves the problem of improving computing power, and "Art" solves the problem of application diversity. The differentiation of future cars will rely more on the intelligent cockpit platform with high computing power, which will be empowered by providing richer interactive experience, more user perception, more complete security services, more comprehensive software applications and ecological services Intelligent driving brings users a more extreme driving experience. Based on the centralized electronic and electrical architecture of the whole vehicle domain, BiTECH relies on the intelligent cockpit platform with high computing power, such as Qualcomm SA8155 series, Xinchi X9 series, etc., to build software from the bottom layer, middle layer, service layer to application ecology, etc. A full-stack solution platform solution, and based on the platform solution, the strategies of the perception layer, fusion layer, decision-making layer and application layer are customized to realize the deep integration of the intelligent cockpit and the vehicle and multi-modal interaction with users.
Unique advantages 
BiTECH's smart cockpit domain controller integrates the functions of traditional in-vehicle information system (instrument) and in-vehicle entertainment system (IVI) and relies on the rich interfaces and powerful computing power of the smart cockpit control chip, and integrates such as driver monitoring system, the 360-surround view system, ARHUD, driving recorder and air conditioning controller have improved the user experience and functional integration of the domain controller. Relying on the software architecture of SOA, it decouples basic functions and upper-layer applications, and better realizes the customization, service and personalization of functions. With the help of powerful voice chips and voice algorithms, the interaction between voice and applications is opened, and driving safety and user experience are improved.
Application
Voice interaction in the cockpit, gesture recognition, personnel monitoring and recognition, vehicle control, customized scene development, rich ecology and applications, cloud upgrade of vehicle functions and provision of value-added services
Prospect
Multi-modal interaction, emotion recognition and interaction, AI technology, holographic projection to enhance a richer user experience
Photo credit: BiTECH

Magic Data
Product: Annotator labelling platform
Description
Annotator intelligent platform is a new generation products based on artificial intelligence technology which R&D team of Magic Data has been working on for several years. It works as an efficient tool for customers in major industries to improve data processing.
The Annotator has four major highlights:
Multi-Model Annotation labeling project management, visual management, intelligent labeling and quality check.
Multi-modal data labeling tasks can be configured, supporting audio, video-image labeling, label visualization, relationship dependencies, and multi-level labels, making multi-modal labeling more convenient and efficient.
It supports AI-assisted labeling of various data types, which greatly reduces the labor cost and time cost .
It supports quick deployment of the enterprise side, easy operation and maintenance during use, and AI-assisted efficient labeling, which can reduce the overall cost of enterprises by 50% and increase the efficiency by 100%.
Annotator® uses modular design and development, supports voice, text, image, and multi-mode data annotation, supports heterogeneous data management, and supports annotation production split in pipeline-based mode.
Customize the composition type of annotation data, and expand or access the corresponding annotation operation interface.
Provides a large number of customized label Settings for various data annotation requirements,
The modular architecture provides Restful interfaces and module interface standards, allowing users to customize annotation worktables that meet their own service requirements based on platform data standards.
Unique advantages
In terms of product services and technological innovation, the company has reached international standards in ensuring data security and obtained ISO27701:2019 certification at the beginning of 2021, which is the first batch of enterprises in the industry to obtain the certification.
Secondly, Magic Data puts forward the principle of 2-8 data which help enterprises reduce costs and increase efficiency, when training AI models, 80% generality and 20% customization should be considered in the training.
In terms of technical innovation, the Intelligent voice expert team has been deeply engaged in the industry for decades and released Annotator®5.0 intelligent annotation platform SaaS free version/privatized deployment version, which has been widely recognized by the industry , such as Ping An, Shell, and more than ten industry customers have carried out privatized deployment business. Thousands of AI trainers have started using the free SaaS version, which has been well received on the vendor side.
Application
Develop a common and unified data standard format, support the label system of heterogeneous data, and realize federated learning and other machine learning scenarios through standardized Restful interfaces after multi-parties cooperation.
Prospect
Based on the accumulation of various industries, support for various industry-specific annotation scenarios, accumulate available annotation tools, and adapt to the data annotation needs of most industries based on machine learning.
Photo credit: Magic Data
Suzhou QingYue Optoelectronics Technology Co., Ltd.
1) Product: Transparent OLED HUD
Description
OLED products have attracted more and more attention because they meet the requirements of future display technology development. Flexible and transparent display is the trend of future display development. It can display information, and has a sense of science and technology and fashion sense, bringing unprecedented visual enjoyment and new human-computer interaction experience.
Transparent PMOLED display technology, with high reliability, high degree of customization, high reliability, good contrast and strong sense of technology, which is the first choice for the combination of virtual and real in the field of vehicle display.
Unique advantages
High transmittance, transmittance rate above 60%, combination of virtual and real, high scene integration.
High degree of customization, it can provide customers the overall display solution, and according to the customer's UI screen preparation screen.
Display low power consumption, ultra-thin, high contrast.
Application
Vehicle display, home display, wearable products, sights, etc
Prospect
At present, all automobile enterprises have determined the development direction of automobile electronization. As a solution of human-computer interaction, HUD has maintained rapid growth in recent years. HUD market in 2020, the scale of domestic HUD market reached 6.56 billion yuan, with a year-on-year growth of over 300%.The market size is expected to reach 24.48 billion yuan by 2025. In the future, HUD of car scenes combined with biological perception can improve human-computer interaction mode and increase the penetration rate quickly. The penetration rate of HUD increases rapidly. With the advent of the era of intelligent vehicles, HUD provides a new display window in the intelligent cockpit and becomes the third intelligent cockpit screen besides the instrument and main control screen.
Transparent PMOLED provides more choices for the current HUD display solution, and gives full play to the technical advantages of OLED, providing customers with a technical foundation in differentiation and innovation competitiveness.
Photo credit: Suzhou QingYue Optoelectronics Technology Co., Ltd.
2) Product: Round Punch PMOLED Car Clock
Description
OLED displays have the characteristics of self-illumination, true RGB color, no trailing, high contrast, simple structure and flexible solutions, which not only make them widely used in major display screens, but also make them the most likely to replace LIQUID crystal in car display panels.
PMOLED, as a passive OLED display technology, has the characteristics of simple structure, high degree of customization, high reliability and low cost, and has been introduced into the field of vehicle display more and more.
Our round punched PMOLED car clock gives full play to the advantages of OLED technology to achieve a soft and bright visual enjoyment, and at the same time has the sense of science and technology to display multi-functional information in a clock interface.
Unique Advantages
Based on PMOLED special-shaped structure design technology, PMOLED thinning technology and special-shaped perforation technology, the vehicle-mounted clock of circular punched POMLED display can replace the original clock components, give full play to the advantages of OLED spontaneous light with high contrast and no Angle limit, and make the display content simple, soft, bright and intuitive, which is easier to obtain by vision. Drivers can get the information they need more quickly and clearly, and it is safer; At the same time, customizable interface, unified driver access to a series of information interface, enhance the sense of technology of vehicle interior.
Application
Vehicle interior, vehicle instrument, vehicle auxiliary instrument display
Prospect
According to customers' different types of personalized needs, customized OLED vehicle interior design can be carried out to increase the sense of science and technology of vehicle interior, convenient operation of drivers and passengers, and meet customers' growing demands for intelligent cockpit.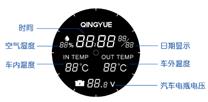 Photo credit: Suzhou QingYue Optoelectronics Technology Co., Ltd.

3)Product: On-board OLED air conditioner/gear knob
Description
The on-board OLED air conditioner/gear knob, based on the 1.2-inch round AMOLED display, adopts high-performance multimedia control and image display application chip, and integrates DDR2 SDRAM memory, audio Codec, video Codec, ISP processor and image processing unit and other controllers. Standard UART interface, convenient to exchange data with the customer master.
Unique Advantages
The combination of OLED and knob changes the hand-eye split mode in which the traditional knob needs to transfer its eyes to the display screen in other positions to confirm the success of operation, and realizes the mode of visible operation. Meanwhile, the integrated display series prompt information is convenient for the driver to obtain information quickly and intuitively.
OLED knob adopts high reliability encoder to realize rotation signal acquisition, which can distinguish positive and negative rotation.
OLED knob is supported by linear motor, providing excellent vibration feedback experience when rotating. With vibration feedback, damping feedback and no feedback three forms, convenient for customers to choose different feedback effects according to different application scenarios.
AMOLED brings high-definition and high-contrast picture experience, facilitating the driver to quickly and clearly obtain information from all angles.
Application
Application scenario: Automobile cockpit knob
Prospect
For a long time, the automobile cockpit is based on mechanical buttons, the overall information display is simple, the function is scattered. In recent years, with the rapid development of mobile phones and other electronic devices, electronic information technology began to transfer to the car, the emergence of intelligent cockpit. Through various intelligent means to meet the different needs of different people in the car.
The knob of OLED linear motor increases the electronic integration of the whole machine for the traditional knob, and the relevant display content can be customized according to customer requirements. With other electronic systems, the man-machine communication effect of the whole vehicle is smoother and more complete.
Photo credit: Suzhou QingYue Optoelectronics Technology Co., Ltd.
China Satellite Navigation Communication Co., Ltd
Product: ZhongHuan Predictive Cruise Control
Description
Predictive cruise control (PCC) system is an advanced cruise control system that coordinates the control of engine and gearbox according to the road information ahead, and finally controls the speed change. It can effectively alleviate driving fatigue and save fuel.
The technical feature of predictive cruise control (PCC) system is mainly to locate the vehicle position according to GPS. At the same time, ADAS map will provide the vehicle with real-time map information of the road ahead, including slope. Then PCC connects the accurate positioning of the truck with the map, calculates a "electronic vision" model, and then allows the driving style of the truck to automatically adapt to this model. The system will automatically control the matching of the engine and the gearbox, and dynamically adjust the vehicle speed according to the vehicle speed set by the driver and the road slope information ahead, so as to optimize the engine efficiency and transmission gear control, avoid unnecessary energy loss, in order to save fuel.
Avoid unnecessary energy loss, so as to achieve the effect of oil saving and emission reduction.
Unique advantages
According to the technical characteristics of predictive cruise control (PCC) system, this technology requires GPS positioning module, ADAS map and control algorithm. ZhongHuan is the holding subsidiary of Navinfo, the earliest map supplier in China. It has comprehensive ADAS map resources and belongs to the largest technical barrier for manufacturers at home and abroad. Finally, the key technology of the relevant control algorithm is the comprehensive consideration of various road types, such as the rush slope before going uphill, the sliding when going downhill, etc., in order to make better use of the conversion of kinetic energy and potential energy, and reduce or even avoid the energy loss caused by braking. The relevant control algorithms made by domestic and foreign automobile manufacturers may have different forms, but the final forms are similar. It is mainly due to the different details of various road type combinations, resulting in certain differences in fuel saving effects. At the same time, combined with the truck navigation software, it can provide fuel-saving driving guidance for drivers.
Application
The main operating environment of predictive cruise control (PCC) products is the highway and national highway covered by ADAS map. Now the ADAS map in PCC products has covered more than 99% of the country's highway map information. Under the environment of nice road conditions, small traffic flow or high speed, PCC products can be opened.
Prospect
The predictive Cruise (PCC) product launched by ZhongHuan is the first product in China to realize fuel-saving function through variable speed cruise, which provides product support for major OEMs to improve market competitiveness. At the same time, the product can provide after loading support for individual users and logistics transportation companies to reduce transportation costs.
The actual test fuel saving rate of predictive cruise control (PCC) products on commercial vehicles is about 4% ~ 8%, which can not only achieve the purpose of energy conservation and emission reduction, but also reduce the cost. According to the average annual mileage of 300,000 kilometers of a commercial vehicle, on the premise of continuous use of predictive cruise, it can save more than 30K yuan of fuel expenses for drivers every year.
Photo credit: China Satellite Navigation Communication Co., Ltd
Product: AI assistant/ End-to-End integration scene engine /Multi-screen and multi-window
AI assistant
Innovation: customized VPA image. Customized response voice., multi-round conversation, Full-duplex mode, voice throughout literature, navigation, Wechat, mini-program ecological research and development. It provides personal voice identification and it can link to the personal account and voice assistant, even links to scene.
Advantages: the AI assistant combines voice, vision, multi-mode AI interaction, user profiling and intelligent recommendations to create a human-oriented, warm and natural personal travel assistant.
End-to-End integration scene engine
Innovation: it integrates Tencent's core competence and high-quality ecological resources of interest content ecology, owner service ecology and light application ecology, as well as its strong account system and AI + cloud capability. The car owner's portrait is carried out through big data technology, so as to speculate the scene strategy definition and scene recognition; By defining scene components, users can customize scene arrangement; Based on intelligent recommendation algorithms such as collaborative filtering, service recommendation of "thousands of people and thousands of faces" and "service looking for people" is carried out.
Advantages: in the aspect of scene recognition, the architecture scheme of end cloud integration is adopted, which solves the problems of a large amount of calculation, data timeliness, security, network delay and so on; In terms of scene recommendation, the visual editing ability of scene engine is adopted, and the user portrait/vehicle portrait and recommendation model are combined to realize intelligent recommendation. In terms of recommendation strategy, scene arbitration, service arbitration and multi-channel distribution are realized to avoid disturbing users excessively. In terms of user experience, users can customize the scene trigger conditions and arrange the scene independently.
Multi-screen and multi-window
Innovation: modular cards and widgets; Desktop capable of self assembling components; System theme technology that can change theme and layout with one click; Multi window technology based on virtual screen.
Advantages: by designing cards and widgets such as 1 / 9, 1 / 3, 1 / 27 and 2 / 3, self-developed framework algorithm completes the combination and layout of various cards; By modifying AMS, PMS and WMS, the window management mode is transformed to complete the dynamic display of multiple windows; Build a theme mall, which can complete one click skin change and layout change by modifying the system notification and broadcasting mechanism; Based on Android surface view technology, build a virtual screen to complete the desktop display of the third-party ecology.
Photo credit: TINNOVE Mobility Intelligence
Sunny Smartlead Technologies Co.,Ltd
Product: In-Cabin pilot monitoring Sensing Camera Module
Description
In the process of driver driving, the hardware acquisition of driver images for all-weather monitoring of driver fatigue state and dangerous driving behavior is provided by using near-infrared active lighting camera module technology, and high-quality algorithm output is provided for matching algorithm recognition. To achieve stable and reliable mass production of high-value in-cabin monitoring modules for high quality customers at home and abroad
Unique advantages
Delicate in appearance and compact in size: Through the flip technology, stack structure design technology to solve the traditional solution of the size of the structure, installation and matching difficult problems;
Brightness compensation, uniform picture qualit: Solve the problems of uneven brightness and large power consumption by using the first VCLES to supplement light and the design of reflective cups;
Sunglasses penetrate and resist environmental interference: Through the filter cut-off, unique optical design to solve the environmental light interference, driver image Yin and Yang face and other problems
Eye safety, eliminate red exposure: Through DOE robust anti-slip technology, wavelength narrowing technology and heat dissipation technology, the problems such as unsafe eyes and obvious red exposure can be solved
Application
Deployed in turn the steering wheel, instrument panel, or A column position such as optical camera,, to get the driver's eye condition (such as eyelid closure test, eye-tracking, eye tracking), head posture (e.g., head position detection, head position tracking), yawning, phone calls, images or video information behavior such as smoking, through deep learning algorithm to analyze the information, Judge the current state of the driver to achieve the goal of driver monitoring.
Prospect
With the continuous increase of global car ownership and the increasing incidence of traffic accidents, many countries and regions around the world are paying increasing attention to DMS. From July 2022, new cars must be equipped with DMS, according to Euro NCAP. In 2018, China's Ministry of Transport issued a notice on the Promotion and Application of Intelligent video Surveillance and alarm technology, making DMS mandatory for commercial vehicles. From this point of view, the DMS industry welcomes development opportunities. Global autonomous driving technology is making continuous progress. When the autonomous driving technology develops to L2 and L3 stages, DMS will become one of the important solutions to solve the switch between human-vehicle driving, so the DMS industry has a broad development prospect.
Photo credit: Sunny Smartlead Technologies Co.,Ltd
Product: Autocruis intelligent vision system solutions of In-cabin Monitoring System (IMS)
Description
The driver monitoring system( IMS) currently includes two major functions of driver fatigue warning bad behavior, as well as the detection of cabin member and legacy items.
IMS system mainly realizes the identification and early warning of driver fatigue and distraction by monitoring the driver's head posture and the state of opening and closing eyes, combined with the in-car human-computer interaction system, so as to ensure driving safety.
The detection of bad behavior can be implemented to detect violations such as smoking, phone calls, yawning and so on.
The system is based on computational vision technology of deep neural networks and has good reliability in practical environment.environments.
Unique advantages
It is the first driver fatigue driving warning system based on deep neural network vision processing technology, and the detection performance meets the requirements of vehicles pre-loaded;
The system works properly in actual driving environments (e.g. wearing glasses/ir-penetrating sunglasses, complex lighting, at night, or with passengers in the rear);
The product adopts independently developed software and hardware systems, and has advanced computing architecture to ensure the high real-time requirements of the early warning function;
Function upgrades are flexible and fast, and new features can be added according to needs, such as face recognition, expression recognition, other bad behavior alarms, etc.
Application
Driver fatigue detection and alerting, intelligent cockpit (face recognition and personalization configuration, interaction),
including fatigue detection, distraction detection, expression recognition, gesture recognition, dangerous action recognition,line-of-sight tracking, front and rear passenger status detection, leftover items detection, etc.
Prospect
The rising IMS market is opening a new door for the vehicle market. Although IMS has existed in the market for more than 20 years, but non-visual sensors have been used more often, IMS based on camera image acquisition is gradually becoming the standard for ADAS.
The Euro NCAP requires that from 2024 onwards, new cars must be equipped with IMS, at the same time, many countries and regions such as China and the United States are also promoting related processes, which will also drive the further development of the IMS market.
In the past two years, the IMS industry has a strong momentum of development in China, and the growth rate of installation volume reached 300% in 2020. Overall, the IMS industry has a broad market prospect.
Photo credit: Shenzhen Autocruis Co.Ltd.
Hangzhou Xiangxin Technology Co., Ltd
Product: Virtualization Intelligent virtual avatars
Description
We focus on XR technology innovation and have developed our own 3D reconstruction technology. We have explored facial tracking, AR rendering, physical simulation, TTS and other core technologies, published more than 60 papers in ACM SIGGRAPH, the top conference in the field of computer graphics, and obtained more than 40 invention patents and software copyrights.
Unique advantages
At present, FaceUnity Technology has provided services to more than 1,000 corporate customers domestically and abroad in a variety of industries, including digital entertainment, cultural education, new retail, smart marketing, smart city and artificial intelligence, promoting the innovation and application of XR technologies in various fields.
Application
Connected car
Prospect
The virtual avatar is a pass and an important digital asset in the metaverse. It enables companies to compete in the metaverse and create a new generation of products that are future-oriented and differentiated.
Photo credit: Hangzhou Xiangxin Technology Co., Ltd
Gasgoo not only offers timely news and profound insight about China auto industry, but also help with business connection and expansion for suppliers and purchasers via multiple channels and methods. Buyer service:buyer-support@gasgoo.comSeller Service:seller-support@gasgoo.com
All Rights Reserved. Do not reproduce, copy and use the editorial content without permission. Contact us:
autonews@gasgoo.com